Parshas Ha'azinu - Shlishi
(יג) יַרְכִּבֵ֙הוּ֙ עַל־במותי בָּ֣מֳתֵי אָ֔רֶץ וַיֹּאכַ֖ל תְּנוּבֹ֣ת שָׂדָ֑י וַיֵּנִקֵ֤הֽוּ דְבַשׁ֙ מִסֶּ֔לַע וְשֶׁ֖מֶן מֵחַלְמִ֥ישׁ צֽוּר׃ (יד) חֶמְאַ֨ת בָּקָ֜ר וַחֲלֵ֣ב צֹ֗אן עִם־חֵ֨לֶב כָּרִ֜ים וְאֵילִ֤ים בְּנֵֽי־בָשָׁן֙ וְעַתּוּדִ֔ים עִם־חֵ֖לֶב כִּלְי֣וֹת חִטָּ֑ה וְדַם־עֵנָ֖ב תִּשְׁתֶּה־חָֽמֶר׃ (טו) וַיִּשְׁמַ֤ן יְשֻׁרוּן֙ וַיִּבְעָ֔ט שָׁמַ֖נְתָּ עָבִ֣יתָ כָּשִׂ֑יתָ וַיִּטֹּשׁ֙ אֱל֣וֹהַּ עָשָׂ֔הוּ וַיְנַבֵּ֖ל צ֥וּר יְשֻׁעָתֽוֹ׃ (טז) יַקְנִאֻ֖הוּ בְּזָרִ֑ים בְּתוֹעֵבֹ֖ת יַכְעִיסֻֽהוּ׃ (יז) יִזְבְּח֗וּ לַשֵּׁדִים֙ לֹ֣א אֱלֹ֔הַּ אֱלֹהִ֖ים לֹ֣א יְדָע֑וּם חֲדָשִׁים֙ מִקָּרֹ֣ב בָּ֔אוּ לֹ֥א שְׂעָר֖וּם אֲבֹתֵיכֶֽם׃ (יח) צ֥וּר יְלָדְךָ֖ תֶּ֑שִׁי וַתִּשְׁכַּ֖ח אֵ֥ל מְחֹלְלֶֽךָ׃
(יג) אַשְׁרִנּוּן עַל תָּקְפֵי אַרְעָא וְאוֹכָלִנּוּן בִּזַּת סָנְאֵיהוֹן וִיהַב לְהוֹן בִּזַּת שַׁלִּיטֵי קִרְוִין וְנִכְסֵי יָתְבֵי כְּרַכִּין תַּקִּיפִין: (יד) יְהַב לְהוֹן בִּזַּת מַלְכֵיהוֹן וְשַׁלִּיטֵיהוֹן עִם עתַר רַבְרְבֵיהוֹן וְתַקִּיפֵיהוֹן עַמָא דְאַרְעֲהוֹן וְאַחֲסַנְתְּהוֹן עִם בִּזַּת חֵילֵיהוֹן וּמַשִּׁרְיָתְהוֹן וְדַם גִבָּרֵיהוֹן יִתָּשַׁד כְּמַיָּא: (טו) וְעַתַּר יִשְׂרָאֵל וּבְעַט אַצְלַח תְּקוֹף קְנָא נִכְסִין וּשְׁבַק פָּלְחַן אֱלָהָא דְעָבְדֵיהּ וְאַרְגֵּז קֳדָם תַּקִּיפָא דְפָרְקֵיהּ: (טז) אַקְנִיאוּ קֳדָמוֹהִי בְּפָלְחַן טַעֲוָן בְּתוֹעֶבְתָּא אַרְגִּיזוּ קֳדָמוֹהִי: (יז) דַּבָּחוּ לְשֵׁדִין דִּלֵית בְּהוֹן צְרוֹךְ דַּחֲלָן דְּלָא יְדָעֻנּוּן חַדְתָּא דִּי מִקָּרִיב אִתְעֲבִידָא לָא אִתְעַסָּקוּ בְהוֹן אֲבָהָתְכוֹן: (יח) דַּחֲלָא תַקִּיפָא דִּבְרָאָךְ אִתְנְשֵׁיתָא שְׁבַקְתָּא פָּלְחַן אֱלָהָא דְעָבְדָךְ:
13. He caused them to dwell on the strengths of the earth, and He had them eat the plunder of their foes. He gave them plunder of the rulers of cities, and the property of those who reside in fortified defenses. 14. He gave them the plunder of kings and rulers, with the wealth of their leaders and their mighty, the people of their land and their inheritance, with (the) plunder of their armies and their camps, and the blood of their powerful was spilled like water. 15. Israel[1] grew wealthy and kicked; it accomplished strength (and) acquired possessions, and it forsook the service of God, Who made it, and caused anger before the Mighty One Who redeemed it. 16. They caused zeal before Him with the service of errors; they caused anger before Him with abominations. 17. They sacrificed to demons that lack purpose, objects of worship that they didn't know, new things that were recently made,[2] with which your fathers didn't occupy themselves. 18. You forgot the reverence for the Mighty One Who created you, and you forsook the service of God, Who made you.
[1] Rather than "Yeshurun," i.e., "the upright (nation)."
[2] As opposed to "(that had) recently come," which could be misunderstood to suggest independent action on the part of the idols.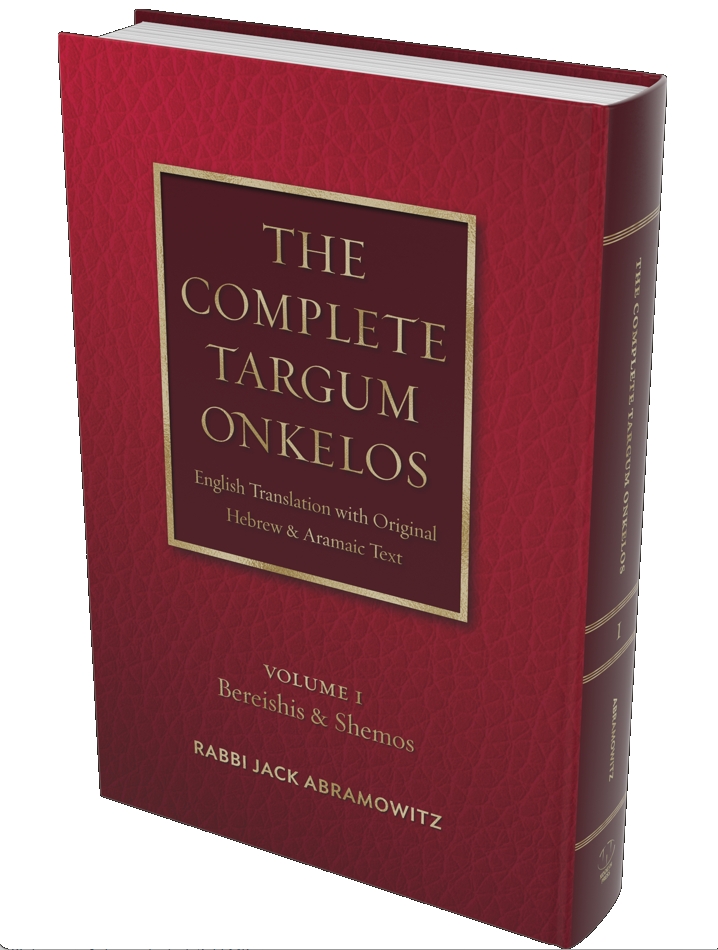 The Complete Targum Onkelos
Volume 1: Bereishis and Shemos on Amazon and from Kodesh Press!
Volume 2: Vayikra, Bamidbar and Devarim on Amazon and Kodesh Press!
Two-volume set on Kodesh Press!