Parshas Vayeilech - Shevii
(כה) וַיְצַ֤ו מֹשֶׁה֙ אֶת־הַלְוִיִּ֔ם נֹ֥שְׂאֵ֛י אֲר֥וֹן בְּרִית־יְהֹוָ֖ה לֵאמֹֽר׃ (כו) לָקֹ֗חַ אֵ֣ת סֵ֤פֶר הַתּוֹרָה֙ הַזֶּ֔ה וְשַׂמְתֶּ֣ם אֹת֔וֹ מִצַּ֛ד אֲר֥וֹן בְּרִית־יְהֹוָ֖ה אֱלֹהֵיכֶ֑ם וְהָיָה־שָׁ֥ם בְּךָ֖ לְעֵֽד׃ (כז) כִּ֣י אָנֹכִ֤י יָדַ֙עְתִּי֙ אֶֽת־מֶרְיְךָ֔ וְאֶֽת־עׇרְפְּךָ֖ הַקָּשֶׁ֑ה הֵ֣ן בְּעוֹדֶ֩נִּי֩ חַ֨י עִמָּכֶ֜ם הַיּ֗וֹם מַמְרִ֤ים הֱיִתֶם֙ עִם־יְהֹוָ֔ה וְאַ֖ף כִּי־אַחֲרֵ֥י מוֹתִֽי׃ (כח) הַקְהִ֧ילוּ אֵלַ֛י אֶת־כׇּל־זִקְנֵ֥י שִׁבְטֵיכֶ֖ם וְשֹׁטְרֵיכֶ֑ם וַאֲדַבְּרָ֣ה בְאׇזְנֵיהֶ֗ם אֵ֚ת הַדְּבָרִ֣ים הָאֵ֔לֶּה וְאָעִ֣ידָה בָּ֔ם אֶת־הַשָּׁמַ֖יִם וְאֶת־הָאָֽרֶץ׃ (כט) כִּ֣י יָדַ֗עְתִּי אַחֲרֵ֤י מוֹתִי֙ כִּֽי־הַשְׁחֵ֣ת תַּשְׁחִת֔וּן וְסַרְתֶּ֣ם מִן־הַדֶּ֔רֶךְ אֲשֶׁ֥ר צִוִּ֖יתִי אֶתְכֶ֑ם וְקָרָ֨את אֶתְכֶ֤ם הָרָעָה֙ בְּאַחֲרִ֣ית הַיָּמִ֔ים כִּֽי־תַעֲשׂ֤וּ אֶת־הָרַע֙ בְּעֵינֵ֣י יְהֹוָ֔ה לְהַכְעִיס֖וֹ בְּמַעֲשֵׂ֥ה יְדֵיכֶֽם׃ (ל) וַיְדַבֵּ֣ר מֹשֶׁ֗ה בְּאׇזְנֵי֙ כׇּל־קְהַ֣ל יִשְׂרָאֵ֔ל אֶת־דִּבְרֵ֥י הַשִּׁירָ֖ה הַזֹּ֑את עַ֖ד תֻּמָּֽם׃ {פ}
(כה) וּפַקִּיד משֶׁה יָת לֵוָאֵי נָטְלֵי אֲרוֹן קְיָמָא דַיְיָ לְמֵימָר: (כו) סִיבוּ יָת סִפְרָא דְאוֹרַיְתָא הָדֵין וּתְשַׁוּוּן יָתֵיהּ מִסְּטַר אֲרוֹנָא קְיָמָא דַיְיָ אֱלָהֲכוֹן וִיהֵי תַמָּן בָּךְ לְסָהִיד: (כז) אֲרֵי אֲנָא יְדַעְנָא יָת סַרְבָנוּתָךְ וְיָת קְדָלָךְ דְּקַשְׁיָא הָא בְעַד אֲנָא קַיָּם עִמְּכוֹן יוֹמָא דֵין מְסָרְבִין הֲוֵיתוּן קֳדָם יְיָ וְאַף אֲרֵי בָּתַר דְּאֵמוּת: (כח) כְּנִישׁוּ לְוָתִי יָת כָּל סָבֵי שִׁבְטֵיכוֹן וְסָרְכֵיכוֹן וֶאֱמַלֵּל קֳדָמֵיהוֹן יָת פִּתְגָּמַיָּא הָאִלֵּין וְאַסְהֵד בְּהוֹן יָת שְׁמַיָּא וְיָת אַרְעָא: (כט) אֲרֵי יְדַעְנָא בָּתַר דְּאֵמוּת אֲרֵי חַבָּלָא תְחַבְּלוּן וְתִסְטוּן מִן אָרְחָא דִּי פַקֵּדִית יָתְכוֹן וּתְעָרַע יָתְכוֹן בִּשְׁתָּא בְּסוֹף יוֹמַיָּא אֲרֵי תַעְבְּדוּן יָת דְּבִישׁ קֳדָם יְיָ לְאַרְגָּזָא קֳדָמוֹהִי בְּעוֹבָדֵי יְדֵיכוֹן: (ל) וּמַלִּיל משֶׁה קֳדָם כָּל קְהָלָא דְיִשְׂרָאֵל יָת פִּתְגָּמֵי תּוּשְׁבַּחְתָּא הָדָא עַד דִּשְׁלִימוּ:
25. Moshe commanded the Levites, the ones who carried the ark of Hashem's covenant, saying, 26. "Take this book of the Torah and place it beside the ark of Hashem your God's covenant, and it will be there among you as a witness. 27. Because I know your rebelliousness and your stiff neck. Behold, while I am still alive with you today, you have been rebellious before Hashem – and even (more so) after I die![1] 28. Assemble to me all (the) elders of your tribes and your officers, and I will speak these words before them,[2] and I will call Heaven and Earth as witnesses against them. 29. Because I know that, after I die, you will surely be corrupted and turn from the path that I commanded you. The evil will befall you in the end of days because you did this evil before Hashem,[3] to anger before Him with the deeds of your hands. 30. Moshe spoke the words of this praise until they were finished before the entire community of Israel.[4]
[1] Chumash: "after my death."
[2] Rather than "in their ears."
[3] Rather than "in the eyes of Hashem."
[4] The song/praise is parshas Haazinu, which immediately follows.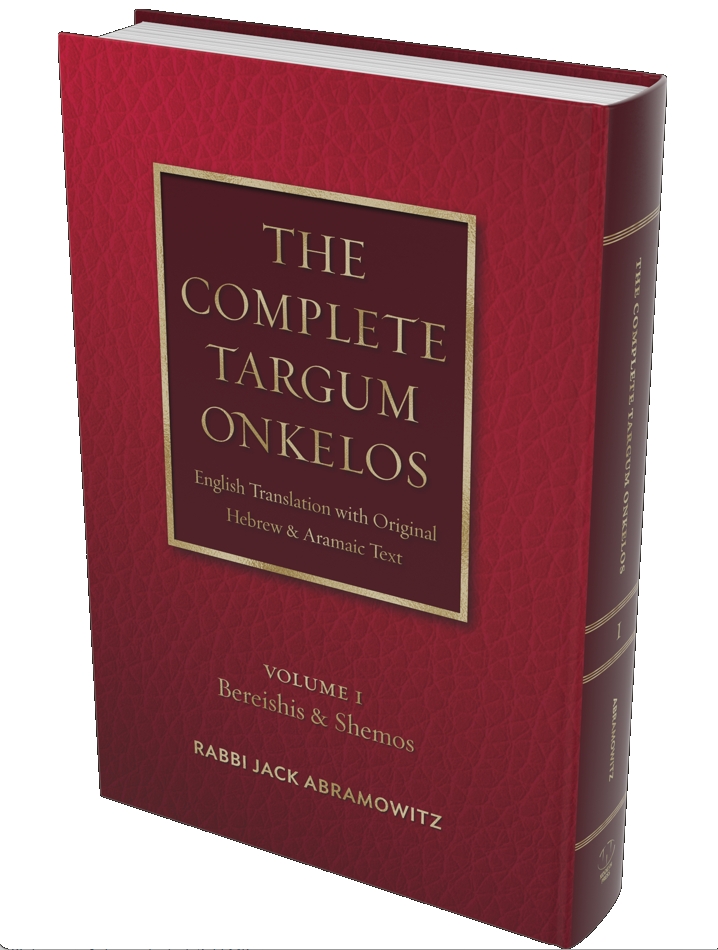 The Complete Targum Onkelos
Volume 1: Bereishis and Shemos on Amazon and from Kodesh Press!
Volume 2: Vayikra, Bamidbar and Devarim on Amazon and Kodesh Press!
Two-volume set on Kodesh Press!