Vayeitzei - Revii
(יד) וַיֵּ֨לֶךְ רְאוּבֵ֜ן בִּימֵ֣י קְצִיר־חִטִּ֗ים וַיִּמְצָ֤א דֽוּדָאִים֙ בַּשָּׂדֶ֔ה וַיָּבֵ֣א אֹתָ֔ם אֶל־לֵאָ֖ה אִמּ֑וֹ וַתֹּ֤אמֶר רָחֵל֙ אֶל־לֵאָ֔ה תְּנִי־נָ֣א לִ֔י מִדּוּדָאֵ֖י בְּנֵֽךְ׃ (טו) וַתֹּ֣אמֶר לָ֗הּ הַמְעַט֙ קַחְתֵּ֣ךְ אֶת־אִישִׁ֔י וְלָקַ֕חַת גַּ֥ם אֶת־דּוּדָאֵ֖י בְּנִ֑י וַתֹּ֣אמֶר רָחֵ֗ל לָכֵן֙ יִשְׁכַּ֤ב עִמָּךְ֙ הַלַּ֔יְלָה תַּ֖חַת דּוּדָאֵ֥י בְנֵֽךְ׃ (טז) וַיָּבֹ֨א יַעֲקֹ֣ב מִן־הַשָּׂדֶה֮ בָּעֶ֒רֶב֒ וַתֵּצֵ֨א לֵאָ֜ה לִקְרָאת֗וֹ וַתֹּ֙אמֶר֙ אֵלַ֣י תָּב֔וֹא כִּ֚י שָׂכֹ֣ר שְׂכַרְתִּ֔יךָ בְּדוּדָאֵ֖י בְּנִ֑י וַיִּשְׁכַּ֥ב עִמָּ֖הּ בַּלַּ֥יְלָה הֽוּא׃ (יז) וַיִּשְׁמַ֥ע אֱלֹהִ֖ים אֶל־לֵאָ֑ה וַתַּ֛הַר וַתֵּ֥לֶד לְיַעֲקֹ֖ב בֵּ֥ן חֲמִישִֽׁי׃ (יח) וַתֹּ֣אמֶר לֵאָ֗ה נָתַ֤ן אֱלֹהִים֙ שְׂכָרִ֔י אֲשֶׁר־נָתַ֥תִּי שִׁפְחָתִ֖י לְאִישִׁ֑י וַתִּקְרָ֥א שְׁמ֖וֹ יִשָּׂשכָֽר׃ (יט) וַתַּ֤הַר עוֹד֙ לֵאָ֔ה וַתֵּ֥לֶד בֵּן־שִׁשִּׁ֖י לְיַעֲקֹֽב׃ (כ) וַתֹּ֣אמֶר לֵאָ֗ה זְבָדַ֨נִי אֱלֹהִ֥ים ׀ אֹתִי֮ זֵ֣בֶד טוֹב֒ הַפַּ֙עַם֙ יִזְבְּלֵ֣נִי אִישִׁ֔י כִּֽי־יָלַ֥דְתִּי ל֖וֹ שִׁשָּׁ֣ה בָנִ֑ים וַתִּקְרָ֥א אֶת־שְׁמ֖וֹ זְבֻלֽוּן׃ (כא) וְאַחַ֖ר יָ֣לְדָה בַּ֑ת וַתִּקְרָ֥א אֶת־שְׁמָ֖הּ דִּינָֽה׃ (כב) וַיִּזְכֹּ֥ר אֱלֹהִ֖ים אֶת־רָחֵ֑ל וַיִּשְׁמַ֤ע אֵלֶ֙יהָ֙ אֱלֹהִ֔ים וַיִּפְתַּ֖ח אֶת־רַחְמָֽהּ׃ (כג) וַתַּ֖הַר וַתֵּ֣לֶד בֵּ֑ן וַתֹּ֕אמֶר אָסַ֥ף אֱלֹהִ֖ים אֶת־חֶרְפָּתִֽי׃ (כד) וַתִּקְרָ֧א אֶת־שְׁמ֛וֹ יוֹסֵ֖ף לֵאמֹ֑ר יֹסֵ֧ף יְהֹוָ֛ה לִ֖י בֵּ֥ן אַחֵֽר׃ (כה) וַיְהִ֕י כַּאֲשֶׁ֛ר יָלְדָ֥ה רָחֵ֖ל אֶת־יוֹסֵ֑ף וַיֹּ֤אמֶר יַעֲקֹב֙ אֶל־לָבָ֔ן שַׁלְּחֵ֙נִי֙ וְאֵ֣לְכָ֔ה אֶל־מְקוֹמִ֖י וּלְאַרְצִֽי׃ (כו) תְּנָ֞ה אֶת־נָשַׁ֣י וְאֶת־יְלָדַ֗י אֲשֶׁ֨ר עָבַ֧דְתִּי אֹֽתְךָ֛ בָּהֵ֖ן וְאֵלֵ֑כָה כִּ֚י אַתָּ֣ה יָדַ֔עְתָּ אֶת־עֲבֹדָתִ֖י אֲשֶׁ֥ר עֲבַדְתִּֽיךָ׃ (כז) וַיֹּ֤אמֶר אֵלָיו֙ לָבָ֔ן אִם־נָ֛א מָצָ֥אתִי חֵ֖ן בְּעֵינֶ֑יךָ נִחַ֕שְׁתִּי וַיְבָרְכֵ֥נִי יְהֹוָ֖ה בִּגְלָלֶֽךָ׃
(יד) וַאֲזַל רְאוּבֵן בְּיוֹמֵי חֲצַד חִטִּין וְאַשְׁכַּח יַבְרוּחִין בְּחַקְלָא וְאַיְתִי יָתְהוֹן לְלֵאָה אִמֵּיהּ וַאֲמֶרֶת רָחֵל לְלֵאָה הָבִי כְעַן לִי מִיַּבְרוּחֵי דִּבְרִיךְ: (טו) וַאֲמֶרֶת לַהּ הַזְעֵיר דִּדְבַרְתְּ יָת בַּעְלִי וְתִסְּבִין אַף יָת יַבְרוּחֵי דִּבְרִי וַאֲמֶרֶת רָחֵל בְּכֵן יִשְׁכּוּב עִמָךְ בְּלֵילְיָא חֳלַף יַבְרוּחֵי דִבְרִיךְ: (טז) וַאֲתָא (נ"א וְעַל) יַעֲקֹב מִן חַקְלָא בְּרַמְשָׁא וּנְפָקַת לֵאָה לְקַדָּמוּתֵיהּ וַאֲמֶרֶת לְוָתִי תֵיעוֹל אֲרֵי מֵיגַר אֲגַרְתִּיךְ בְּיַבְרוּחֵי דִּבְרִי וּשְׁכִיב עִמַּהּ בְּלֵילְיָא הוּא: (יז) וְקַבִּיל יְיָ צְלוֹתַהּ דְּלֵאָה וְעַדִּיאַת וִילִידַת לְיַעֲקֹב בַּר חֲמִישָׁאִי: (יח) וַאֲמֶרֶת לֵאָה יְהַב יְיָ אַגְרִי דִּיהָבִית אַמְתִי לְבַעְלִי וּקְרַת שְׁמֵיהּ יִשָּׂשׂכָר: (יט) וְעַדִּיאַת עוֹד לֵאָה וִילִידַת בַּר שִׁתִיתָאִי לְיַעֲקֹב: (כ) וַאֲמֶרֶת לֵאָה יְהַב יְיָ יָתֵיהּ לִי חֳלַק טַב הָדָא זִמְנָא יְהֵי מְדוֹרֵיהּ דְּבַעְלִי לְוָתִי אֲרֵי יְלֵידִית לֵיהּ שִׁתָּא בְנִין וּקְרַת יָת שְׁמֵיהּ זְבֻלוּן: (כא) וּבָתַר כֵּן יְלִידַת בְּרַתָּא וּקְרַת יָת שְׁמַהּ דִּינָה: (כב) וְעַל דּוּכְרָנָא דְרָחֵל קֳדָם יְיָ וְקַבִּיל צְלוֹתַהּ יְיָ וִיהַב לַהּ עִדּוּי: (כג) וְעַדִּיאַת וִילִידַת בָּר וַאֲמֶרֶת כְּנַשׁ יְיָ יָת חִסּוּדִי: (כד) וּקְרַת יָת שְׁמֵיהּ יוֹסֵף לְמֵימָר יוֹסֵף יְיָ לִי בַּר אָחֳרָן: (כה) וַהֲוָה כַּד יְלִידַת רָחֵל יָת יוֹסֵף וַאֲמַר יַעֲקֹב לְלָבָן שַׁלְּחַנִי וְאֵיהַךְ לְאַתְרִי וּלְאַרְעִי: (כו) הַב יָת נְשַׁי וְיָת בְּנַי דִּי פְלָחִית יָתָךְ בְּהֵן וְאֵזֵיל אֲרֵי אַתְּ יְדַעְתָּ יָת פָּלְחָנִי דִּפְלָחִתָּךְ: (כז) וַאַמַר לֵיהּ לָבָן אִם כְּעַן אַשְׁכָּחִית רַחֲמִין קֳדָמָךְ נַסֵּיתִי וּבָרְכַנִי יְיָ בְּדִילָךְ:
14. Reuven was walking at the time of the wheat harvest. He found some mandrakes in the field and brought them to his mother Leah. Rachel said to Leah, "Please give me some of your son's mandrakes." 15. She said to her, "Was it not enough for you to take my husband? Would you also take my son's mandrakes?" Rachel said, "Therefore he will lie with you tonight in exchange for your son's mandrakes." 16. Yaakov came in from the field in the evening. Leah went out to meet him and she said, "You are to come to me because I have surely hired you with my son's mandrakes." He lay with her that night. 17. Hashem accepted Leah's prayer and she conceived; she delivered a fifth son to Yaakov. 18. Leah said, "Hashem has given me my payment because I gave my servant to my husband." She called his name Yisachar. 19. Leah conceived again and delivered a sixth son to Yaakov. 20. Leah said, "Hashem has given me a good portion; this time my husband's dwelling will be with me because I have delivered six sons to him." She called his name Zevulun. 21. Afterwards, she delivered a daughter and she called her name Dina. 22. Remembrance of Rachel came before Hashem; Hashem accepted her prayer and He gave her fertility. 23. She conceived and delivered a son. She said, "Hashem has gathered my reproach." 24. She called his name Yoseif, saying, "May Hashem increase another son for me." 25. When Rachel had given birth to Yoseif, Yaakov said to Lavan, "Send me off and I'll go to my place and my land. 26. Give me my wives and my children, for whom I have worked for you so I may go because you know the work that I have performed for you." 27. Lavan said to him, "If I have found mercy in your eyes, I have tested that Hashem has blessed me because of you."[1]
[1] The Targum conceals the fact – explicit in the Hebrew – that Lavan tested his theory through idolatrous divination.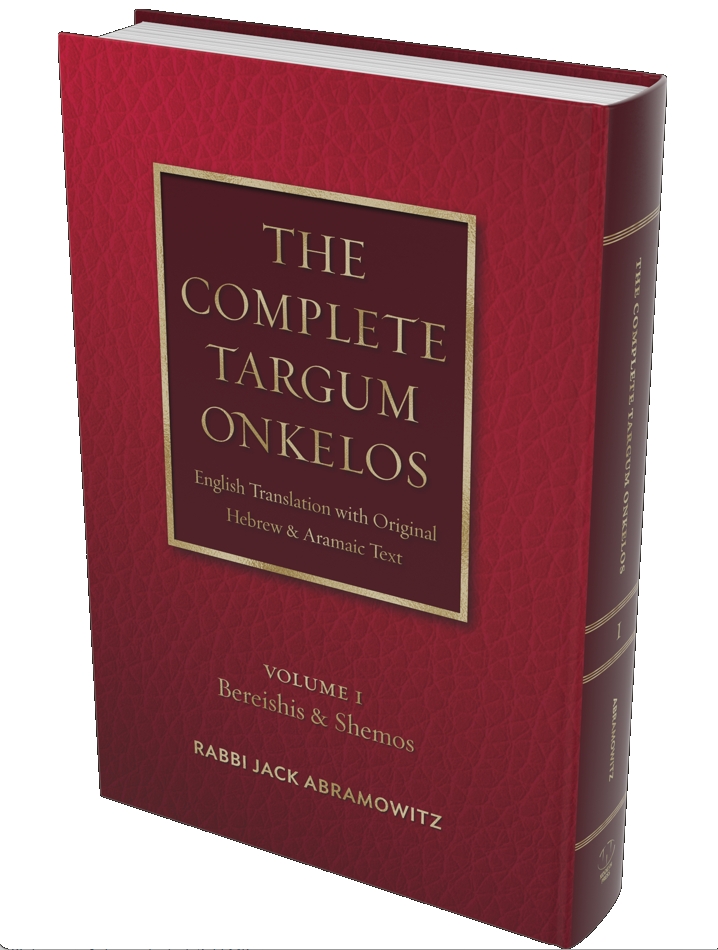 The Complete Targum Onkelos - volume 1 now available on Amazon and from Kodesh Press!