Vayeitzei - Rishon
(י) וַיֵּצֵ֥א יַעֲקֹ֖ב מִבְּאֵ֣ר שָׁ֑בַע וַיֵּ֖לֶךְ חָרָֽנָה׃ (יא) וַיִּפְגַּ֨ע בַּמָּק֜וֹם וַיָּ֤לֶן שָׁם֙ כִּי־בָ֣א הַשֶּׁ֔מֶשׁ וַיִּקַּח֙ מֵאַבְנֵ֣י הַמָּק֔וֹם וַיָּ֖שֶׂם מְרַֽאֲשֹׁתָ֑יו וַיִּשְׁכַּ֖ב בַּמָּק֥וֹם הַהֽוּא׃ (יב) וַֽיַּחֲלֹ֗ם וְהִנֵּ֤ה סֻלָּם֙ מֻצָּ֣ב אַ֔רְצָה וְרֹאשׁ֖וֹ מַגִּ֣יעַ הַשָּׁמָ֑יְמָה וְהִנֵּה֙ מַלְאֲכֵ֣י אֱלֹהִ֔ים עֹלִ֥ים וְיֹרְדִ֖ים בּֽוֹ׃ (יג) וְהִנֵּ֨ה יְהֹוָ֜ה נִצָּ֣ב עָלָיו֮ וַיֹּאמַר֒ אֲנִ֣י יְהֹוָ֗ה אֱלֹהֵי֙ אַבְרָהָ֣ם אָבִ֔יךָ וֵאלֹהֵ֖י יִצְחָ֑ק הָאָ֗רֶץ אֲשֶׁ֤ר אַתָּה֙ שֹׁכֵ֣ב עָלֶ֔יהָ לְךָ֥ אֶתְּנֶ֖נָּה וּלְזַרְעֶֽךָ׃ (יד) וְהָיָ֤ה זַרְעֲךָ֙ כַּעֲפַ֣ר הָאָ֔רֶץ וּפָרַצְתָּ֛ יָ֥מָּה וָקֵ֖דְמָה וְצָפֹ֣נָה וָנֶ֑גְבָּה וְנִבְרְכ֥וּ בְךָ֛ כׇּל־מִשְׁפְּחֹ֥ת הָאֲדָמָ֖ה וּבְזַרְעֶֽךָ׃ (טו) וְהִנֵּ֨ה אָנֹכִ֜י עִמָּ֗ךְ וּשְׁמַרְתִּ֙יךָ֙ בְּכֹ֣ל אֲשֶׁר־תֵּלֵ֔ךְ וַהֲשִׁ֣בֹתִ֔יךָ אֶל־הָאֲדָמָ֖ה הַזֹּ֑את כִּ֚י לֹ֣א אֶֽעֱזָבְךָ֔ עַ֚ד אֲשֶׁ֣ר אִם־עָשִׂ֔יתִי אֵ֥ת אֲשֶׁר־דִּבַּ֖רְתִּי לָֽךְ׃ (טז) וַיִּיקַ֣ץ יַעֲקֹב֮ מִשְּׁנָתוֹ֒ וַיֹּ֕אמֶר אָכֵן֙ יֵ֣שׁ יְהֹוָ֔ה בַּמָּק֖וֹם הַזֶּ֑ה וְאָנֹכִ֖י לֹ֥א יָדָֽעְתִּי׃ (יז) וַיִּירָא֙ וַיֹּאמַ֔ר מַה־נּוֹרָ֖א הַמָּק֣וֹם הַזֶּ֑ה אֵ֣ין זֶ֗ה כִּ֚י אִם־בֵּ֣ית אֱלֹהִ֔ים וְזֶ֖ה שַׁ֥עַר הַשָּׁמָֽיִם׃ (יח) וַיַּשְׁכֵּ֨ם יַעֲקֹ֜ב בַּבֹּ֗קֶר וַיִּקַּ֤ח אֶת־הָאֶ֙בֶן֙ אֲשֶׁר־שָׂ֣ם מְרַֽאֲשֹׁתָ֔יו וַיָּ֥שֶׂם אֹתָ֖הּ מַצֵּבָ֑ה וַיִּצֹ֥ק שֶׁ֖מֶן עַל־רֹאשָֽׁהּ׃ (יט) וַיִּקְרָ֛א אֶת־שֵֽׁם־הַמָּק֥וֹם הַה֖וּא בֵּֽית־אֵ֑ל וְאוּלָ֛ם ל֥וּז שֵׁם־הָעִ֖יר לָרִאשֹׁנָֽה׃ (כ) וַיִּדַּ֥ר יַעֲקֹ֖ב נֶ֣דֶר לֵאמֹ֑ר אִם־יִהְיֶ֨ה אֱלֹהִ֜ים עִמָּדִ֗י וּשְׁמָרַ֙נִי֙ בַּדֶּ֤רֶךְ הַזֶּה֙ אֲשֶׁ֣ר אָנֹכִ֣י הוֹלֵ֔ךְ וְנָֽתַן־לִ֥י לֶ֛חֶם לֶאֱכֹ֖ל וּבֶ֥גֶד לִלְבֹּֽשׁ׃ (כא) וְשַׁבְתִּ֥י בְשָׁל֖וֹם אֶל־בֵּ֣ית אָבִ֑י וְהָיָ֧ה יְהֹוָ֛ה לִ֖י לֵאלֹהִֽים׃ (כב) וְהָאֶ֣בֶן הַזֹּ֗את אֲשֶׁר־שַׂ֙מְתִּי֙ מַצֵּבָ֔ה יִהְיֶ֖ה בֵּ֣ית אֱלֹהִ֑ים וְכֹל֙ אֲשֶׁ֣ר תִּתֶּן־לִ֔י עַשֵּׂ֖ר אֲעַשְּׂרֶ֥נּוּ לָֽךְ׃
(י) וּנְפַק יַעֲקֹב מִבְּאֵרָא דְשָׁבַע וַאֲזַל לְחָרָן: (יא) וַעֲרַע בְּאַתְרָא וּבָת תַּמָּן אֲרֵי עַל שִׁמְשָׁא וּנְסִיב מֵאַבְנֵי אַתְרָא וְשַׁוִּי אִסָּדוֹהִי וּשְׁכִיב בְּאַתְרָא הַהוּא: (יב) וַחֲלַם וְהָא סֻלְמָא נָעִיץ בְּאַרְעָא וְרֵישֵׁיהּ מָטֵי עַד צֵית שְׁמַיָּא וְהָא מַלְאָכַיָּא דַיְיָ סָלְקִין וְנָחֲתִין בֵּהּ: (יג) וְהָא יְקָרָא דַיְיָ מְעַתַּד עִלָּווֹהִי וַאֲמַר אֲנָא יְיָ אֱלָהֵהּ דְּאַבְרָהָם אָבוּךְ וֵאֱלָהֵהּ דְּיִצְחָק אַרְעָא דִּי אַתְּ שָׁרֵי עֲלַהּ לָךְ אֶתְּנִנַּהּ וְלִבְנָךְ: (יד) וִיהוֹן בְּנָךְ סַגִּיאִין כְּעַפְרָא דְאַרְעָא וְתִתְקֵף לְמַעַרְבָא וּלְמָדִינְחָא וּלְצִפּוּנָא וּלְדָרוֹמָא וְיִתְבָּרְכוּן בְּדִילָךְ כֹּל זַרְעֲיַת אַרְעָא וּבְדִיל בְּנָךְ: (טו) וְהָא מֵימְרִי בְּסַעְדָּךְ וְאֶטְּרִנָּךְ בְּכָל אֲתַר דִּי תְהַךְ וַאֲתֵיבִנָּךְ לְאַרְעָא הָדָא אֲרֵי לָא אֶשְׁבְּקִנָּךְ עַד דִּי אֶעְבֵּיד יָת דְּמַלֵּלִית לָךְ: (טז) וְאִתְּעַר יַעֲקֹב מִשִּׁנְתֵּיהּ וַאֲמַר בְּקוּשְׁטָא (אִית) יְקָרָא דַיְיָ שָׁרֵי בְּאַתְרָא הָדֵין וַאֲנָא לָא הֲוֵיתִי יְדָע: (יז) וּדְחִיל וַאֲמַר מָה דְּחִילוּ אַתְרָא הָדֵין לֵית דֵּין אֲתַר הֶדְיוֹט אֶלָּהֵין אֲתַר דְּרַעֲוָא בֵיהּ מִן קֳדָם יְיָ וְדֵין תְּרַע קֳבֵל שְׁמַיָּא: (יח) וְאַקְדֵּים יַעֲקֹב בְּצַפְרָא וּנְסִיב יָת אַבְנָא דִּי שַׁוִּי אִסָּדוֹהִי וְשַׁוִּי יָתַהּ קָמָא וַאֲרִיק מִשְׁחָא עַל רֵישַׁהּ: (יט) וּקְרָא יָת שְׁמָא דְאַתְרָא הַהוּא בֵּית אֵל וּבְרַם לוּז שְׁמָא דְקַרְתָּא בְּקַדְמֵיתָא: (כ) וְקַיִּים יַעֲקֹב קְיָם לְמֵימָר אִם יְהֵא מֵימְרָא דַיְיָ בְּסַעְדִּי וְיִטְּרִנַּנִי בְּאָרְחָא הָדֵין דִּי אֲנָא אָזֵל וְיִתֶּן לִי לַחֲמָא (נ"א לְחֵם) לְמֵיכַל וּכְסוּ לְמִלְבָּשׁ: (כא) וְאֵתוּב בִּשְׁלַם לְבֵית אַבָּא וִיהֵא מֵימְרָא דַיְיָ לִי לֵאלָהָא: (כב) וְאַבְנָא הָדָא דִּי שַׁוֵּיתִי קָמָא תְּהֵי דִּי אֵהֵי פָלַח עֲלַהּ מִן קֳדָם יְיָ וְכֹל דִּי תִּתֶּן לִי חַד מִן עַשְׂרָא אַפְרְשִׁנֵּיהּ קֳדָמָךְ:
10. Yaakov left Be'er Sheva and traveled to Charan. 11. He happened upon a certain place and turned in there for because the sun had set. He took from the stones of the place, he put it as his pillow and he lay down in that place. 12. He had a dream and behold, a ladder was set into the ground with its top to the height of Heaven. Angels of Hashem were ascending and descending on it. 13. Behold, the glory of Hashem was standing over him and He said, "I am Hashem, the God of your father Avraham and the God of Yitzchak. I will give the land on which you are lying to you and to your descendants. 14. Your descendants will be as numerous as the dust of the earth. You will grow strong West and East, North and South. All the families of the land will be blessed because of you and because of your descendants. 15. Behold, My word will assist you. I will protect you in every place you go and I will return you to this land; I will not leave you until I have done what I told you." 16. Yaakov awoke from his sleep and he said, "In truth Hashem's glory dwells in this place and I didn't know it!"[1] 17. He was overwhelmed and he said, "How awesome is this place! This is no normal place; rather it is a place that is pleasing before Hashem, and this is the gate opposite Heaven." 18. Yaakov got up in the morning, he took the stone that he had placed as his pillow and he set it up as a pillar. He poured oil on its top. 19. He called the name of the place Beth-El, though Luz was the name of the city beforehand. 20. Yaakov made an oath,[2] saying, "If the word of Hashem will assist me and protect me on this road that I'm traveling, if He gives me bread to eat and clothes to wear, 21. and I return in peace to my father's house, then Hashem's word will be God to me. 22. This stone that I set up as a pillar will be that on which I will serve before Hashem. From all that You give me, I will surely separate a tenth before You."
[1] In the phrase "I didn't know," Onkelos inserts a word that is grammatically necessary in Aramaic but that doesn't change the meaning of the phrase.
[2] Rather than a vow.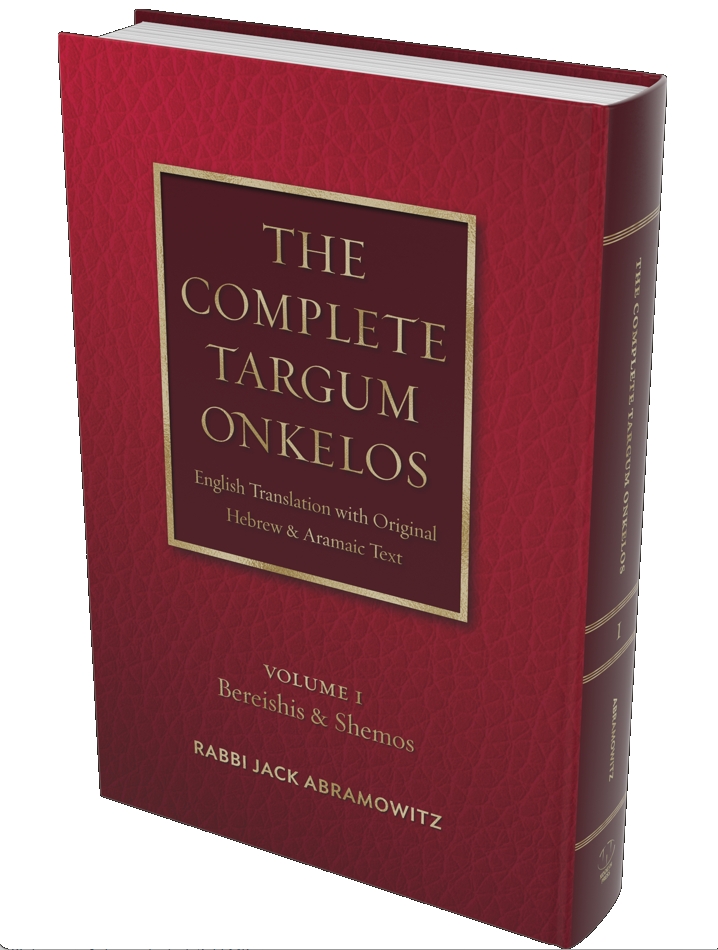 The Complete Targum Onkelos - volume 1 now available on Amazon and from Kodesh Press!