Toldos - Shevii
(ה) וַיִּשְׁלַ֤ח יִצְחָק֙ אֶֽת־יַעֲקֹ֔ב וַיֵּ֖לֶךְ פַּדֶּ֣נָֽה אֲרָ֑ם אֶל־לָבָ֤ן בֶּן־בְּתוּאֵל֙ הָֽאֲרַמִּ֔י אֲחִ֣י רִבְקָ֔ה אֵ֥ם יַעֲקֹ֖ב וְעֵשָֽׂו׃ (ו) וַיַּ֣רְא עֵשָׂ֗ו כִּֽי־בֵרַ֣ךְ יִצְחָק֮ אֶֽת־יַעֲקֹב֒ וְשִׁלַּ֤ח אֹתוֹ֙ פַּדֶּ֣נָֽה אֲרָ֔ם לָקַֽחַת־ל֥וֹ מִשָּׁ֖ם אִשָּׁ֑ה בְּבָרְכ֣וֹ אֹת֔וֹ וַיְצַ֤ו עָלָיו֙ לֵאמֹ֔ר לֹֽא־תִקַּ֥ח אִשָּׁ֖ה מִבְּנ֥וֹת כְּנָֽעַן׃ (ז) וַיִּשְׁמַ֣ע יַעֲקֹ֔ב אֶל־אָבִ֖יו וְאֶל־אִמּ֑וֹ וַיֵּ֖לֶךְ פַּדֶּ֥נָֽה אֲרָֽם׃ (ח) וַיַּ֣רְא עֵשָׂ֔ו כִּ֥י רָע֖וֹת בְּנ֣וֹת כְּנָ֑עַן בְּעֵינֵ֖י יִצְחָ֥ק אָבִֽיו׃ (ט) וַיֵּ֥לֶךְ עֵשָׂ֖ו אֶל־יִשְׁמָעֵ֑אל וַיִּקַּ֡ח אֶֽת־מָחֲלַ֣ת ׀ בַּת־יִשְׁמָעֵ֨אל בֶּן־אַבְרָהָ֜ם אֲח֧וֹת נְבָי֛וֹת עַל־נָשָׁ֖יו ל֥וֹ לְאִשָּֽׁה׃ {ס}
(ה) וּשְׁלַח יִצְחָק יָת יַעֲקֹב וַאֲזַל לְפַדַּן אֲרָם לְוַת לָבָן בַּר בְּתוּאֵל אֲרַמָּאָה אֲחוּהָא דְרִבְקָה אִמֵּיהּ דְּיַעֲקֹב וְעֵשָׂו: (ו) וַחֲזָא עֵשָׂו אֲרֵי בָרִיךְ יִצְחָק יָת יַעֲקֹב וְשַׁלַּח יָתֵיהּ לְפַדַּן אֲרָם לְמִסַּב לֵיהּ מִתַּמָּן אִתְּתָא כַּד בָּרִיךְ יָתֵיהּ וּפַקִּיד עֲלוֹהִי לְמֵימַר לָא תִסַּב אִתְּתָא מִבְּנַת כְּנָעַן: (ז) וְקַבִּיל יַעֲקֹב מִן אֲבוּהִי וּמִן אִמֵּיהּ וַאֲזַל לְפַדַּן אֲרָם: (ח) וַחֲזָא עֵשָׂו אֲרֵי בִישָׁא בְּנַת כְּנָעַן בְּעֵינֵי יִצְחָק אֲבוּהִי: (ט) וַאֲזַל עֵשָׂו לְוַת יִשְׁמָעֵאל וּנְסִיב יָת מַחֲלַת בַּת יִשְׁמָעֵאל בַּר אַבְרָהָם אֲחָתֵיהּ דִּנְבָיוֹת עַל נְשׁוֹהִי לֵיהּ לְאִנְתּוּ:
5. Yitzchak sent Yaakov off and he traveled to Padan-Aram, to Lavan the son of Besuel the Aramean, the brother of Rivka, mother of Yaakov and Eisav. 6. Eisav saw that Yitzchak had blessed Yaakov and sent him off to Padan-Aram to take a wife for himself from there. As he blessed him, he commanded him, saying, "Do not take a wife from the Canaanite women." 7. Yaakov accepted it from his father and from his mother and he went to Padan-Aram, 8. Eisav saw that the Canaanite women were unacceptable in his father Yitzchak's eyes. 9. Eisav went to Yishmael and took Machalas the daughter of Yishmael son of Avraham, the sister of N'vayos, as a wife, in addition his (existing) wives.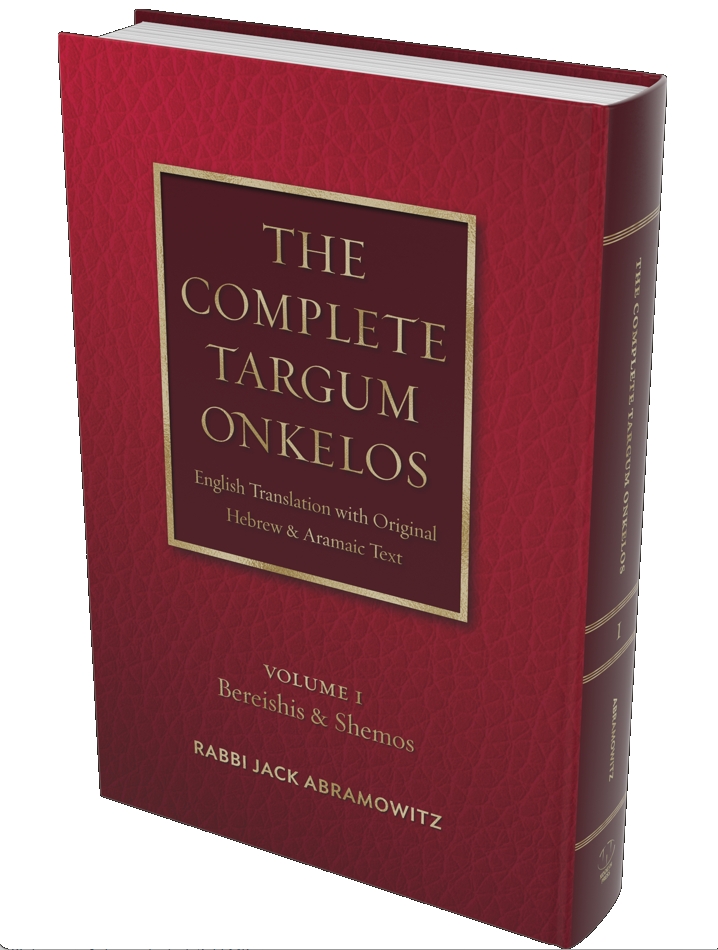 The Complete Targum Onkelos - volume 1 now available on Amazon and from Kodesh Press!