Toldos - Shishi
(כח) וְיִֽתֶּן־לְךָ֙ הָאֱלֹהִ֔ים מִטַּל֙ הַשָּׁמַ֔יִם וּמִשְׁמַנֵּ֖י הָאָ֑רֶץ וְרֹ֥ב דָּגָ֖ן וְתִירֹֽשׁ׃ (כט) יַֽעַבְד֣וּךָ עַמִּ֗ים (וישתחו) [וְיִֽשְׁתַּחֲו֤וּ] לְךָ֙ לְאֻמִּ֔ים הֱוֵ֤ה גְבִיר֙ לְאַחֶ֔יךָ וְיִשְׁתַּחֲו֥וּ לְךָ֖ בְּנֵ֣י אִמֶּ֑ךָ אֹרְרֶ֣יךָ אָר֔וּר וּֽמְבָרְכֶ֖יךָ בָּרֽוּךְ׃ (ל) וַיְהִ֗י כַּאֲשֶׁ֨ר כִּלָּ֣ה יִצְחָק֮ לְבָרֵ֣ךְ אֶֽת־יַעֲקֹב֒ וַיְהִ֗י אַ֣ךְ יָצֹ֤א יָצָא֙ יַעֲקֹ֔ב מֵאֵ֥ת פְּנֵ֖י יִצְחָ֣ק אָבִ֑יו וְעֵשָׂ֣ו אָחִ֔יו בָּ֖א מִצֵּידֽוֹ׃ (לא) וַיַּ֤עַשׂ גַּם־הוּא֙ מַטְעַמִּ֔ים וַיָּבֵ֖א לְאָבִ֑יו וַיֹּ֣אמֶר לְאָבִ֗יו יָקֻ֤ם אָבִי֙ וְיֹאכַל֙ מִצֵּ֣יד בְּנ֔וֹ בַּעֲבֻ֖ר תְּבָרְכַ֥נִּי נַפְשֶֽׁךָ׃ (לב) וַיֹּ֥אמֶר ל֛וֹ יִצְחָ֥ק אָבִ֖יו מִי־אָ֑תָּה וַיֹּ֕אמֶר אֲנִ֛י בִּנְךָ֥ בְכֹֽרְךָ֖ עֵשָֽׂו׃ (לג) וַיֶּחֱרַ֨ד יִצְחָ֣ק חֲרָדָה֮ גְּדֹלָ֣ה עַד־מְאֹד֒ וַיֹּ֡אמֶר מִֽי־אֵפ֡וֹא ה֣וּא הַצָּֽד־צַ֩יִד֩ וַיָּ֨בֵא לִ֜י וָאֹכַ֥ל מִכֹּ֛ל בְּטֶ֥רֶם תָּב֖וֹא וָאֲבָרְכֵ֑הוּ גַּם־בָּר֖וּךְ יִהְיֶֽה׃ (לד) כִּשְׁמֹ֤עַ עֵשָׂו֙ אֶת־דִּבְרֵ֣י אָבִ֔יו וַיִּצְעַ֣ק צְעָקָ֔ה גְּדֹלָ֥ה וּמָרָ֖ה עַד־מְאֹ֑ד וַיֹּ֣אמֶר לְאָבִ֔יו בָּרְכֵ֥נִי גַם־אָ֖נִי אָבִֽי׃ (לה) וַיֹּ֕אמֶר בָּ֥א אָחִ֖יךָ בְּמִרְמָ֑ה וַיִּקַּ֖ח בִּרְכָתֶֽךָ׃ (לו) וַיֹּ֡אמֶר הֲכִי֩ קָרָ֨א שְׁמ֜וֹ יַעֲקֹ֗ב וַֽיַּעְקְבֵ֙נִי֙ זֶ֣ה פַעֲמַ֔יִם אֶת־בְּכֹרָתִ֣י לָקָ֔ח וְהִנֵּ֥ה עַתָּ֖ה לָקַ֣ח בִּרְכָתִ֑י וַיֹּאמַ֕ר הֲלֹא־אָצַ֥לְתָּ לִּ֖י בְּרָכָֽה׃ (לז) וַיַּ֨עַן יִצְחָ֜ק וַיֹּ֣אמֶר לְעֵשָׂ֗ו הֵ֣ן גְּבִ֞יר שַׂמְתִּ֥יו לָךְ֙ וְאֶת־כׇּל־אֶחָ֗יו נָתַ֤תִּי לוֹ֙ לַעֲבָדִ֔ים וְדָגָ֥ן וְתִירֹ֖שׁ סְמַכְתִּ֑יו וּלְכָ֣ה אֵפ֔וֹא מָ֥ה אֶֽעֱשֶׂ֖ה בְּנִֽי׃ (לח) וַיֹּ֨אמֶר עֵשָׂ֜ו אֶל־אָבִ֗יו הַֽבְרָכָ֨ה אַחַ֤ת הִֽוא־לְךָ֙ אָבִ֔י בָּרְכֵ֥נִי גַם־אָ֖נִי אָבִ֑י וַיִּשָּׂ֥א עֵשָׂ֛ו קֹל֖וֹ וַיֵּֽבְךְּ׃ (לט) וַיַּ֛עַן יִצְחָ֥ק אָבִ֖יו וַיֹּ֣אמֶר אֵלָ֑יו הִנֵּ֞ה מִשְׁמַנֵּ֤י הָאָ֙רֶץ֙ יִהְיֶ֣ה מֽוֹשָׁבֶ֔ךָ וּמִטַּ֥ל הַשָּׁמַ֖יִם מֵעָֽל׃ (מ) וְעַל־חַרְבְּךָ֣ תִֽחְיֶ֔ה וְאֶת־אָחִ֖יךָ תַּעֲבֹ֑ד וְהָיָה֙ כַּאֲשֶׁ֣ר תָּרִ֔יד וּפָרַקְתָּ֥ עֻלּ֖וֹ מֵעַ֥ל צַוָּארֶֽךָ׃ (מא) וַיִּשְׂטֹ֤ם עֵשָׂו֙ אֶֽת־יַעֲקֹ֔ב עַ֨ל־הַבְּרָכָ֔ה אֲשֶׁ֥ר בֵּרְכ֖וֹ אָבִ֑יו וַיֹּ֨אמֶר עֵשָׂ֜ו בְּלִבּ֗וֹ יִקְרְבוּ֙ יְמֵי֙ אֵ֣בֶל אָבִ֔י וְאַֽהַרְגָ֖ה אֶת־יַעֲקֹ֥ב אָחִֽי׃ (מב) וַיֻּגַּ֣ד לְרִבְקָ֔ה אֶת־דִּבְרֵ֥י עֵשָׂ֖ו בְּנָ֣הּ הַגָּדֹ֑ל וַתִּשְׁלַ֞ח וַתִּקְרָ֤א לְיַעֲקֹב֙ בְּנָ֣הּ הַקָּטָ֔ן וַתֹּ֣אמֶר אֵלָ֔יו הִנֵּה֙ עֵשָׂ֣ו אָחִ֔יךָ מִתְנַחֵ֥ם לְךָ֖ לְהׇרְגֶֽךָ׃ (מג) וְעַתָּ֥ה בְנִ֖י שְׁמַ֣ע בְּקֹלִ֑י וְק֧וּם בְּרַח־לְךָ֛ אֶל־לָבָ֥ן אָחִ֖י חָרָֽנָה׃ (מד) וְיָשַׁבְתָּ֥ עִמּ֖וֹ יָמִ֣ים אֲחָדִ֑ים עַ֥ד אֲשֶׁר־תָּשׁ֖וּב חֲמַ֥ת אָחִֽיךָ׃ (מה) עַד־שׁ֨וּב אַף־אָחִ֜יךָ מִמְּךָ֗ וְשָׁכַח֙ אֵ֣ת אֲשֶׁר־עָשִׂ֣יתָ לּ֔וֹ וְשָׁלַחְתִּ֖י וּלְקַחְתִּ֣יךָ מִשָּׁ֑ם לָמָ֥ה אֶשְׁכַּ֛ל גַּם־שְׁנֵיכֶ֖ם י֥וֹם אֶחָֽד׃ (מו) וַתֹּ֤אמֶר רִבְקָה֙ אֶל־יִצְחָ֔ק קַ֣צְתִּי בְחַיַּ֔י מִפְּנֵ֖י בְּנ֣וֹת חֵ֑ת אִם־לֹקֵ֣חַ יַ֠עֲקֹ֠ב אִשָּׁ֨ה מִבְּנֽוֹת־חֵ֤ת כָּאֵ֙לֶּה֙ מִבְּנ֣וֹת הָאָ֔רֶץ לָ֥מָּה לִּ֖י חַיִּֽים׃
(כח) וְיִתֶּן לָךְ יְיָ מִטַּלָּא דִשְׁמַיָּא וּמִטּוּבָא דְאַרְעָא וּסְגִיאוּת (נ"א וְסַגְיוּת) עִיבוּר וַחֲמָר: (כט) יִפְלְחֻנָּךְ עַמְמִין וְיִשְׁתַּעְבְּדוּן לָךְ מַלְכְּוָן הֱוֵי רַב לְאַחָיךְ וְיִסְגְּדוּן לָךְ בְּנֵי אִמָּךְ מְלַטְטָיךְ יְהוֹן לִיטִין וּמְבָרֲכָיךְ יְהוֹן בְּרִיכִין: (ל) וַהֲוָה כַּד שֵׁיצִי יִצְחָק לְבָרָכָא יָת יַעֲקֹב וַהֲוָה בְּרַם מִפַּק נְפַק יַעֲקֹב מִלְּוַת אַפֵּי יִצְחָק אֲבוּהִי וְעֵשָׂו אֲחוּהִי אָתָא (נ"א עַל) מִצֵּידֵיהּ: (לא) וַעֲבַד אַף הוּא תַּבְשִׁילִין וְאָעֵיל לְוַת אֲבוּהִי וַאֲמַר לַאֲבוּהִי יָקוּם אַבָּא וְיֵכוּל מִצֵּידָא דִבְרֵיהּ בְּדִיל דִּי תְבָרְכִנַּנִי נַפְשָׁךְ: (לב) וַאֲמַר לֵיהּ יִצְחָק אֲבוּהִי מָן אָתְּ וַאֲמַר אֲנָא בְּרָךְ בּוּכְרָךְ עֵשָׂו: (לג) וּתְוָה יִצְחָק תִּוְהָא רַבָּא עַד לַחֲדָא וַאֲמַר מָן הוּא דֵיכִי דְּצָד צֵידָא וְאָעֵיל לִי וַאֲכָלִית מִכֹּלָּא עַד לָא תֵיעוֹל וּבָרֵכִתֵּיהּ אַף בְּרִיךְ יְהֵי: (לד) כַּד שְׁמַע עֵשָׂו יָת פִּתְגָּמֵי אֲבוּהִי וּצְוַח צִוְחָא רַבָּא וּמְרִירָא עַד לַחֲדָא וַאֲמַר לַאֲבוּהִי בָּרֵכְנִי אַף אֲנָא (נ"א לִי) אַבָּא: (לה) וַאֲמַר עַל אָחוּךְ בְּחָכְמְתָא וְקַבִּיל בִּרְכְּתָךְ: (לו) וַאֲמַר יָאוּת קְרָא שְׁמֵיהּ יַעֲקֹב וְחַכְּמַנִי דְּנָן תַּרְתֵּין זִמְנִין יָת בְּכֵירוּתִי נְסִיב וְהָא כְּעַן קַבִּיל בִּרְכְּתִי וַאֲמַר הֲלָא שְׁבַקְתָּ לִּי בִּרְכְּתָא: (לז) וַאֲתֵיב יִצְחָק וַאֲמַר לְעֵשָׂו הָא רַב שַׁוִּתֵּיהּ לָךְ (נ"א עִלַּוָךְ) וְיָת כָּל אֲחוֹהִי יְהָבִית לֵיהּ לְעַבְדִּין וְעִיבוּר וַחֲמָר סְעִדְתֵּיהּ וְלָךְ הָכָא מָה אֶעְבֵּיד בְּרִי: (לח) וַאֲמַר עֵשָׂו לַאֲבוּהִי הֲבִרְכְּתָא חֲדָא הִיא לָךְ אַבָּא בָּרֵךְ לִי אַף אֲנָא אַבָּא וַאֲרֵים עֵשָׂו קָלֵיהּ וּבְכָא: (לט) וַאֲתֵיב יִצְחָק אֲבוּהִי וַאֲמַר לֵיהּ הָא מִטּוּבָא דְאַרְעָא יְהֵא מוֹתְבָךְ וּמִטַּלָּא דִשְׁמַיָּא מִלְּעֵלָּא: (מ) וְעַל חַרְבָּךְ תֵּיחֵי וְיָת אָחוּךְ תִּפְלָח וִיהֵי כַּד יַעְבְּרוּן בְּנוֹהִי עַל פִּתְגָּמֵי אוֹרַיְתָא וְתַעְדֵּי נִירֵיהּ מֵעַל צַוְרָךְ: (מא) וּנְטַר עֵשָׂו דְּבָבוּ לְיַעֲקֹב עַל בִּרְכְּתָא דִּי בָרְכֵיהּ אֲבוּהִי וַאֲמַר עֵשָׂו בְּלִבֵּיהּ יִקְרְבוּן יוֹמֵי אֶבְלֵי דְאַבָּא וְאֶקְטוֹל יָת יַעֲקֹב אָחִי: (מב) וְאִתְחַוָּה לְרִבְקָה יָת פִּתְגָּמֵי עֵשָׂו בְּרַהּ רַבָּא וּשְׁלָחַת וּקְרַת לְיַעֲקֹב בְּרַהּ זְעֵירָא וַאֲמֶרֶת לֵיהּ הָא עֵשָׂו אָחוּךְ כְּמִן לָךְ לְמִקְטְלָךְ: (מג) וּכְעַן בְּרִי קַבֵּל מִנִּי וְקוּם אִזֵיל לָךְ לְוַת לָבָן אָחִי לְחָרָן: (מד) וְתֵתֵיב עִמֵּיהּ יוֹמִין זְעֵירִין עַד דִּיתוּב רוּגְזָא דְאָחוּךְ: (מה) עַד דִּיתוּב רוּגְזָא דְאָחוּךְ מִנָּךְ וְיִתְנְשֵׁי יָת דִּי עֲבַדְתָּ לֵיהּ וְאֶשְׁלַח וְאֶדְבְּרִנָּךְ מִתַּמָּן לְמָה אֶתְכַּל אַף תַּרְוֵיכוֹן יוֹמָא חָד: (מו) וַאֲמֶרֶת רִבְקָה לְיִצְחָק עָקִית בְּחַיַּי מִן קֳדָם בְּנַת חִתָּאָה אִם נְסִיב יַעֲקֹב אִתְּתָא מִבְּנַת חִתָּאָה כְאִלֵּין מִבְּנַת אַרְעָא לְמָה לִי חַיִּים:
28. "May Hashem give you from the dew of Heaven and from the best of the Earth, and abundant grain and wine. 29. Peoples will serve you and kingdoms will be subordinate to you. You will rule over your brothers and your mother's sons will bow down to you. Those whom you curse will be cursed and those whom you bless[1] will be blessed." 30. It happened as Yitzchak finished blessing Yaakov, just after Yaakov left his father Yitzchak's presence, that his brother Eisav returned from his hunt. 31. He had also prepared dishes and he brought (them) to his father. He said to his father, "Let my father get up and eat from his son's game so that your soul may bless me." 32. His father Yitzchak said to him, "Who are you?" He said, "I am your son, your firstborn, Eisav." 33. Yitzchak wondered with great astonishment. He said, "Who was it then that hunted game and brought it to me? I ate of it all before you arrived and I blessed him. He will also be blessed!" 34. When Eisav heard his father's words, he cried an exceedingly great and bitter cry. He said to his father, "Bless me, too, my father!" 35. He said, "Your brother came in with wisdom and received your blessing."[2] 36. He said, "He was well-named Yaakov seeing that he outsmarted me these two times – he took my birthright and now he's received my blessing!" He said further, "Have you not left a blessing for me?" 37. Yitzchak answered, saying to Eisav, "Behold, I have made him master over you and I have given him all his brothers as servants, and I have sustained him with grain and wine. What can I then do for you here, my son?" 38. Eisav said to his father, "Have you just one blessing, my father? Bless me, too, my father!" Eisav raised his voice and wept. 39. His father Yitzchak answered, saying to him, "Behold, your dwelling will be from the best of the Earth and from the dew of heaven above. 40. By your sword you will live and you will serve your brother. It will be when his descendants violate the words of the Torah that you will break his yoke from upon your neck." 41. Eisav carried resentment against Yaakov because of the blessing with which his father had blessed him. Eisav said to himself, "Let the days of mourning for my father come close and I will kill my brother Yaakov." 42. The words of her older son Eisav were reported to Rivka. She sent and called for her younger son Yaakov and said to him, "Behold, your brother Eisav is planning against you, to kill you.[3] 43. Now, my son, accept it from me. Arise and depart to my brother Lavan, to Charan. 44. Stay with him for a few days[4] until your brother's fury is turned away. 45. When your brother's anger has been turned away from you and he forgets what you have done to him, then I will send and retrieve you from there. Why should I be bereaved of you both in one day?" 46. Rivka said to Yitzchak, "I am distraught[5] with my life because of these Hittite women. If Yaakov takes a wife from the Hittite women like these women of the land, why am I alive?"
Chapter 28
(א) וַיִּקְרָ֥א יִצְחָ֛ק אֶֽל־יַעֲקֹ֖ב וַיְבָ֣רֶךְ אֹת֑וֹ וַיְצַוֵּ֙הוּ֙ וַיֹּ֣אמֶר ל֔וֹ לֹֽא־תִקַּ֥ח אִשָּׁ֖ה מִבְּנ֥וֹת כְּנָֽעַן׃ (ב) ק֥וּם לֵךְ֙ פַּדֶּ֣נָֽה אֲרָ֔ם בֵּ֥יתָה בְתוּאֵ֖ל אֲבִ֣י אִמֶּ֑ךָ וְקַח־לְךָ֤ מִשָּׁם֙ אִשָּׁ֔ה מִבְּנ֥וֹת לָבָ֖ן אֲחִ֥י אִמֶּֽךָ׃ (ג) וְאֵ֤ל שַׁדַּי֙ יְבָרֵ֣ךְ אֹֽתְךָ֔ וְיַפְרְךָ֖ וְיַרְבֶּ֑ךָ וְהָיִ֖יתָ לִקְהַ֥ל עַמִּֽים׃ (ד) וְיִֽתֶּן־לְךָ֙ אֶת־בִּרְכַּ֣ת אַבְרָהָ֔ם לְךָ֖ וּלְזַרְעֲךָ֣ אִתָּ֑ךְ לְרִשְׁתְּךָ֙ אֶת־אֶ֣רֶץ מְגֻרֶ֔יךָ אֲשֶׁר־נָתַ֥ן אֱלֹהִ֖ים לְאַבְרָהָֽם׃
(א) וּקְרָא יִצְחָק לְיַעֲקֹב וּבָרִיךְ יָתֵיהּ וּפַקְּדֵיהּ וַאֲמַר לֵיהּ לָא תִסַּב אִתְּתָא מִבְּנַת כְּנָעַן: (ב) קוּם אִזֵּיל לְפַדַּן אֲרָם לְבֵית בְּתוּאֵל אֲבוּהָא דְאִמָּךְ וְסַב לָךְ מִתַּמָּן אִתְּתָא מִבְּנַת לָבָן אֲחוּהָא דְאִמָּךְ: (ג) וְאֵל שַׁדַּי יְבָרֵךְ יָתָךְ וְיַפְּשָׁךְ וְיַסְגִּנָּךְ וּתְהֵי לְכִנְשַׁת שִׁבְטִין: (ד) וְיִתֶּן לָךְ יָת בִּרְכְּתָא דְאַבְרָהָם לָךְ וְלִבְנָךְ עִמָּךְ לְמֵירְתָךְ יָת אֲרַע תּוֹתָבוּתָךְ דִּי יְהַב יְיָ לְאַבְרָהָם:
1. Yitzchak sent for Yaakov and blessed him. He commanded him, saying to him, "Do not take a wife from the Canaanite women. 2. Get up, go to Padan-Aram, to the house of Besuel, your mother's father. Take a wife from there, from the daughters of Lavan, your mother's brother. 3. May Almighty God bless you, make you fertile and increase you so that you become an assembly of Tribes. 4. May He give the blessing of Avraham to you – to you and to your children with you – so that you will inherit the land where you dwell, which Hashem gave to Avraham."
[1] Rather than "Those who curse you" and "Those who bless you," respectively.
[2] Onkelos softens the Chumash's more literal reading of Yitzchak's criticism, i.e., that Yaakov came with deceit and took the blessing.
[3] As opposed to consoling himself with thoughts of killing Yaakov.
[4] Chumash: "some days."
[5] Rather than "disgusted."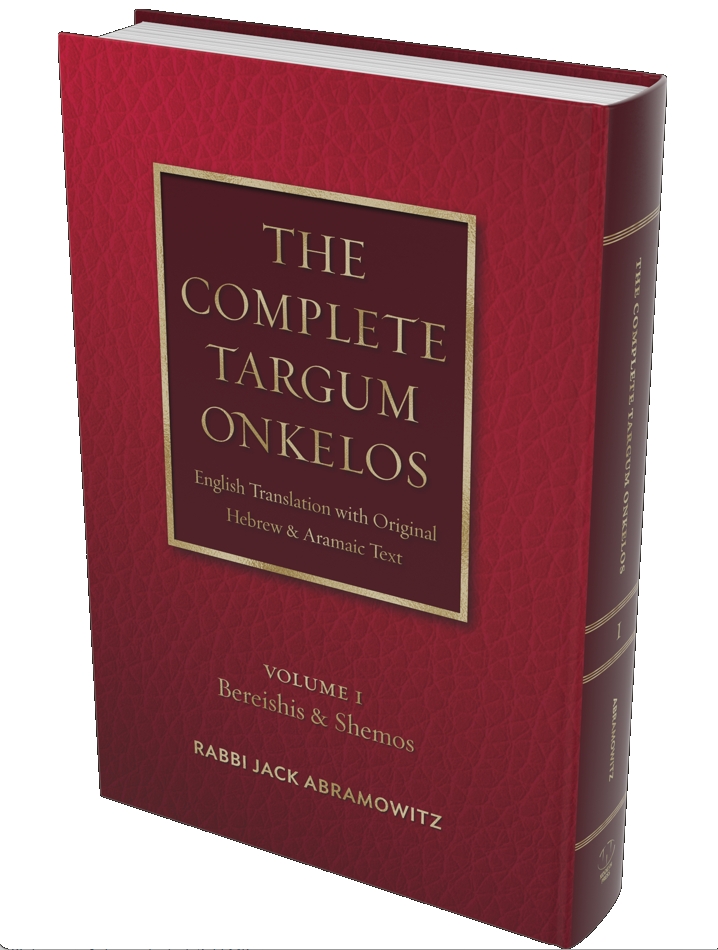 The Complete Targum Onkelos - volume 1 now available on Amazon and from Kodesh Press!