Toldos - Revii
(כג) וַיַּ֥עַל מִשָּׁ֖ם בְּאֵ֥ר שָֽׁבַע׃ (כד) וַיֵּרָ֨א אֵלָ֤יו יְהֹוָה֙ בַּלַּ֣יְלָה הַה֔וּא וַיֹּ֕אמֶר אָנֹכִ֕י אֱלֹהֵ֖י אַבְרָהָ֣ם אָבִ֑יךָ אַל־תִּירָא֙ כִּֽי־אִתְּךָ֣ אָנֹ֔כִי וּבֵֽרַכְתִּ֙יךָ֙ וְהִרְבֵּיתִ֣י אֶֽת־זַרְעֲךָ֔ בַּעֲב֖וּר אַבְרָהָ֥ם עַבְדִּֽי׃ (כה) וַיִּ֧בֶן שָׁ֣ם מִזְבֵּ֗חַ וַיִּקְרָא֙ בְּשֵׁ֣ם יְהֹוָ֔ה וַיֶּט־שָׁ֖ם אׇהֳל֑וֹ וַיִּכְרוּ־שָׁ֥ם עַבְדֵי־יִצְחָ֖ק בְּאֵֽר׃ (כו) וַאֲבִימֶ֕לֶךְ הָלַ֥ךְ אֵלָ֖יו מִגְּרָ֑ר וַאֲחֻזַּת֙ מֵֽרֵעֵ֔הוּ וּפִיכֹ֖ל שַׂר־צְבָאֽוֹ׃ (כז) וַיֹּ֤אמֶר אֲלֵהֶם֙ יִצְחָ֔ק מַדּ֖וּעַ בָּאתֶ֣ם אֵלָ֑י וְאַתֶּם֙ שְׂנֵאתֶ֣ם אֹתִ֔י וַתְּשַׁלְּח֖וּנִי מֵאִתְּכֶֽם׃ (כח) וַיֹּאמְר֗וּ רָא֣וֹ רָאִ֘ינוּ֮ כִּֽי־הָיָ֣ה יְהֹוָ֣ה ׀ עִמָּךְ֒ וַנֹּ֗אמֶר תְּהִ֨י נָ֥א אָלָ֛ה בֵּינוֹתֵ֖ינוּ בֵּינֵ֣ינוּ וּבֵינֶ֑ךָ וְנִכְרְתָ֥ה בְרִ֖ית עִמָּֽךְ׃ (כט) אִם־תַּעֲשֵׂ֨ה עִמָּ֜נוּ רָעָ֗ה כַּאֲשֶׁר֙ לֹ֣א נְגַֽעֲנ֔וּךָ וְכַאֲשֶׁ֨ר עָשִׂ֤ינוּ עִמְּךָ֙ רַק־ט֔וֹב וַנְּשַׁלֵּֽחֲךָ֖ בְּשָׁל֑וֹם אַתָּ֥ה עַתָּ֖ה בְּר֥וּךְ יְהֹוָֽה׃
(כג) וְאִסְתַּלַּק מִתַּמָּן בְּאֵר שָׁבַע: (כד) וְאִתְגְּלִי לֵיהּ יְיָ בְּלֵילְיָא הַהוּא וַאֲמַר אֲנָא אֱלָהֵהּ דְּאַבְרָהָם אֲבוּךְ לָא תִדְחַל אֲרֵי בְסַעְדָּךְ מֵימְרִי וֶאֱבָרֵכִנָּךְ וְאַסְגֵּי יָת בְּנָךְ בְּדִיל אַבְרָהָם עַבְדִּי: (כה) וּבְנָא תַמָּן מַדְבְּחָא וְצַלִּי בִּשְׁמָא דַיְיָ וּפְרַס תַּמָּן מַשְׁכְּנֵיהּ וּכְרוֹ תַמָּן עַבְדֵי יִצְחָק בֵּירָא: (כו) וַאֲבִימֶלֶךְ אֲזַל לְוָתֵיהּ מִגְּרָר וְסִיעַת מְרַחֲמוֹהִי וּפִיכֹל רַב חֵילֵיהּ: (כז) וַאֲמַר לְהוֹן יִצְחָק מָה דֵּין אֲתֵיתוּן לְוָתִי וְאַתּוּן סְנֵיתוּן יָתִי וְשַׁלַּחְתּוּנִי מִלְּוָתְכוֹן: (כח) וַאֲמָרוּ מֶחֱזָא חֲזֵינָא אֲרֵי הֲוָה מֵימְרָא דַיְיָ בְּסַעְדָּךְ וַאֲמַרְנָא תִּתְקַיַּם כְּעַן מוֹמָתָא דִּהֲוָה בֵין אֲבָהָתָנָא בֵּינָנָא וּבֵינָךְ וְנִגְזַר קְיָם עִמָּךְ: (כט) אִם תַּעְבֵּד עִמָּנָא בִּישָׁא כְּמָא דִּי לָא אַנְזִיקְנָךְ וּכְמָא דִי עֲבַדְנָא עִמָּךְ לְחוֹד טַב וַנְּשַׁלְּחִנָּךְ בִּשְׁלָם אַתְּ כְּעַן בְּרִיכָא דַיְיָ:
23. He went up from there to Be'er Sheva. 24. Hashem was revealed to him that night and said, "I am the God of your father Avraham. Don't fear because My word will help you. I will bless you and increase your descendants because of My servant Avraham." 25. He built an altar there and prayed in Hashem's name. He pitched his tent there and Yitzchak's servants started digging a well there. 26. Avimelech came to him from Gerar, along with a group of his friends[1] and Fichol, the leader of his troops. 27. Yitzchak said to them, "Why have you come to me since you treated me as an enemy and drove me away from you?" 28. They said, "We now see clearly that Hashem's word helped you. We said, 'Let us uphold the oath that was between our fathers between us and you. Let us forge a covenant with you: 29. you won't do us evil just as we didn't harm you, and just as we only did right by you and sent you away in peace. You are now blessed of Hashem!'"
[1] As opposed to "Achuzat, his friend" (the name Achuzat meaning "an assembly of").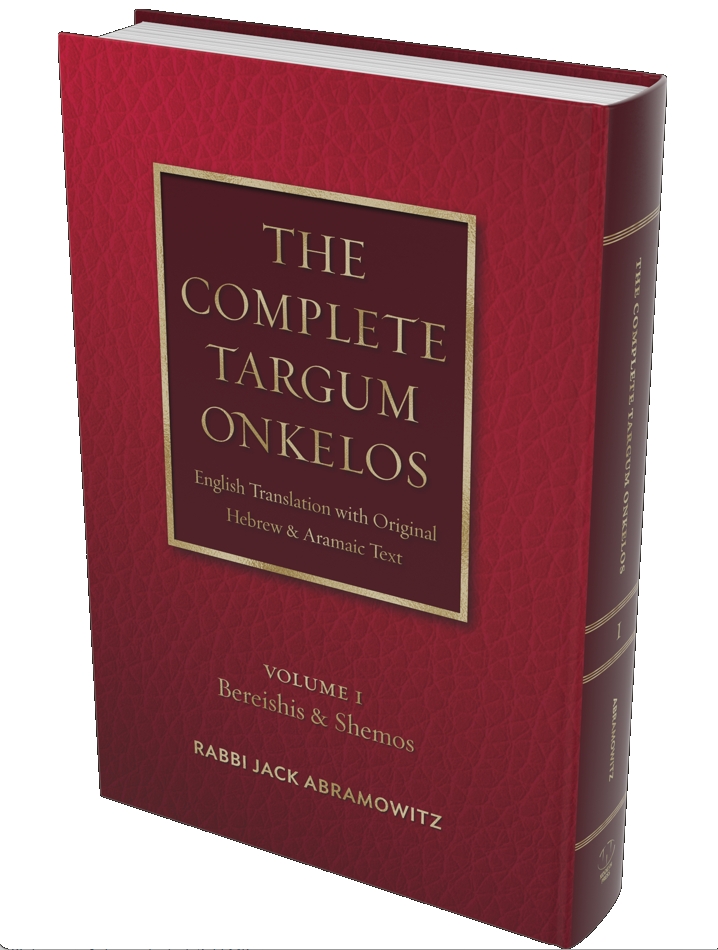 The Complete Targum Onkelos - volume 1 now available on Amazon and from Kodesh Press!