Toldos - Shlishi
(יג) וַיִּגְדַּ֖ל הָאִ֑ישׁ וַיֵּ֤לֶךְ הָלוֹךְ֙ וְגָדֵ֔ל עַ֥ד כִּֽי־גָדַ֖ל מְאֹֽד׃ (יד) וַֽיְהִי־ל֤וֹ מִקְנֵה־צֹאן֙ וּמִקְנֵ֣ה בָקָ֔ר וַעֲבֻדָּ֖ה רַבָּ֑ה וַיְקַנְא֥וּ אֹת֖וֹ פְּלִשְׁתִּֽים׃ (טו) וְכׇל־הַבְּאֵרֹ֗ת אֲשֶׁ֤ר חָֽפְרוּ֙ עַבְדֵ֣י אָבִ֔יו בִּימֵ֖י אַבְרָהָ֣ם אָבִ֑יו סִתְּמ֣וּם פְּלִשְׁתִּ֔ים וַיְמַלְא֖וּם עָפָֽר׃ (טז) וַיֹּ֥אמֶר אֲבִימֶ֖לֶךְ אֶל־יִצְחָ֑ק לֵ֚ךְ מֵֽעִמָּ֔נוּ כִּֽי־עָצַ֥מְתָּ מִמֶּ֖נּוּ מְאֹֽד׃ (יז) וַיֵּ֥לֶךְ מִשָּׁ֖ם יִצְחָ֑ק וַיִּ֥חַן בְּנַֽחַל־גְּרָ֖ר וַיֵּ֥שֶׁב שָֽׁם׃ (יח) וַיָּ֨שׇׁב יִצְחָ֜ק וַיַּחְפֹּ֣ר ׀ אֶת־בְּאֵרֹ֣ת הַמַּ֗יִם אֲשֶׁ֤ר חָֽפְרוּ֙ בִּימֵי֙ אַבְרָהָ֣ם אָבִ֔יו וַיְסַתְּמ֣וּם פְּלִשְׁתִּ֔ים אַחֲרֵ֖י מ֣וֹת אַבְרָהָ֑ם וַיִּקְרָ֤א לָהֶן֙ שֵׁמ֔וֹת כַּשֵּׁמֹ֕ת אֲשֶׁר־קָרָ֥א לָהֶ֖ן אָבִֽיו׃ (יט) וַיַּחְפְּר֥וּ עַבְדֵֽי־יִצְחָ֖ק בַּנָּ֑חַל וַיִּ֨מְצְאוּ־שָׁ֔ם בְּאֵ֖ר מַ֥יִם חַיִּֽים׃ (כ) וַיָּרִ֜יבוּ רֹעֵ֣י גְרָ֗ר עִם־רֹעֵ֥י יִצְחָ֛ק לֵאמֹ֖ר לָ֣נוּ הַמָּ֑יִם וַיִּקְרָ֤א שֵֽׁם־הַבְּאֵר֙ עֵ֔שֶׂק כִּ֥י הִֽתְעַשְּׂק֖וּ עִמּֽוֹ׃ (כא) וַֽיַּחְפְּרוּ֙ בְּאֵ֣ר אַחֶ֔רֶת וַיָּרִ֖יבוּ גַּם־עָלֶ֑יהָ וַיִּקְרָ֥א שְׁמָ֖הּ שִׂטְנָֽה׃ (כב) וַיַּעְתֵּ֣ק מִשָּׁ֗ם וַיַּחְפֹּר֙ בְּאֵ֣ר אַחֶ֔רֶת וְלֹ֥א רָב֖וּ עָלֶ֑יהָ וַיִּקְרָ֤א שְׁמָהּ֙ רְחֹב֔וֹת וַיֹּ֗אמֶר כִּֽי־עַתָּ֞ה הִרְחִ֧יב יְהֹוָ֛ה לָ֖נוּ וּפָרִ֥ינוּ בָאָֽרֶץ׃
(יג) וּרְבָא גַבְרָא וַאֲזַל אֲזִיל (נ"א סָגֵי) וְרָבֵי עַד דִּי רְבָא לַחֲדָא: (יד) וַהֲוָה לֵיהּ גֵּיתֵי עָנָא וְגֵיתֵי תוֹרִין וּפָלְחָנָא (נ"א וַעֲבוּדָה) סַגְיָא וְקַנִּיאוּ בֵיהּ פְּלִשְׁתָּאֵי: (טו) וְכָל בֵּירִין דִּי חֲפָרוּ עַבְדֵי אֲבוּהִי בְּיוֹמֵי אַבְרָהָם אֲבוּהִי טַמּוֹנוּן פְּלִשְׁתָּאֵי וּמְלֹּאנוּן עַפְרָא: (טז) וַאֲמַר אֲבִימֶלֶךְ לְיִצְחָק אִזֵּל מֵעִמָּנָא אֲרֵי תְקֵפְתָּא מִנָּנָא לַחֲדָא: (יז) וַאֲזַל מִתַּמָּן יִצְחָק וּשְׁרָא בְנַחֲלָא דִגְרָר וִיתֵב תַּמָּן: (יח) וְתָב יִצְחָק וְחָפַר יָת בֵּירֵי דְמַיָּא דִּי חֲפָרוּ בְּיוֹמֵי אַבְרָהָם אֲבוּהִי וְטַמּוֹנוּן פְּלִשְׁתָּאֵי בָּתַר דְּמִית אַבְרָהָם וּקְרָא לְהֵן שְׁמָהָן כִּשְׁמָהָן דִּי הֲוָה קָרֵי לְהֵן אֲבוּהִי: (יט) וַחֲפָרוּ עַבְדֵי יִצְחָק בְּנַחֲלָא וְאַשְׁכָּחוּ תַמָּן בֵּירָא דְּמַיִּין נָבְעִין: (כ) וּנְצוֹ רַעֲוָתָא דִגְרָר עִם רַעֲוָתָא דְיִצְחָק לְמֵימַר דִּי לָנָא מַיָּא וּקְרָא שְׁמָא דְבֵירָא עִסְקָא אֲרֵי אִתְעַסִּיקוּ עִמֵּיהּ: (כא) וַחֲפָרוּ בֵּירָא אָחֳרִי וּנְצוֹ אַף עֲלַהּ וּקְרָא שְׁמַהּ שִׂטְנָה: (כב) וְאִסְתַּלַּק מִתַּמָּן וַחֲפַר בֵּירָא אָחֳרִי וְלָא נְצוֹ עֲלַהּ וּקְרָא שְׁמַהּ רְחֹבוֹת וַאֲמַר אֲרֵי כְעַן אַפְתֵּי יְיָ לָנָא וְנִיפּוּשׁ (נ"א וְיַפְשִׁנָּנָא) בְּאַרְעָא:
13. The man became great and he grew increasingly greater until he was extremely great. 14. He had flocks of sheep, herds of cattle and many servants, so the Philistines were jealous of him. 15. The Philistines stopped up all the wells that his father's servants had dug in the days of his father Avraham, filling them with earth. 16. Avimelech said to Yitzchak, "Depart from us because you have grown far mightier than us." 17. Yitzchak departed from there. He camped in the valley of Gerar and he settled there. 18. Yitzchak went back and re-dug the wells of water that had been dug in the days of his father Avraham, which the Philistines had stopped up after Avraham died. He called them by the same names that his father had called them. 19. Yitzchak's servants were digging in the valley and they found there a well of running water, 20. The shepherds of Gerar argued with Yitzchak's shepherds, saying, "The water is ours." He called that well's name Eisek because they argued with him. 21. They dug another well and they argued over that one as well, so he called its name Sitna. 22. He moved from there and dug yet another well. They didn't argue over it, so he called its name Rechovos, saying, "Because now Hashem has made room for us and we can increase in the land."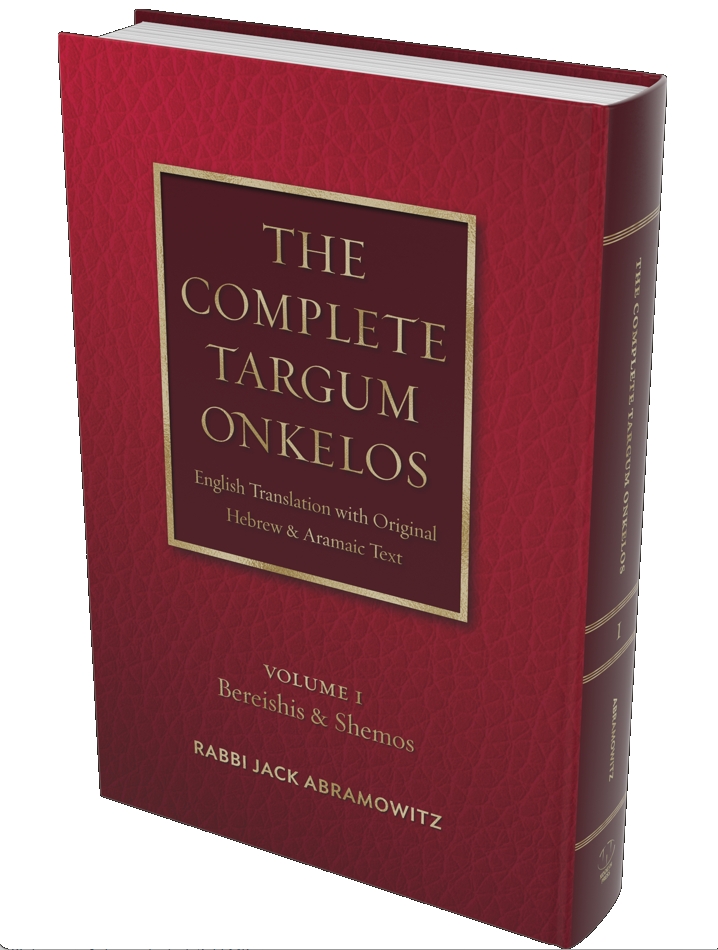 The Complete Targum Onkelos - volume 1 now available on Amazon and from Kodesh Press!