Toldos - Sheini
(ז) וַֽיִּשְׁאֲל֞וּ אַנְשֵׁ֤י הַמָּקוֹם֙ לְאִשְׁתּ֔וֹ וַיֹּ֖אמֶר אֲחֹ֣תִי הִ֑וא כִּ֤י יָרֵא֙ לֵאמֹ֣ר אִשְׁתִּ֔י פֶּן־יַֽהַרְגֻ֜נִי אַנְשֵׁ֤י הַמָּקוֹם֙ עַל־רִבְקָ֔ה כִּֽי־טוֹבַ֥ת מַרְאֶ֖ה הִֽוא׃ (ח) וַיְהִ֗י כִּ֣י אָֽרְכוּ־ל֥וֹ שָׁם֙ הַיָּמִ֔ים וַיַּשְׁקֵ֗ף אֲבִימֶ֙לֶךְ֙ מֶ֣לֶךְ פְּלִשְׁתִּ֔ים בְּעַ֖ד הַֽחַלּ֑וֹן וַיַּ֗רְא וְהִנֵּ֤ה יִצְחָק֙ מְצַחֵ֔ק אֵ֖ת רִבְקָ֥ה אִשְׁתּֽוֹ׃ (ט) וַיִּקְרָ֨א אֲבִימֶ֜לֶךְ לְיִצְחָ֗ק וַיֹּ֙אמֶר֙ אַ֣ךְ הִנֵּ֤ה אִשְׁתְּךָ֙ הִ֔וא וְאֵ֥יךְ אָמַ֖רְתָּ אֲחֹ֣תִי הִ֑וא וַיֹּ֤אמֶר אֵלָיו֙ יִצְחָ֔ק כִּ֣י אָמַ֔רְתִּי פֶּן־אָמ֖וּת עָלֶֽיהָ׃ (י) וַיֹּ֣אמֶר אֲבִימֶ֔לֶךְ מַה־זֹּ֖את עָשִׂ֣יתָ לָּ֑נוּ כִּ֠מְעַ֠ט שָׁכַ֞ב אַחַ֤ד הָעָם֙ אֶת־אִשְׁתֶּ֔ךָ וְהֵבֵאתָ֥ עָלֵ֖ינוּ אָשָֽׁם׃ (יא) וַיְצַ֣ו אֲבִימֶ֔לֶךְ אֶת־כׇּל־הָעָ֖ם לֵאמֹ֑ר הַנֹּגֵ֜עַ בָּאִ֥ישׁ הַזֶּ֛ה וּבְאִשְׁתּ֖וֹ מ֥וֹת יוּמָֽת׃ (יב) וַיִּזְרַ֤ע יִצְחָק֙ בָּאָ֣רֶץ הַהִ֔וא וַיִּמְצָ֛א בַּשָּׁנָ֥ה הַהִ֖וא מֵאָ֣ה שְׁעָרִ֑ים וַֽיְבָרְכֵ֖הוּ יְהֹוָֽה׃
(ז) וּשְׁאִילוּ אֲנָשֵׁי אַתְרָא (ס"א עַל עֵיסַק אִתְּתֵיהּ) לְאִתְּתֵיהּ וַאֲמַר אֲחָתִי הִיא אֲרֵי דְחִיל לְמֵימַר אִתְּתִי דִּלְמָא יִקְטְלֻנַּנִי אֲנָשֵׁי אַתְרָא עַל רִבְקָה אֲרֵי שַׁפִּירַת חֵיזוּ הִיא: (ח) וַהֲוָה כַּד סְגִיאוּ לֵיהּ תַּמָּן יוֹמַיָּא וְאִסְתְּכִי אַבִימֶלֶךְ מַלְכָּא דִפְלִשְׁתָּאֵי מִן חֲרַכָּא וַחֲזָא וְהָא יִצְחָק מְחַיִּיךְ עִם רִבְקָה אִתְּתֵיהּ: (ט) וּקְרָא אֲבִימֶלֶךְ לְיִצְחָק וַאֲמַר בְּרַם הָא אִתְּתָךְ הִיא וְאֶכְדֵּין אֲמַרְתָּ אֲחָתִי הִיא וַאֲמַר לֵיהּ יִצְחָק אֲרֵי אֲמָרִית דִּלְמָא אֵימוּת עֲלַהּ: (י) וַאֲמַר אֲבִימֶלֶךְ מָה דָּא עֲבַדְתָּ לָנָא כִּזְעֵר פּוֹן שָׁכִיב דִּמְיָחֵד בְּעַמָּא עִם אִתְּתָךְ וְאַיְתֵיתָא עֲלָנָא חוֹבָא: (יא) וּפַקִּיד אֲבִימֶלֶךְ יָת כָּל עַמָּא לְמֵימָר דְּיַנְזֵק בְּגַבְרָא הָדֵין וּבְאִתְּתֵיהּ אִתְקְטָלָא יִתְקְטֵל: (יב) וּזְרַע יִצְחָק בְּאַרְעָא הַהִיא וְאַשְׁכַּח בְּשַׁתָּא הַהִיא עַל חַד מְאָה בִדְשַׁעֲרוֹהִי וּבָרְכֵיהּ יְיָ:
7. The men of the place inquired about the matter of his wife. He said, "She is my sister," because he was afraid to say "my wife," thinking, "The men of the place might kill me over Rivka because she's beautiful." 8. It happened, when he had been there some time, that Avimelech, king of the Philistines, looked out the window and saw Yitzchak making merry with his wife Rivka. 9. Avimelech sent for Yitzchak. He said, "Behold, she's your wife! Why did you say, 'She's my sister?'" Yitzchak said to him, "Because I thought I might be killed over her." 10. Avimelech said, "What have you done to us? In only a little (more time) one of the outstanding among the people[1] could easily have lain with your wife – you would have brought guilt on us." 11. Avimelech then commanded all the people, saying, "Anyone who harms this man or his wife will be put to death." 12. Yitzchak planted in that land and he found a hundred times what had been anticipated that same year. Hashem blessed him.
[1] Avimelech is referring to himself (see Rashi).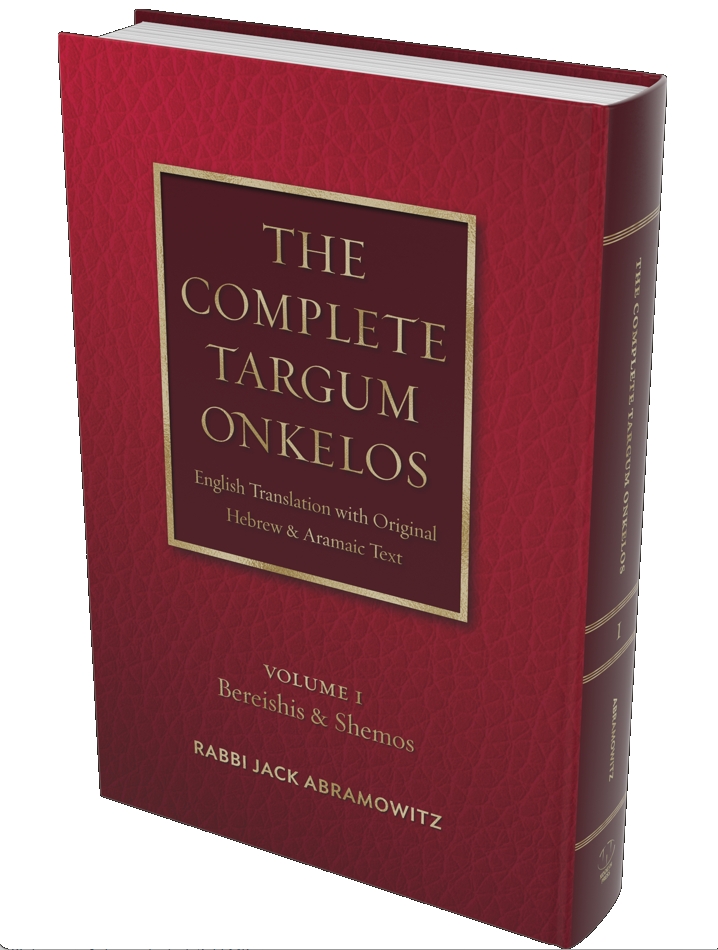 The Complete Targum Onkelos - volume 1 now available on Amazon and from Kodesh Press!