Toldos - Rishon
(יט) וְאֵ֛לֶּה תּוֹלְדֹ֥ת יִצְחָ֖ק בֶּן־אַבְרָהָ֑ם אַבְרָהָ֖ם הוֹלִ֥יד אֶת־יִצְחָֽק׃ (כ) וַיְהִ֤י יִצְחָק֙ בֶּן־אַרְבָּעִ֣ים שָׁנָ֔ה בְּקַחְתּ֣וֹ אֶת־רִבְקָ֗ה בַּת־בְּתוּאֵל֙ הָֽאֲרַמִּ֔י מִפַּדַּ֖ן אֲרָ֑ם אֲח֛וֹת לָבָ֥ן הָאֲרַמִּ֖י ל֥וֹ לְאִשָּֽׁה׃ (כא) וַיֶּעְתַּ֨ר יִצְחָ֤ק לַֽיהֹוָה֙ לְנֹ֣כַח אִשְׁתּ֔וֹ כִּ֥י עֲקָרָ֖ה הִ֑וא וַיֵּעָ֤תֶר לוֹ֙ יְהֹוָ֔ה וַתַּ֖הַר רִבְקָ֥ה אִשְׁתּֽוֹ׃ (כב) וַיִּתְרֹֽצְצ֤וּ הַבָּנִים֙ בְּקִרְבָּ֔הּ וַתֹּ֣אמֶר אִם־כֵּ֔ן לָ֥מָּה זֶּ֖ה אָנֹ֑כִי וַתֵּ֖לֶךְ לִדְרֹ֥שׁ אֶת־יְהֹוָֽה׃ (כג) וַיֹּ֨אמֶר יְהֹוָ֜ה לָ֗הּ שְׁנֵ֤י (גיים) [גוֹיִם֙] בְּבִטְנֵ֔ךְ וּשְׁנֵ֣י לְאֻמִּ֔ים מִמֵּעַ֖יִךְ יִפָּרֵ֑דוּ וּלְאֹם֙ מִלְאֹ֣ם יֶֽאֱמָ֔ץ וְרַ֖ב יַעֲבֹ֥ד צָעִֽיר׃ (כד) וַיִּמְלְא֥וּ יָמֶ֖יהָ לָלֶ֑דֶת וְהִנֵּ֥ה תוֹמִ֖ם בְּבִטְנָֽהּ׃ (כה) וַיֵּצֵ֤א הָרִאשׁוֹן֙ אַדְמוֹנִ֔י כֻּלּ֖וֹ כְּאַדֶּ֣רֶת שֵׂעָ֑ר וַיִּקְרְא֥וּ שְׁמ֖וֹ עֵשָֽׂו׃ (כו) וְאַֽחֲרֵי־כֵ֞ן יָצָ֣א אָחִ֗יו וְיָד֤וֹ אֹחֶ֙זֶת֙ בַּעֲקֵ֣ב עֵשָׂ֔ו וַיִּקְרָ֥א שְׁמ֖וֹ יַעֲקֹ֑ב וְיִצְחָ֛ק בֶּן־שִׁשִּׁ֥ים שָׁנָ֖ה בְּלֶ֥דֶת אֹתָֽם׃ (כז) וַֽיִּגְדְּלוּ֙ הַנְּעָרִ֔ים וַיְהִ֣י עֵשָׂ֗ו אִ֛ישׁ יֹדֵ֥עַ צַ֖יִד אִ֣ישׁ שָׂדֶ֑ה וְיַעֲקֹב֙ אִ֣ישׁ תָּ֔ם יֹשֵׁ֖ב אֹהָלִֽים׃ (כח) וַיֶּאֱהַ֥ב יִצְחָ֛ק אֶת־עֵשָׂ֖ו כִּי־צַ֣יִד בְּפִ֑יו וְרִבְקָ֖ה אֹהֶ֥בֶת אֶֽת־יַעֲקֹֽב׃ (כט) וַיָּ֥זֶד יַעֲקֹ֖ב נָזִ֑יד וַיָּבֹ֥א עֵשָׂ֛ו מִן־הַשָּׂדֶ֖ה וְה֥וּא עָיֵֽף׃ (ל) וַיֹּ֨אמֶר עֵשָׂ֜ו אֶֽל־יַעֲקֹ֗ב הַלְעִיטֵ֤נִי נָא֙ מִן־הָאָדֹ֤ם הָאָדֹם֙ הַזֶּ֔ה כִּ֥י עָיֵ֖ף אָנֹ֑כִי עַל־כֵּ֥ן קָרָֽא־שְׁמ֖וֹ אֱדֽוֹם׃ (לא) וַיֹּ֖אמֶר יַעֲקֹ֑ב מִכְרָ֥ה כַיּ֛וֹם אֶת־בְּכֹרָֽתְךָ֖ לִֽי׃ (לב) וַיֹּ֣אמֶר עֵשָׂ֔ו הִנֵּ֛ה אָנֹכִ֥י הוֹלֵ֖ךְ לָמ֑וּת וְלָמָּה־זֶּ֥ה לִ֖י בְּכֹרָֽה׃ (לג) וַיֹּ֣אמֶר יַעֲקֹ֗ב הִשָּׁ֤בְעָה לִּי֙ כַּיּ֔וֹם וַיִּשָּׁבַ֖ע ל֑וֹ וַיִּמְכֹּ֥ר אֶת־בְּכֹרָת֖וֹ לְיַעֲקֹֽב׃ (לד) וְיַעֲקֹ֞ב נָתַ֣ן לְעֵשָׂ֗ו לֶ֚חֶם וּנְזִ֣יד עֲדָשִׁ֔ים וַיֹּ֣אכַל וַיֵּ֔שְׁתְּ וַיָּ֖קׇם וַיֵּלַ֑ךְ וַיִּ֥בֶז עֵשָׂ֖ו אֶת־הַבְּכֹרָֽה׃ {פ}
(יט) וְאִלֵּין תּוּלְדַת יִצְחָק בַּר אַבְרָהָם אַבְרָהָם אוֹלִיד יָת יִצְחָק: (כ) וַהֲוָה יִצְחָק בַּר אַרְבְּעִין שְׁנִין כַּד נְסֵיב יָת רִבְקָה בַּת בְּתוּאֵל אֲרַמָּאָה מִפַּדַּן אֲרָם אֲחָתֵיהּ דְּלָבָן אֲרַמָּאָה לֵיהּ לְאִנְתּוּ: (כא) וְצַלִּי יִצְחָק קֳדָם יְיָ לָקֳבֵל אִתְּתֵיהּ אֲרֵי עֲקָרָה הִיא וְקַבֵּל צְלוֹתֵיהּ יְיָ וְעַדִּיאַת רִבְקָה אִתְּתֵיהּ: (כב) וְדַחֲקִין בְּנַיָּא בִּמְעָהָא וַאֲמֶרֶת אִם כֵּן לְמָה דְנָן אָנָא וַאֲזָלַת לְמִתְבַּע אוּלְפַן מִן קֳדָם יְיָ: (כג) וַאֲמַר יְיָ לַהּ תְּרֵין עַמְמִין בִּמְעַיְכִי וְתַרְתֵּין מַלְכְּוָן מִמֵּעַיְכִי יִתְפָּרְשָׁן וּמַלְכוּ מִמַּלְכוּ יִתְקַף וְרַבָּא יִשְׁתַּעְבִּיד לִזְעִירָא: (כד) וּשְׁלִימוּ יוֹמָהָא לְמֵילָד וְהָא תְיוּמִין בִּמְעָהָא: (כה) וּנְפַק קַדְמָאָה סִמּוֹק כֻּלֵּיהּ כִּגְלִים (נ"א כִּכְלָן) דִּשְׂעָר וּקְרוֹ שְׁמֵיהּ עֵשָׂו: (כו) וּבָתַר כֵּן נְפַק אֲחוּהִי וִידֵיהּ אֲחִידָא בְּעִקְבָא דְעֵשָׂו וּקְרָא שְׁמֵיהּ יַעֲקֹב וְיִצְחָק בַּר שִׁתִּין שְׁנִין כַּד יְלִידַת יָתְהוֹן: (כז) וּרְבִיּוּ עוּלֵמַיָּא וַהֲוָה עֵשָׂו גְּבַר נַחְשִׁירְכָן גְּבַר נָפֵק לְחַקְלָא וְיַעֲקֹב גְּבַר שְׁלִים מְשַׁמֵּשׁ בֵּית אוּלְפָנָא: (כח) וּרְחֵם יִצְחָק יָת עֵשָׂו אֲרֵי מִצֵּידֵיהּ הֲוָה אָכִיל וְרִבְקָה רְחֵימַת יָת יַעֲקֹב: (כט) וּבַשִּׁיל יַעֲקֹב תַּבְשִׁילָא וַאֲתָא (נ"א וְעַל) עֵשָׂו מִן חַקְלָא וְהוּא מְשַׁלְּהֵי: (ל) וַאֲמַר עֵשָׂו לְיַעֲקֹב אַטְעֵמְנִי כְעַן מִן סִמּוֹקָא סִמּוֹקָא הָדֵין אֲרֵי מְשַׁלְּהֵי אָנָא עַל כֵּן קְרָא שְׁמֵיהּ אֱדוֹם: (לא) וַאֲמַר יַעֲקֹב זַבִּין כְּיוֹם דִּלְהֵן יָת בְּכֵרוּתָךְ לִי: (לב) וַאֲמַר עֵשָׂו הָא אֲנָא אָזֵל לִמְמָת וּלְמָה דְּנָן לִי בְּכֵרוּתָא: (לג) וַאֲמַר יַעֲקֹב קַיֵּם לִי כְּיוֹם דִּלְהֵן וְקַיִּים לֵיהּ וְזַבִּין יָת בְּכֵרוּתֵיהּ לְיַעֲקֹב: (לד) וְיַעֲקֹב יְהַב לְעֵשָׂו לְחֵם וְתַבְשִׁיל דִּטְלוֹפְחִין וַאֲכַל וּשְׁתִי וְקָם וַאֲזָל וְשָׁט עֵשָׂו יָת בְּכֵרוּתָא:
19. These are the generations of Yitzchak, son of Avraham. Avraham fathered Yitzchak. 20. Yitzchak was 40 years old when he took Rivka, the daughter of Besuel the Aramean from Padan-Aram, the sister of Lavan the Aramean, as his wife. 21. Yitzchak prayed before Hashem because of his wife, who was infertile. Hashem accepted his prayer and his wife Rivka conceived. 22. The children pushed within her bowels. She said, "If so, why do I exist?" She went to seek direction from before Hashem. 23. Hashem said to her, "Two nations are in your bowels and two kingdoms will separate from your body. One kingdom will overpower the other kingdom and the larger will serve the smaller." 24. Her time to give birth was complete and behold, there were twins in her bowels. 25. The first one came out red, completely like a hairy mantle, so they called his name Eisav. 26. After that, his brother came out. His hand was grasping Eisav's heel so they called his name Yaakov. Yitzchak was 60 years old when they were born. 27. The boys grew and Eisav became a shrewd hunter, a man who goes out to the field. Yaakov was a complete man, serving in the study hall. 28. Yitzchak favored Eisav because he would eat his trapped (game) but Rivka favored Yaakov. 29. Yaakov was cooking a stew when Eisav came in from the field, and he was faint (from hunger). 30. Eisav said to Yaakov, "Let me taste some of that red, red stuff because I am famished," which is why his name was called Edom. 31. Yaakov said, "Sell me your birthright like this day."[1] 32. Eisav said, "Seeing as I'm about to die, what use is my birthright to me?" 33. Yaakov said, "Swear to me like this day." He swore to him and he sold his birthright to Yaakov. 34. Yaakov gave Eisav bread and lentil stew. He ate and drank, then he arose and departed. Thus, Eisav despised the birthright.
Chapter 26
(א) וַיְהִ֤י רָעָב֙ בָּאָ֔רֶץ מִלְּבַד֙ הָרָעָ֣ב הָרִאשׁ֔וֹן אֲשֶׁ֥ר הָיָ֖ה בִּימֵ֣י אַבְרָהָ֑ם וַיֵּ֧לֶךְ יִצְחָ֛ק אֶל־אֲבִימֶ֥לֶךְ מֶֽלֶךְ־פְּלִשְׁתִּ֖ים גְּרָֽרָה׃ (ב) וַיֵּרָ֤א אֵלָיו֙ יְהֹוָ֔ה וַיֹּ֖אמֶר אַל־תֵּרֵ֣ד מִצְרָ֑יְמָה שְׁכֹ֣ן בָּאָ֔רֶץ אֲשֶׁ֖ר אֹמַ֥ר אֵלֶֽיךָ׃ (ג) גּ֚וּר בָּאָ֣רֶץ הַזֹּ֔את וְאֶֽהְיֶ֥ה עִמְּךָ֖ וַאֲבָרְכֶ֑ךָּ כִּֽי־לְךָ֣ וּֽלְזַרְעֲךָ֗ אֶתֵּן֙ אֶת־כׇּל־הָֽאֲרָצֹ֣ת הָאֵ֔ל וַהֲקִֽמֹתִי֙ אֶת־הַשְּׁבֻעָ֔ה אֲשֶׁ֥ר נִשְׁבַּ֖עְתִּי לְאַבְרָהָ֥ם אָבִֽיךָ׃ (ד) וְהִרְבֵּיתִ֤י אֶֽת־זַרְעֲךָ֙ כְּכוֹכְבֵ֣י הַשָּׁמַ֔יִם וְנָתַתִּ֣י לְזַרְעֲךָ֔ אֵ֥ת כׇּל־הָאֲרָצֹ֖ת הָאֵ֑ל וְהִתְבָּרְכ֣וּ בְזַרְעֲךָ֔ כֹּ֖ל גּוֹיֵ֥י הָאָֽרֶץ׃ (ה) עֵ֕קֶב אֲשֶׁר־שָׁמַ֥ע אַבְרָהָ֖ם בְּקֹלִ֑י וַיִּשְׁמֹר֙ מִשְׁמַרְתִּ֔י מִצְוֺתַ֖י חֻקּוֹתַ֥י וְתוֹרֹתָֽי׃ (ו) וַיֵּ֥שֶׁב יִצְחָ֖ק בִּגְרָֽר׃
(א) וַהֲוָה כַפְנָא בְּאַרְעָא בַּר מִכַּפְנָא קַדְמָאָה דִּי הֲוָה בְּיוֹמֵי אַבְרָהָם וַאֲזַל יִצְחָק לְוַת אֲבִימֶלֶךְ מַלְכָּא דִפְלִשְׁתָּאֵי לִגְרָר: (ב) וְאִתְגְּלִי לֵיהּ יְיָ וַאֲמַר לָא תֵחוֹת לְמִצְרָיִם שְׁרֵי בְאַרְעָא דִּי אֵימַר לָךְ: (ג) דּוּר בְּאַרְעָא הָדָא וִיהֵי מֵימְרִי בְסַעְדָּךְ וְאֵבָרֵכִנָּךְ אֲרֵי לָךְ וְלִבְנָךְ אֶתֵּן יָת כָּל אַרְעָתָא הָאִלֵּין וְאָקֵם יָת קְיָמָא דִּי קַיֵּמִית לְאַבְרָהָם אֲבוּךְ: (ד) וְאַסְגֵּי יָת בְּנָךְ סַגִּיאִין כְּכוֹכְבֵי שְׁמַיָּא וְאֶתֵּן לִבְנָךְ יָת כָּל אַרְעָתָא הָאִלֵּין וְיִתְבָּרְכוּן בְּדִיל בְּנָךְ כֹּל עַמְמֵי אַרְעָא: (ה) חֳלַף דִּי קַבִּיל אַבְרָהָם בְּמֵימְרִי וּנְטַר מַטְּרַת מֵימְרִי פִּקּוֹדַי קְיָמַי וְאוֹרָיָתָי: (ו) וִיתֵב יִצְחָק בִּגְרָר:
1. There was a famine in the land, separate from the earlier famine that was in the days of Avraham, and Yitzchak went to Avimelech, king of the Philistines, in Gerar. 2. Hashem was revealed to him and said, "Do not go down to Egypt. Dwell in the land that I will indicate to you. 3. Reside in this land. My word will help you and bless you because to you and to your descendants I will give all these lands, fulfilling the oath that I swore to your father Avraham. 4. I will increase your descendants like the stars of Heaven and I will give your descendants all these lands. All the nations on Earth will be blessed because of your descendants, 5. because Avraham listened to My word and kept the charge of My word, My commandments, My statutes and My laws." 6. So Yitzchak dwelled in Gerar.
[1] i.e., as clear as day (see Rashi).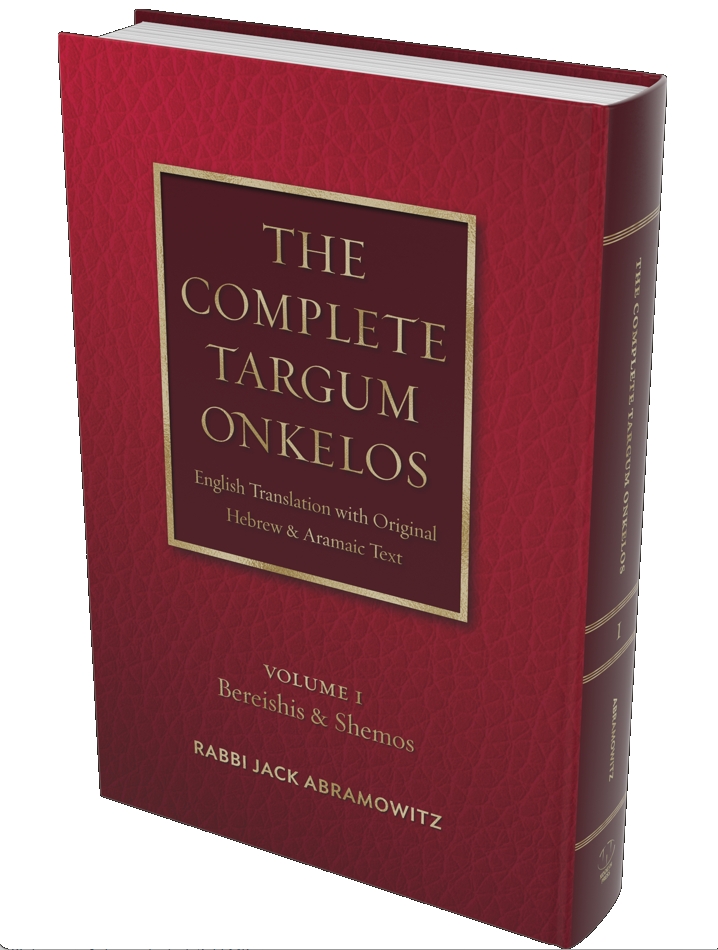 The Complete Targum Onkelos - volume 1 now available on Amazon and from Kodesh Press!