Chayei Sarah - Shevii
(יב) וְאֵ֛לֶּה תֹּלְדֹ֥ת יִשְׁמָעֵ֖אל בֶּן־אַבְרָהָ֑ם אֲשֶׁ֨ר יָלְדָ֜ה הָגָ֧ר הַמִּצְרִ֛ית שִׁפְחַ֥ת שָׂרָ֖ה לְאַבְרָהָֽם׃ (יג) וְאֵ֗לֶּה שְׁמוֹת֙ בְּנֵ֣י יִשְׁמָעֵ֔אל בִּשְׁמֹתָ֖ם לְתוֹלְדֹתָ֑ם בְּכֹ֤ר יִשְׁמָעֵאל֙ נְבָיֹ֔ת וְקֵדָ֥ר וְאַדְבְּאֵ֖ל וּמִבְשָֽׂם׃ (יד) וּמִשְׁמָ֥ע וְדוּמָ֖ה וּמַשָּֽׂא׃ (טו) חֲדַ֣ד וְתֵימָ֔א יְט֥וּר נָפִ֖ישׁ וָקֵֽדְמָה׃ (טז) אֵ֣לֶּה הֵ֞ם בְּנֵ֤י יִשְׁמָעֵאל֙ וְאֵ֣לֶּה שְׁמֹתָ֔ם בְּחַצְרֵיהֶ֖ם וּבְטִֽירֹתָ֑ם שְׁנֵים־עָשָׂ֥ר נְשִׂיאִ֖ם לְאֻמֹּתָֽם׃ (יז) וְאֵ֗לֶּה שְׁנֵי֙ חַיֵּ֣י יִשְׁמָעֵ֔אל מְאַ֥ת שָׁנָ֛ה וּשְׁלֹשִׁ֥ים שָׁנָ֖ה וְשֶׁ֣בַע שָׁנִ֑ים וַיִּגְוַ֣ע וַיָּ֔מׇת וַיֵּאָ֖סֶף אֶל־עַמָּֽיו׃ (יח) וַיִּשְׁכְּנ֨וּ מֵֽחֲוִילָ֜ה עַד־שׁ֗וּר אֲשֶׁר֙ עַל־פְּנֵ֣י מִצְרַ֔יִם בֹּאֲכָ֖ה אַשּׁ֑וּרָה עַל־פְּנֵ֥י כׇל־אֶחָ֖יו נָפָֽל׃ {פ}
(יב) וְאִלֵּין תּוּלְדַת יִשְׁמָעֵאל בַּר אַבְרָהָם דִּי יְלֵידַת הָגָר מִצְרֵתָא אַמְתָא דְשָׂרָה לְאַבְרָהָם: (יג) וְאִלֵּין שְׁמָהָן בְּנֵי יִשְׁמָעֵאל בִּשְׁמָהַתְהוֹן לְתוּלְדַתְהוֹן בּוּכְרָא דְיִשְׁמָעֵאל נְבָיוֹת וְקֵדָר וְאַדְבְּאֵל וּמִבְשָׂם: (יד) וּמִשְׁמָע וְדוּמָה וּמַשָּׂא: (טו) חֲדַד וְתֵימָא יְטוּר נָפִישׁ וָקֵדְמָה: (טז) אִלֵּין אִנּוּן בְּנֵי יִשְׁמָעֵאל וְאִלֵּין שְׁמָהַתְהוֹן בְּפַצְחֵיהוֹן וּבִכְרַכֵּיהוֹן תְּרֵין עֲסַר רַבְרְבִין לְאֻמֵּיהוֹן: (יז) וְאִלֵּין שְׁנֵי חַיֵּי יִשְׁמָעֵאל מְאָה וּתְלָתִין וּשְׁבַע שְׁנִין וְאִתְנְגִיד וּמִית וְאִתְכְּנִישׁ לְעַמֵּיהּ: (יח) וּשְׁרוֹ מֵחֲוִילָה עַד חַגְרָא דִּי עַל אַפֵּי מִצְרַיִם מָטֵי לְאָתוּר עַל אַפֵּי כָל אַחוֹהִי שְׁרָא:
12. These are the generations of Yishmael son of Avraham, whom Hagar the Egyptian – Sarah's servant – bore to Avraham. 13. These are the names of the sons of Yishmael, by their names according to their generations: the firstborn of Yishmael: N'vayos; Keidar, Adb'eil, Mivsam, 14. Mishma, Dumah, Masa, 15. Chadad, Teima, Y'tur, Nafish and Keidmah. 16. These are the sons of Yishmael and these are their names according to their villages and their cities: 12 princes to their nations. 17. These were the years of the life of Yishmael: 137 years. He weakened and died, and was gathered to his people. 18. They settled from Chavilah to Chagra, which is near Egypt, going towards Assyria. They dwelled alongside all their brethren.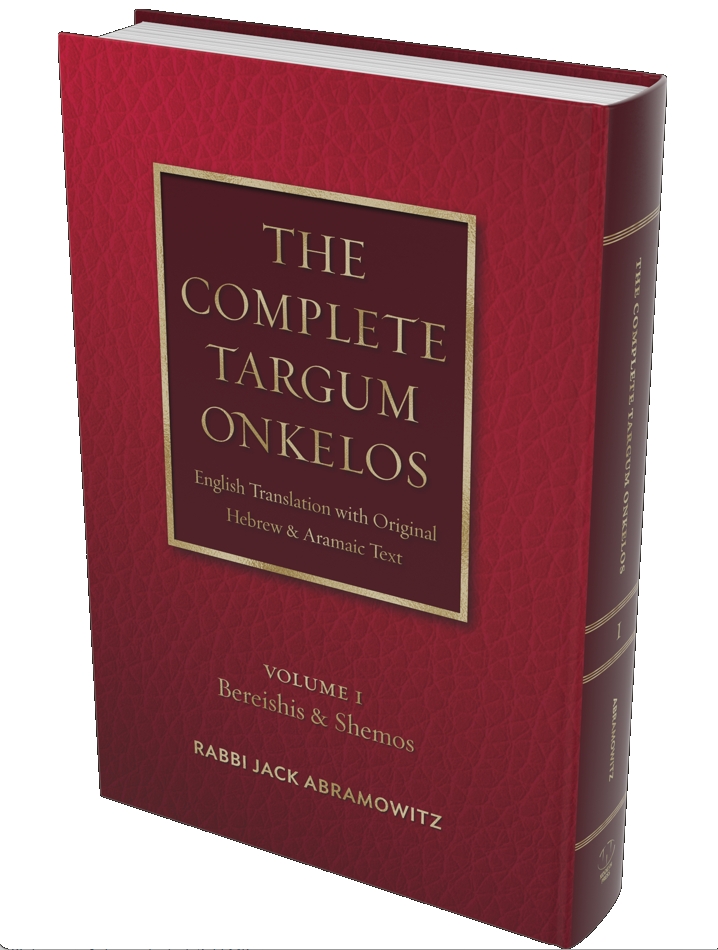 The Complete Targum Onkelos - volume 1 now available on Amazon and from Kodesh Press!