Chayei Sarah - Chamishi
(נג) וַיּוֹצֵ֨א הָעֶ֜בֶד כְּלֵי־כֶ֨סֶף וּכְלֵ֤י זָהָב֙ וּבְגָדִ֔ים וַיִּתֵּ֖ן לְרִבְקָ֑ה וּמִ֨גְדָּנֹ֔ת נָתַ֥ן לְאָחִ֖יהָ וּלְאִמָּֽהּ׃ (נד) וַיֹּאכְל֣וּ וַיִּשְׁתּ֗וּ ה֛וּא וְהָאֲנָשִׁ֥ים אֲשֶׁר־עִמּ֖וֹ וַיָּלִ֑ינוּ וַיָּק֣וּמוּ בַבֹּ֔קֶר וַיֹּ֖אמֶר שַׁלְּחֻ֥נִי לַֽאדֹנִֽי׃ (נה) וַיֹּ֤אמֶר אָחִ֙יהָ֙ וְאִמָּ֔הּ תֵּשֵׁ֨ב הַנַּעֲרָ֥ אִתָּ֛נוּ יָמִ֖ים א֣וֹ עָשׂ֑וֹר אַחַ֖ר תֵּלֵֽךְ׃ (נו) וַיֹּ֤אמֶר אֲלֵהֶם֙ אַל־תְּאַחֲר֣וּ אֹתִ֔י וַֽיהֹוָ֖ה הִצְלִ֣יחַ דַּרְכִּ֑י שַׁלְּח֕וּנִי וְאֵלְכָ֖ה לַֽאדֹנִֽי׃ (נז) וַיֹּאמְר֖וּ נִקְרָ֣א לַֽנַּעֲרָ֑ וְנִשְׁאֲלָ֖ה אֶת־פִּֽיהָ׃ (נח) וַיִּקְרְא֤וּ לְרִבְקָה֙ וַיֹּאמְר֣וּ אֵלֶ֔יהָ הֲתֵלְכִ֖י עִם־הָאִ֣ישׁ הַזֶּ֑ה וַתֹּ֖אמֶר אֵלֵֽךְ׃ (נט) וַֽיְשַׁלְּח֛וּ אֶת־רִבְקָ֥ה אֲחֹתָ֖ם וְאֶת־מֵנִקְתָּ֑הּ וְאֶת־עֶ֥בֶד אַבְרָהָ֖ם וְאֶת־אֲנָשָֽׁיו׃ (ס) וַיְבָרְכ֤וּ אֶת־רִבְקָה֙ וַיֹּ֣אמְרוּ לָ֔הּ אֲחֹתֵ֕נוּ אַ֥תְּ הֲיִ֖י לְאַלְפֵ֣י רְבָבָ֑ה וְיִירַ֣שׁ זַרְעֵ֔ךְ אֵ֖ת שַׁ֥עַר שֹׂנְאָֽיו׃ (סא) וַתָּ֨קׇם רִבְקָ֜ה וְנַעֲרֹתֶ֗יהָ וַתִּרְכַּ֙בְנָה֙ עַל־הַגְּמַלִּ֔ים וַתֵּלַ֖כְנָה אַחֲרֵ֣י הָאִ֑ישׁ וַיִּקַּ֥ח הָעֶ֛בֶד אֶת־רִבְקָ֖ה וַיֵּלַֽךְ׃ (סב) וְיִצְחָק֙ בָּ֣א מִבּ֔וֹא בְּאֵ֥ר לַחַ֖י רֹאִ֑י וְה֥וּא יוֹשֵׁ֖ב בְּאֶ֥רֶץ הַנֶּֽגֶב׃ (סג) וַיֵּצֵ֥א יִצְחָ֛ק לָשׂ֥וּחַ בַּשָּׂדֶ֖ה לִפְנ֣וֹת עָ֑רֶב וַיִּשָּׂ֤א עֵינָיו֙ וַיַּ֔רְא וְהִנֵּ֥ה גְמַלִּ֖ים בָּאִֽים׃ (סד) וַתִּשָּׂ֤א רִבְקָה֙ אֶת־עֵינֶ֔יהָ וַתֵּ֖רֶא אֶת־יִצְחָ֑ק וַתִּפֹּ֖ל מֵעַ֥ל הַגָּמָֽל׃ (סה) וַתֹּ֣אמֶר אֶל־הָעֶ֗בֶד מִֽי־הָאִ֤ישׁ הַלָּזֶה֙ הַהֹלֵ֤ךְ בַּשָּׂדֶה֙ לִקְרָאתֵ֔נוּ וַיֹּ֥אמֶר הָעֶ֖בֶד ה֣וּא אֲדֹנִ֑י וַתִּקַּ֥ח הַצָּעִ֖יף וַתִּתְכָּֽס׃ (סו) וַיְסַפֵּ֥ר הָעֶ֖בֶד לְיִצְחָ֑ק אֵ֥ת כׇּל־הַדְּבָרִ֖ים אֲשֶׁ֥ר עָשָֽׂה׃ (סז) וַיְבִאֶ֣הָ יִצְחָ֗ק הָאֹ֙הֱלָה֙ שָׂרָ֣ה אִמּ֔וֹ וַיִּקַּ֧ח אֶת־רִבְקָ֛ה וַתְּהִי־ל֥וֹ לְאִשָּׁ֖ה וַיֶּאֱהָבֶ֑הָ וַיִּנָּחֵ֥ם יִצְחָ֖ק אַחֲרֵ֥י אִמּֽוֹ׃ {פ}
(נג) וְאַפֵּק עַבְדָּא מָנִין דִּכְסַף וּמָנִין דִּדְהַב וּלְבוּשִׁין וִיהַב לְרִבְקָה וּמִגְדָּנִין יְהַב לַאֲחוּהָא וּלְאִמַּהּ: (נד) וַאֲכָלוּ וּשְׁתִיאוּ הוּא וְגוּבְרַיָּא דִּי עִמֵּיהּ וּבָתוּ וְקָמוּ בְצַפְרָא וַאֲמַר שַׁלְּחוּנִי לְוַת רִבּוֹנִי: (נה) וַאֲמַר אֲחוּהָא וְאִמַּהּ תָּתֵיב עוּלֶמְתָּא עִמָּנָא עִדַּן בְּעִדַּן אוֹ עַשְׂרָא יַרְחִין בָּתַר כֵּן תֵּיזִיל: (נו) וַאֲמַר לְהוֹן לָא תְאַחֲרוּן יָתִי וַייָ אַצְלַח אָרְחִי שַׁלְּחוּנִי וְאֵיהַךְ לְוַת רִבּוֹנִי: (נז) וַאֲמַרוּ נִקְרֵי לְעוּלֶמְתָּא וְנִשְׁמָע מַה דְּהִיא אָמְרָה: (נח) וּקְרוֹ לְרִבְקָה וַאֲמַרוּ לַהּ הֲתֵיזְלִי עִם גַּבְרָא הָדֵין וַאֲמֶרֶת אֵיזִיל: (נט) וְשַׁלְּחוּ יָת רִבְקָה אֲחַתְהוֹן וְיָת מֵנִקְתַּהּ וְיָת עַבְדָּא דְאַבְרָהָם וְיָת גַּבְרוֹהִי: (ס) וּבָרִיכוּ יָת רִבְקָה וַאֲמַרוּ לַהּ אֲחָתָנָא אַתְּ הֲוֵי לְאַלְפִין וּלְרִבְוָן וְיִרְתוּן בְּנַיְכִי יָת קִרְוֵי סַנְאֵיהוֹן: (סא) וְקָמַת רִבְקָה וְעוּלֶמְתָּהָא וּרְכִיבָא עַל גַּמְלַיָּא וַאֲזַלַּת בָּתַר גַּבְרָא וּדְבַר עַבְדָּא יָת רִבְקָה וַאֲזָל: (סב) וְיִצְחָק אָתָא מִמֵּתוֹהִי (נ"י עַל בְּמֵתוֹהִי) מִבֵּירָא דְמַלְאַךְ קַיָּמָא אִתְחֲזִי עֲלַהּ וְהוּא יָתֵב בַּאֲרַע דָּרוֹמָא: (סג) וּנְפַק יִצְחָק לְצַלָּאָה בְחַקְלָא לְמִפְנֵי רַמְשָׁא וּזְקַף עֵינוֹהִי וַחֲזָא וְהָא גַמְלַיָּא אָתָן: (סד) וּזְקָפַת רִבְקָה יָת עֵינָהָא וַחֲזַת יָת יִצְחָק וְאִתְרְכִינַת מֵעַל גַּמְלָא: (סה) וַאֲמֶרֶת לְעַבְדָּא מָן גַּבְרָא דֵיכִי דִּמְהַלֵּךְ בְּחַקְלָא לְקַדָּמוּתָנָא וַאֲמַר עַבְדָּא הוּא רִבּוֹנִי וּנְסֵיבַת עֵיפָא וְאִתְכַּסִּיאַת: (סו) וְאִשְׁתָּעֵי עַבְדָּא לְיִצְחָק יָת כָּל פִּתְגָּמַיָּא דִּי עֲבָד: (סז) וְאַעֲלַהּ יִצְחָק לְמַשְׁכְּנָא וַחֲזָא וְהָא תַקְּנִין עוֹבָדָהָא כְּעוֹבָדֵי שָׂרָה אִמֵּיהּ וּנְסֵיב יָת רִבְקָה וַהֲוַת לֵיהּ לְאִנְתּוּ וּרְחִימַהּ וְאִתְנְחֵם יִצְחָק בָּתַר דְּמִיתַת אִמֵּיהּ:
53. The servant brought out utensils of silver, utensils of gold and clothing. He gave them to Rivka. He gave delicacies to her brother and her mother. 54. He and the men with him ate, drank and spent the night. When they arose in the morning, he said, "Send me off to my master." 55. Her brother and her mother said, "Let the girl remain with us a year or ten months[1] and after that you may go." 56. He said to them, "Do not delay me. Hashem has made my journey successful. Send me off so that I may go to my master." 57. They said, "We'll call the girl and hear that which she says." 58. They called Rivka and said to her, "Will you go with this man?" She said, "I will go." 59. They sent their sister Rivka and her nurse off with Avraham's servant and his men. 60. They blessed Rivka and said to her, "Our sister, may you grow into thousands and myriads.[2] May your descendants inherit the cities of their enemies."[3] 61. Rivka and her maidens arose, mounted the camels and followed the man. The servant took Rivka and departed. 62. Yitzchak came by way of the well on which the living angel appeared (to Hagar), because he dwelled in the land of the South. 63. Yitzchak went out to pray in the field towards evening. He raised his eyes and saw camels coming. 64. Rivka raised her eyes and saw Yitzchak. She lowered herself from the camel.[4] 65. She said to the servant, "Who is that man walking in the field to greet us?" The servant said, "That is my master." She took a veil and covered herself. 66. The servant told Yitzchak all the things he had done. 67. Yitzchak brought her into the tent and he saw that her deeds were as appropriate as the deeds[5] of Sarah, his mother. He took Rivka as his wife. Yitzchak loved her and was comforted following the death of his mother.
[1] The Hebrew could be understood as "a week or ten days" but it makes more sense that they would be haggling down, not up.
[2] As opposed to "thousands of myriads."
[3] Rather than the gates of their enemies.
[4] As opposed to "She fell off," ostensibly from the mere sight of Yitzchak.
[5] This phrase appears to be a later insertion.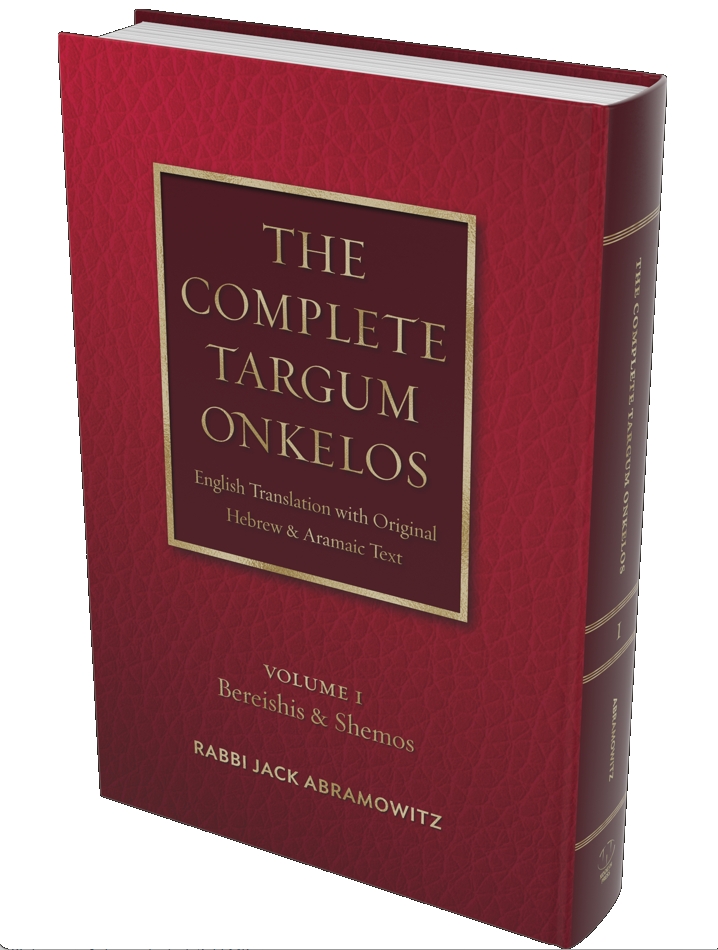 The Complete Targum Onkelos - volume 1 now available on Amazon and from Kodesh Press!