Chayei Sarah - Revii
(כז) וַיֹּ֗אמֶר בָּר֤וּךְ יְהֹוָה֙ אֱלֹהֵי֙ אֲדֹנִ֣י אַבְרָהָ֔ם אֲ֠שֶׁ֠ר לֹֽא־עָזַ֥ב חַסְדּ֛וֹ וַאֲמִתּ֖וֹ מֵעִ֣ם אֲדֹנִ֑י אָנֹכִ֗י בַּדֶּ֙רֶךְ֙ נָחַ֣נִי יְהֹוָ֔ה בֵּ֖ית אֲחֵ֥י אֲדֹנִֽי׃ (כח) וַתָּ֙רׇץ֙ הַֽנַּעֲרָ֔ וַתַּגֵּ֖ד לְבֵ֣ית אִמָּ֑הּ כַּדְּבָרִ֖ים הָאֵֽלֶּה׃ (כט) וּלְרִבְקָ֥ה אָ֖ח וּשְׁמ֣וֹ לָבָ֑ן וַיָּ֨רׇץ לָבָ֧ן אֶל־הָאִ֛ישׁ הַח֖וּצָה אֶל־הָעָֽיִן׃ (ל) וַיְהִ֣י ׀ כִּרְאֹ֣ת אֶת־הַנֶּ֗זֶם וְֽאֶת־הַצְּמִדִים֮ עַל־יְדֵ֣י אֲחֹתוֹ֒ וּכְשׇׁמְע֗וֹ אֶת־דִּבְרֵ֞י רִבְקָ֤ה אֲחֹתוֹ֙ לֵאמֹ֔ר כֹּֽה־דִבֶּ֥ר אֵלַ֖י הָאִ֑ישׁ וַיָּבֹא֙ אֶל־הָאִ֔ישׁ וְהִנֵּ֛ה עֹמֵ֥ד עַל־הַגְּמַלִּ֖ים עַל־הָעָֽיִן׃ (לא) וַיֹּ֕אמֶר בּ֖וֹא בְּר֣וּךְ יְהֹוָ֑ה לָ֤מָּה תַעֲמֹד֙ בַּח֔וּץ וְאָנֹכִי֙ פִּנִּ֣יתִי הַבַּ֔יִת וּמָק֖וֹם לַגְּמַלִּֽים׃ (לב) וַיָּבֹ֤א הָאִישׁ֙ הַבַּ֔יְתָה וַיְפַתַּ֖ח הַגְּמַלִּ֑ים וַיִּתֵּ֨ן תֶּ֤בֶן וּמִסְפּוֹא֙ לַגְּמַלִּ֔ים וּמַ֙יִם֙ לִרְחֹ֣ץ רַגְלָ֔יו וְרַגְלֵ֥י הָאֲנָשִׁ֖ים אֲשֶׁ֥ר אִתּֽוֹ׃ (לג) (ויישם) [וַיּוּשַׂ֤ם] לְפָנָיו֙ לֶאֱכֹ֔ל וַיֹּ֙אמֶר֙ לֹ֣א אֹכַ֔ל עַ֥ד אִם־דִּבַּ֖רְתִּי דְּבָרָ֑י וַיֹּ֖אמֶר דַּבֵּֽר׃ (לד) וַיֹּאמַ֑ר עֶ֥בֶד אַבְרָהָ֖ם אָנֹֽכִי׃ (לה) וַיהֹוָ֞ה בֵּרַ֧ךְ אֶת־אֲדֹנִ֛י מְאֹ֖ד וַיִּגְדָּ֑ל וַיִּתֶּן־ל֞וֹ צֹ֤אן וּבָקָר֙ וְכֶ֣סֶף וְזָהָ֔ב וַעֲבָדִם֙ וּשְׁפָחֹ֔ת וּגְמַלִּ֖ים וַחֲמֹרִֽים׃ (לו) וַתֵּ֡לֶד שָׂרָה֩ אֵ֨שֶׁת אֲדֹנִ֥י בֵן֙ לַֽאדֹנִ֔י אַחֲרֵ֖י זִקְנָתָ֑הּ וַיִּתֶּן־ל֖וֹ אֶת־כׇּל־אֲשֶׁר־לֽוֹ׃ (לז) וַיַּשְׁבִּעֵ֥נִי אֲדֹנִ֖י לֵאמֹ֑ר לֹא־תִקַּ֤ח אִשָּׁה֙ לִבְנִ֔י מִבְּנוֹת֙ הַֽכְּנַעֲנִ֔י אֲשֶׁ֥ר אָנֹכִ֖י יֹשֵׁ֥ב בְּאַרְצֽוֹ׃ (לח) אִם־לֹ֧א אֶל־בֵּית־אָבִ֛י תֵּלֵ֖ךְ וְאֶל־מִשְׁפַּחְתִּ֑י וְלָקַחְתָּ֥ אִשָּׁ֖ה לִבְנִֽי׃ (לט) וָאֹמַ֖ר אֶל־אֲדֹנִ֑י אֻלַ֛י לֹא־תֵלֵ֥ךְ הָאִשָּׁ֖ה אַחֲרָֽי׃ (מ) וַיֹּ֖אמֶר אֵלָ֑י יְהֹוָ֞ה אֲשֶׁר־הִתְהַלַּ֣כְתִּי לְפָנָ֗יו יִשְׁלַ֨ח מַלְאָכ֤וֹ אִתָּךְ֙ וְהִצְלִ֣יחַ דַּרְכֶּ֔ךָ וְלָקַחְתָּ֤ אִשָּׁה֙ לִבְנִ֔י מִמִּשְׁפַּחְתִּ֖י וּמִבֵּ֥ית אָבִֽי׃ (מא) אָ֤ז תִּנָּקֶה֙ מֵאָ֣לָתִ֔י כִּ֥י תָב֖וֹא אֶל־מִשְׁפַּחְתִּ֑י וְאִם־לֹ֤א יִתְּנוּ֙ לָ֔ךְ וְהָיִ֥יתָ נָקִ֖י מֵאָלָתִֽי׃ (מב) וָאָבֹ֥א הַיּ֖וֹם אֶל־הָעָ֑יִן וָאֹמַ֗ר יְהֹוָה֙ אֱלֹהֵי֙ אֲדֹנִ֣י אַבְרָהָ֔ם אִם־יֶשְׁךָ־נָּא֙ מַצְלִ֣יחַ דַּרְכִּ֔י אֲשֶׁ֥ר אָנֹכִ֖י הֹלֵ֥ךְ עָלֶֽיהָ׃ (מג) הִנֵּ֛ה אָנֹכִ֥י נִצָּ֖ב עַל־עֵ֣ין הַמָּ֑יִם וְהָיָ֤ה הָֽעַלְמָה֙ הַיֹּצֵ֣את לִשְׁאֹ֔ב וְאָמַרְתִּ֣י אֵלֶ֔יהָ הַשְׁקִֽינִי־נָ֥א מְעַט־מַ֖יִם מִכַּדֵּֽךְ׃ (מד) וְאָמְרָ֤ה אֵלַי֙ גַּם־אַתָּ֣ה שְׁתֵ֔ה וְגַ֥ם לִגְמַלֶּ֖יךָ אֶשְׁאָ֑ב הִ֣וא הָֽאִשָּׁ֔ה אֲשֶׁר־הֹכִ֥יחַ יְהֹוָ֖ה לְבֶן־אֲדֹנִֽי׃ (מה) אֲנִי֩ טֶ֨רֶם אֲכַלֶּ֜ה לְדַבֵּ֣ר אֶל־לִבִּ֗י וְהִנֵּ֨ה רִבְקָ֤ה יֹצֵאת֙ וְכַדָּ֣הּ עַל־שִׁכְמָ֔הּ וַתֵּ֥רֶד הָעַ֖יְנָה וַתִּשְׁאָ֑ב וָאֹמַ֥ר אֵלֶ֖יהָ הַשְׁקִ֥ינִי נָֽא׃ (מו) וַתְּמַהֵ֗ר וַתּ֤וֹרֶד כַּדָּהּ֙ מֵֽעָלֶ֔יהָ וַתֹּ֣אמֶר שְׁתֵ֔ה וְגַם־גְּמַלֶּ֖יךָ אַשְׁקֶ֑ה וָאֵ֕שְׁתְּ וְגַ֥ם הַגְּמַלִּ֖ים הִשְׁקָֽתָה׃ (מז) וָאֶשְׁאַ֣ל אֹתָ֗הּ וָאֹמַר֮ בַּת־מִ֣י אַתְּ֒ וַתֹּ֗אמֶר בַּת־בְּתוּאֵל֙ בֶּן־נָח֔וֹר אֲשֶׁ֥ר יָֽלְדָה־לּ֖וֹ מִלְכָּ֑ה וָאָשִׂ֤ם הַנֶּ֙זֶם֙ עַל־אַפָּ֔הּ וְהַצְּמִידִ֖ים עַל־יָדֶֽיהָ׃ (מח) וָאֶקֹּ֥ד וָֽאֶשְׁתַּחֲוֶ֖ה לַיהֹוָ֑ה וָאֲבָרֵ֗ךְ אֶת־יְהֹוָה֙ אֱלֹהֵי֙ אֲדֹנִ֣י אַבְרָהָ֔ם אֲשֶׁ֤ר הִנְחַ֙נִי֙ בְּדֶ֣רֶךְ אֱמֶ֔ת לָקַ֛חַת אֶת־בַּת־אֲחִ֥י אֲדֹנִ֖י לִבְנֽוֹ׃ (מט) וְ֠עַתָּ֠ה אִם־יֶשְׁכֶ֨ם עֹשִׂ֜ים חֶ֧סֶד וֶֽאֱמֶ֛ת אֶת־אֲדֹנִ֖י הַגִּ֣ידוּ לִ֑י וְאִם־לֹ֕א הַגִּ֣ידוּ לִ֔י וְאֶפְנֶ֥ה עַל־יָמִ֖ין א֥וֹ עַל־שְׂמֹֽאל׃ (נ) וַיַּ֨עַן לָבָ֤ן וּבְתוּאֵל֙ וַיֹּ֣אמְר֔וּ מֵיְהֹוָ֖ה יָצָ֣א הַדָּבָ֑ר לֹ֥א נוּכַ֛ל דַּבֵּ֥ר אֵלֶ֖יךָ רַ֥ע אוֹ־טֽוֹב׃ (נא) הִנֵּֽה־רִבְקָ֥ה לְפָנֶ֖יךָ קַ֣ח וָלֵ֑ךְ וּתְהִ֤י אִשָּׁה֙ לְבֶן־אֲדֹנֶ֔יךָ כַּאֲשֶׁ֖ר דִּבֶּ֥ר יְהֹוָֽה׃ (נב) וַיְהִ֕י כַּאֲשֶׁ֥ר שָׁמַ֛ע עֶ֥בֶד אַבְרָהָ֖ם אֶת־דִּבְרֵיהֶ֑ם וַיִּשְׁתַּ֥חוּ אַ֖רְצָה לַֽיהֹוָֽה׃
(כז) וַאֲמַר בְּרִיךְ יְיָ אֱלָהָא דְרִבּוֹנִי אַבְרָהָם דִּי לָא מְנַע טִיבוּתֵיהּ וְקוּשְׁטֵיהּ מִן רִבּוֹנִי אֲנָא בְּאוֹרַח תַּקְנָא דַּבְּרַנִי יְיָ בֵּית אַחוֹהִי דְרִבּוֹנִי: (כח) וּרְהָטַת עוּלֶמְתָּא וְחַוִּיאַת לְבֵית אִמַּהּ כְּפִתְגָּמַיָּא הָאִלֵּין: (כט) וּלְרִבְקָה אָחָא וּשְׁמֵיהּ לָבָן וּרְהַט לָבָן לְוַת גַּבְרָא לְבָרָא לְוַת עֵינָא: (ל) וַהֲוָה כַּד חָזָא יָת קָדָשָׁא וְיָת שֵׁירַיָּא עַל יְדֵי אֲחָתֵיהּ וְכַד שְׁמַע יָת פִּתְגָּמֵי רִבְקָה אֲחָתֵיהּ לְמֵימַר כְּדֵין מַלֵּיל עִמִּי גַּבְרָא וַאֲתָא לְוַת גַּבְרָא וְהָא קָאֵם עִלַּוֵּי גַמְלַיָּא עַל עֵינָא: (לא) וַאֲמַר עוּל בְּרִיכָא דַיְיָ לְמָא אַתְּ קָאֵם בְּבָרָא וַאֲנָא פַּנֵּיתִי בֵיתָא וַאֲתַר כָּשַׁר לְגַמְלַיָּא: (לב) וְעַל גַּבְרָא לְבֵיתָא וּשְׁרָא גַּמְלַיָּא וִיהַב תִּבְנָא וְכִסָּתָא לְגַמְלַיָּא וּמַיָּא לְאַסְחָאָה רַגְלוֹהִי וְרַגְלֵי גֻבְרַיָּא דְּעִמֵּיהּ: (לג) וְשַׁוִּיאוּ קֳדָמוֹהִי לְמֵיכָל וַאֲמַר לָא אֵיכוּל עַד דַּאֲמַלֵּל פִּתְגָּמָי וַאֲמַר מַלֵּל: (לד) וַאֲמַר עַבְדָּא דְאַבְרָהָם אָנָא: (לה) וַייָ בָּרִיךְ יָת רִבּוֹנִי לַחֲדָא וּרְבָא וִיהַב לֵיהּ עָאן וְתוֹרִין וּכְסַף וּדְהַב וְעַבְדִּין וְאַמְהָן וְגַמְלִין וַחֲמָרִין: (לו) וִילֵידַת שָׂרָה אִתַּת רִבּוֹנִי בַר לְרִבּוֹנִי בָּתַר דְּסֵיבָת וִיהַב לֵיהּ יָת כָּל דִּילֵיהּ: (לז) וְקַיֵּם עָלַי רִבּוֹנִי לְמֵימָר לָא תִסַּב אִתְּתָא לִבְרִי מִבְּנַת כְּנַעֲנָאֵי דִּי אֲנָא יָתֵב בְּאַרְעֵיהּ: (לח) אֱלָהֵן לְבֵית אַבָּא תֵּזֵיל וּלְזַרְעִיתִי וְתִסַּב אִתְּתָא לִבְרִי: (לט) וַאֲמָרִית לְרִבּוֹנִי מָאִים לָא תֵיתֵי אִתְּתָא בַּתְרָי: (מ) וַאֲמַר לִי יְיָ דִּי פְלָחִית קֳדָמוֹהִי יִשְׁלַח מַלְאָכֵיהּ עִמָּךְ וְיַצְלַח אָרְחָךְ וְתִסַּב אִתְּתָא לִבְרִי מִזַּרְעִיתִי וּמִבֵּית אַבָּא: (מא) בְּכֵן תְּהֵי זַכַּי (נ"י זַכָּא) מִמּוּמָתִי אֲרֵי תְהַךְ לְזַרְעִיתִי וְאִם לָא יִתְּנוּן לָךְ וּתְהֵי זַכַּי מִמּוּמָתִי: (מב) וְאָתִית (נ"י וַאֲתֵיתִי) יוֹמָא דֵין לְעֵינָא וַאֲמָרִית יְיָ אֱלָהָא דְּרִבּוֹנִי אַבְרָהָם אִם אִית כְּעַן רַעֲוָא קֳדָמָךְ לְאַצְלָחָא אָרְחִי דִּי אֲנָא אָזֵיל עֲלַהּ: (מג) הָא אֲנָא קָאֵם עַל עֵינָא דְמַיָּא וִיהֵי עוּלֶמְתָּא דְּתִפּוֹק לְמִמְלֵי וְאֵימַר לַהּ אַשְׁקִינִי כְעַן זְעֵיר מַיָּא מִקּוּלְתִיךְ: (מד) וְתֵימַר לִי אַף אַתְּ אֵשְׁתְּ וְאַף לְגַמְלָךְ אַמְלִי הִיא אִתְּתָא דְּזַמִּין יְיָ לְבַר רִבּוֹנִי: (מה) אֲנָא עַד לָא שֵׁיצִיתִי לְמַלָּלָא בְלִבִּי וְהָא רִבְקָה נְפָקַת וְקוּלְתַהּ עַל כַּתְפַּהּ וּנְחָתַת לְעֵינָא וּמְלָת וַאֲמָרִית לַהּ אַשְׁקִינִי כְעָן: (מו) וְאוֹחִיאַת וַאֲחִיתַת קוּלְתַהּ מִנַּהּ וַאֲמָרַת אֵשְׁתְּ וְאַף גַּמְלָךְ אַשְׁקִי וּשְׁתֵיתִי וְאַף גַּמְלַיָּא אַשְׁקִיאַת: (מז) וּשְׁאֵילִית יָתַהּ וַאֲמָרִית בַּת מָן אַתְּ וַאֲמֶרֶת בַּת בְּתוּאֵל בַּר נָחוֹר דִּילֵידַת לֵיהּ מִלְכָּה וְשַׁוֵּיתִי קָדָשָׁא עַל אַפַּהּ וְשֵׁירַיָּא עַל יְדָהָא: (מח) וּכְרָעִית וּסְגָדִית קֳדָם יְיָ וּבָרֵכִית יָת יְיָ אֱלָהֵהּ דְּרִבּוֹנִי אַבְרָהָם דְּדַבְּרַנִי בְּאוֹרַח קְשׁוֹט לְמִיסַב יָת בַּת אֲחוּהִי דְרִבּוֹנִי לִבְרֵיהּ: (מט) וּכְעַן אִם אִיתֵיכוֹן עָבְדִין טִיבוּ וּקְשׁוֹט עִם רִבּוֹנִי חַוּוֹ לִי וְאִם לָא חַוּוֹ לִי וְאִתְפְּנֵי עַל יַמִּינָא אוֹ עַל שְׂמָאלָא: (נ) וְאָתֵיב לָבָן וּבְתוּאֵל וַאֲמַרוּ מִן קֳדָם יְיָ נְפַק פִּתְגָּמָא לֵית אֲנַחְנָא יָכְלִין לְמַלָּלָא עִמָּךְ בִּישׁ אוֹ טָב: (נא) הָא רִבְקָה קֳדָמָךְ דְּבַר וְאֵיזִיל וּתְהֵי אִתְּתָא לְבַר רִבּוֹנָךְ כְּמָא דִּי מַלֵּל יְיָ: (נב) וַהֲוָה כַּד שְׁמַע עַבְדָּא דְאַבְרָהָם יָת פִּתְגָּמֵיהוֹן וּסְגֵד עַל אַרְעָא קֳדָם יְיָ:
27. He said, "Blessed is Hashem, the God of my master Avraham, who has not withheld His goodness and truth from my master. I have been guided by Hashem on the proper path to the house of my master's family." 28. The girl ran and told her mother's household all these things. 29. Rivka had a brother whose name was Lavan. Lavan ran to the man outside at the spring. 30. It happened when he saw the nose ring and the bands on his sister's arms, and when he heard his sister Rivka saying, "This is what the man said to me," (that) he came to the man, who was found standing beside the camels at the spring. 31. He said, "Come, blessed one of Hashem. Why do you stand outside when I have prepared the house and an appropriate place for the camels?" 32. The man entered the house and the camels were unmuzzled. The camels were given straw and fodder, and water was brought to bathe his feet and the feet of the men who accompanied him. 33. They put food before him. He said, "I will not eat until I have said my piece." He (Lavan) said, "Speak." 34. He said, "I am Avraham's servant." 35. "Hashem blessed my master greatly and he has grown wealthy. He has given him sheep and cattle, silver and gold, male and female servants, camels and donkeys. 36. Sarah, my master's wife, bore my master a son after she had grown old and he has given him everything he has. 37. My master had me swear, saying, 'Do not take a wife for my son from the daughters of the Canaanites in whose land I dwell. 38. Rather, go to my father's house, to my family, and take a wife for my son.' 39. I said to my master, 'Perhaps the woman will not follow me.' 40. He said to me, 'Hashem, before Whom I have served, will send His angel with you and make your journey successful. You will take a wife for my son from my family and from my father's house. 41. Here's how you'll be relieved of my oath: when you come to my family, if they won't give her to you, then you will be relieved of my oath.' 42. Today, I came to the spring and I said 'Hashem, God of my master Avraham, if it is desirable before You to grant success to the journey that I have undertaken, 43. behold, I'm standing by the spring of water. May the young woman who comes out to fill and to whom I say, 'Now let me drink a little water from your jug,' 44. and she answers me, 'You drink and I'll also fill for your camels' – let her be the wife whom Hashem has prepared for my master's son.' 45. I had barely finished speaking in my heart when Rivka came out with her jug on her shoulder. She went down to the spring and filled. I said to her, 'Now let me drink.' 46. She quickly lowered her jug from upon her and said, 'Drink and I will also water your camels.' I drank and she also watered the camels. 47. I asked her, 'Whose daughter are you?' She said, 'The daughter of Besuel, son of Nachor, whom Milka bore to him.' I put the ring on her nose and the bands on her arms. 48. I kneeled and prostrated to Hashem and I blessed Hashem, the God of my master Avraham, Who led me on the true path to take a daughter of my master's brother for his son. 49. Now, if you would treat my master with goodness and truth, tell me. If not, tell me and I will turn right or left." 50. Lavan and Besuel answered, "This matter comes from Hashem; we cannot say anything bad or good to you. 51. Here is Rivka before you; take her and go. Let her be a wife to your master's son as Hashem has said." 52. It happened when Avraham's servant heard their words (that) he bowed on[1] the ground before Hashem.
[1] Rather than "to."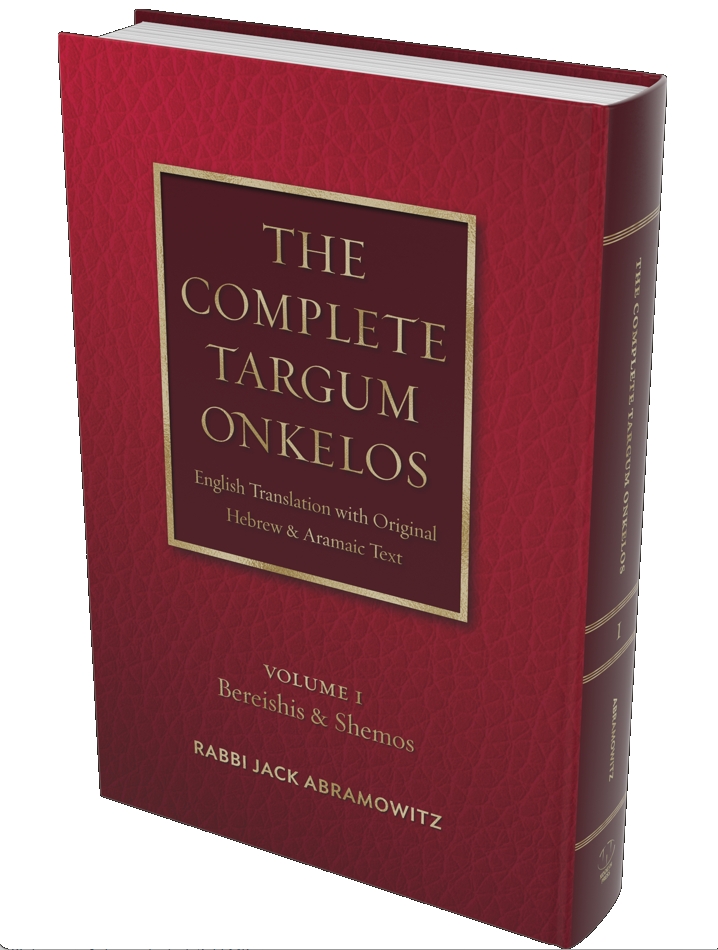 The Complete Targum Onkelos - volume 1 now available on Amazon and from Kodesh Press!