Chayei Sarah - Shlishi
(י) וַיִּקַּ֣ח הָ֠עֶ֠בֶד עֲשָׂרָ֨ה גְמַלִּ֜ים מִגְּמַלֵּ֤י אֲדֹנָיו֙ וַיֵּ֔לֶךְ וְכׇל־ט֥וּב אֲדֹנָ֖יו בְּיָד֑וֹ וַיָּ֗קׇם וַיֵּ֛לֶךְ אֶל־אֲרַ֥ם נַֽהֲרַ֖יִם אֶל־עִ֥יר נָחֽוֹר׃ (יא) וַיַּבְרֵ֧ךְ הַגְּמַלִּ֛ים מִח֥וּץ לָעִ֖יר אֶל־בְּאֵ֣ר הַמָּ֑יִם לְעֵ֣ת עֶ֔רֶב לְעֵ֖ת צֵ֥את הַשֹּׁאֲבֹֽת׃ (יב) וַיֹּאמַ֓ר ׀ יְהֹוָ֗ה אֱלֹהֵי֙ אֲדֹנִ֣י אַבְרָהָ֔ם הַקְרֵה־נָ֥א לְפָנַ֖י הַיּ֑וֹם וַעֲשֵׂה־חֶ֕סֶד עִ֖ם אֲדֹנִ֥י אַבְרָהָֽם׃ (יג) הִנֵּ֛ה אָנֹכִ֥י נִצָּ֖ב עַל־עֵ֣ין הַמָּ֑יִם וּבְנוֹת֙ אַנְשֵׁ֣י הָעִ֔יר יֹצְאֹ֖ת לִשְׁאֹ֥ב מָֽיִם׃ (יד) וְהָיָ֣ה הַֽנַּעֲרָ֗ אֲשֶׁ֨ר אֹמַ֤ר אֵלֶ֙יהָ֙ הַטִּי־נָ֤א כַדֵּךְ֙ וְאֶשְׁתֶּ֔ה וְאָמְרָ֣ה שְׁתֵ֔ה וְגַם־גְּמַלֶּ֖יךָ אַשְׁקֶ֑ה אֹתָ֤הּ הֹכַ֙חְתָּ֙ לְעַבְדְּךָ֣ לְיִצְחָ֔ק וּבָ֣הּ אֵדַ֔ע כִּי־עָשִׂ֥יתָ חֶ֖סֶד עִם־אֲדֹנִֽי׃ (טו) וַֽיְהִי־ה֗וּא טֶ֘רֶם֮ כִּלָּ֣ה לְדַבֵּר֒ וְהִנֵּ֧ה רִבְקָ֣ה יֹצֵ֗את אֲשֶׁ֤ר יֻלְּדָה֙ לִבְתוּאֵ֣ל בֶּן־מִלְכָּ֔ה אֵ֥שֶׁת נָח֖וֹר אֲחִ֣י אַבְרָהָ֑ם וְכַדָּ֖הּ עַל־שִׁכְמָֽהּ׃ (טז) וְהַֽנַּעֲרָ֗ טֹבַ֤ת מַרְאֶה֙ מְאֹ֔ד בְּתוּלָ֕ה וְאִ֖ישׁ לֹ֣א יְדָעָ֑הּ וַתֵּ֣רֶד הָעַ֔יְנָה וַתְּמַלֵּ֥א כַדָּ֖הּ וַתָּֽעַל׃ (יז) וַיָּ֥רׇץ הָעֶ֖בֶד לִקְרָאתָ֑הּ וַיֹּ֕אמֶר הַגְמִיאִ֥ינִי נָ֛א מְעַט־מַ֖יִם מִכַּדֵּֽךְ׃ (יח) וַתֹּ֖אמֶר שְׁתֵ֣ה אֲדֹנִ֑י וַתְּמַהֵ֗ר וַתֹּ֧רֶד כַּדָּ֛הּ עַל־יָדָ֖הּ וַתַּשְׁקֵֽהוּ׃ (יט) וַתְּכַ֖ל לְהַשְׁקֹת֑וֹ וַתֹּ֗אמֶר גַּ֤ם לִגְמַלֶּ֙יךָ֙ אֶשְׁאָ֔ב עַ֥ד אִם־כִּלּ֖וּ לִשְׁתֹּֽת׃ (כ) וַתְּמַהֵ֗ר וַתְּעַ֤ר כַּדָּהּ֙ אֶל־הַשֹּׁ֔קֶת וַתָּ֥רׇץ ע֛וֹד אֶֽל־הַבְּאֵ֖ר לִשְׁאֹ֑ב וַתִּשְׁאַ֖ב לְכׇל־גְּמַלָּֽיו׃ (כא) וְהָאִ֥ישׁ מִשְׁתָּאֵ֖ה לָ֑הּ מַחֲרִ֕ישׁ לָדַ֗עַת הַֽהִצְלִ֧יחַ יְהֹוָ֛ה דַּרְכּ֖וֹ אִם־לֹֽא׃ (כב) וַיְהִ֗י כַּאֲשֶׁ֨ר כִּלּ֤וּ הַגְּמַלִּים֙ לִשְׁתּ֔וֹת וַיִּקַּ֤ח הָאִישׁ֙ נֶ֣זֶם זָהָ֔ב בֶּ֖קַע מִשְׁקָל֑וֹ וּשְׁנֵ֤י צְמִידִים֙ עַל־יָדֶ֔יהָ עֲשָׂרָ֥ה זָהָ֖ב מִשְׁקָלָֽם׃ (כג) וַיֹּ֙אמֶר֙ בַּת־מִ֣י אַ֔תְּ הַגִּ֥ידִי נָ֖א לִ֑י הֲיֵ֧שׁ בֵּית־אָבִ֛יךְ מָק֥וֹם לָ֖נוּ לָלִֽין׃ (כד) וַתֹּ֣אמֶר אֵלָ֔יו בַּת־בְּתוּאֵ֖ל אָנֹ֑כִי בֶּן־מִלְכָּ֕ה אֲשֶׁ֥ר יָלְדָ֖ה לְנָחֽוֹר׃ (כה) וַתֹּ֣אמֶר אֵלָ֔יו גַּם־תֶּ֥בֶן גַּם־מִסְפּ֖וֹא רַ֣ב עִמָּ֑נוּ גַּם־מָק֖וֹם לָלֽוּן׃ (כו) וַיִּקֹּ֣ד הָאִ֔ישׁ וַיִּשְׁתַּ֖חוּ לַֽיהֹוָֽה׃
(י) וּדְבַר עַבְדָא עַשְׂרָא גַמְלִין מִגַּמְלֵי רִבּוֹנֵה וַאֲזַל וְכָל שְׁפַר רִבּוֹנֵיהּ בִּידֵיהּ וְקָם וַאֲזַל לַאֲרָם דִּי עַל פְּרַת לְקַרְתָּא דְנָחוֹר: (יא) וְאַשְׁרֵי גַמְלַיָּא מִבָּרָא לְקַרְתָּא לִבְאֵרָא דְמַיָּא לְעִדַּן רַמְשָׁא לְעִדַּן דְּנַפְקַן מַלְיָתָא: (יב) וַאֲמַר יְיָ אֱלָהֵהּ דְּרִבּוֹנִי אַבְרָהָם זַמִּין כְּעַן קֳדָמַי יוֹמָא דֵין וְעִבַד טִיבוּ עִם רִבּוֹנִי אַבְרָהָם: (יג) הָא אֲנָא קָאֵם עַל עֵינָא דְמַיָּא וּבְנַת אֱנָשֵׁי קַרְתָּא נַפְקַן לְמִמְלֵי מַיָא: (יד) וּתְהֵי עוּלֶמְתָּא דְּאֵימַר לַהּ אַרְכִינִי כְעַן קוּלְתִיךְ וְאֶשְׁתִּי וְתֵימַר אֵשְׁתְּ וְאַף גַּמְלָךְ אַשְׁקֵי יָתַהּ זַמִּנְתָּא לְעַבְדָךְ לְיִצְחָק וּבַהּ אִידַע אֲרֵי עֲבַדְתָּ טִיבוּ עִם רִבּוֹנִי: (טו) וַהֲוָה הוּא עַד לָא שֵׁיצֵי לְמַלָּלָא וְהָא רִבְקָה נְפָקַת דְּאִתְיְלִידַת לִבְתוּאֵל בַּר מִלְכָּה אִתַּת נָחוֹר אֲחוּהִי דְאַבְרָהָם וְקוּלְתַהּ עַל כַּתְפַּהּ: (טז) וְעוּלֶמְתָּא שַׁפִּירַת חֵיזוּ (נ"י שַׁפִּירָא לְמֶחֱזֵי) לַחֲדָא בְּתֻלְתָּא וּגְבַר לָא יַדְעָהּ וּנְחָתַת לְעֵינָא וּמְלַת קוּלְתַהּ וּסְלֵקָת: (יז) וּרְהַט עַבְדָא לִקְדָמוּתַהּ וַאֲמַר אַשְׁקִינִי (ס"א אַטְעֵמְנִי) כְעַן זְעֵיר מַיָּא מִקּוּלְתִיךְ: (יח) וַאֲמֶרֶת אֵשְׁתְּ רִבּוֹנִי וְאוֹחִיאַת וַאֲחֵיתַת קוּלְתַהּ עַל יְדַהּ וְאַשְׁקְתֵיהּ: (יט) וְשֵׁיצִיאַת לְאַשְׁקָיוּתֵיהּ וַאֲמֶרֶת אַף לְגַמְלָךְ אַמְלֵי עַד דִּי סַפְקוּן לְמִשְׁתֵּי: (כ) וְאוֹחִיאַת וּנְפָצַת קוּלְתַהּ לְבֵית שַׁקְיָא וּרְהָטַת עוֹד לְבֵירָא לְמִמְלֵי וּמְלַת לְכָל גַּמְלוֹהִי: (כא) וְגַבְרָא שָׁהֵי בַהּ מִסְתַּכֵּל שָׁתִיק לְמֵידַע הַאַצְלַח יְיָ אָרְחֵיהּ אִם לָא: (כב) וַהֲוָה כַּד סַפִּיקוּ גַמְלַיָּא לְמִשְׁתֵּי וּנְסֵיב גַּבְרָא קָדָשָׁא דְדַהֲבָא תִּקְלָא מַתְקְלֵיהּ וּתְרֵין שֵׁירִין עַל יְדָהָא מַתְקַל עֲשַׂר סִלְעִין דְּדַהֲבָא מַתְקַלְהוֹן: (כג) וַאֲמַר בַּת מָן אַתְּ חַוִּי כְעַן לִי הַאִית בֵּית אָבוּךְ אָתַר כָּשַׁר לָנָא לִמְבָת: (כד) וַאֲמֶרֶת לֵיהּ בַּת בְּתוּאֵל אֲנָא בַּר מִלְכָּא דִּילֵידַת לְנָחוֹר: (כה) וַאֲמֶרֶת לֵיהּ אַף תִּבְנָא אַף כִּסָּתָא סַגִּי עִמָּנָא אַף אָתַר כָּשַׁר לִמְבָת: (כו) וּכְרַע גַּבְרָא וּסְגִיד קֳדָם יְיָ:
10. The servant took ten of his master's camels and departed, with all the best of his master in his hand. He arose and traveled to Aram, which is on the Euphrates,[1] to the city of Nachor. 11. He "parked"[2] the camels outside the city by the well of water at evening time, the time when women go out to fill (their jugs).[3] 12. He said, "Hashem, God of my master Avraham, now make it happen for me today and perform a favor for my master Avraham. 13. Behold, I stand by the spring of water as the daughters of the city residents go out to fill (jugs with) water. 14. May the girl to whom I say, 'Now lower your jug so that I may drink,' and who replies, 'Drink and I'll also water your camels' – may she be the one whom You have prepared for Your servant Yitzchak. In that way, I will know that You have performed a favor for my master." 15. He had barely finished speaking, when Rivka, who was born to Besuel, the son of Milka, wife of Avraham's brother Nachor, came out with her jug on her shoulder. 16. The girl was very beautiful; she was a virgin whom no man had known. She went down to the spring, filled her jug, and ascended. 17. The servant ran towards her. He said, "Now give me a little water to drink[4] from your jug." 18. She said, "Drink, my master," and she quickly lowered her jug on her hand and let him drink. 19. She finished giving him drink and she said, "I will also fill for your camels until they drink their fill."[5] 20. She hurried and emptied her jug into the trough. She ran back to the well to fill, and she filled for all of his camels. 21. The man waited; he stared at her silently[6] to determine whether Hashem had made his journey successful or not. 22. When the camels drank their fill, the man took a gold nose ring weighing a shekel[7] and two gold bands for her arms, weighing ten sela. 23. He said, "Whose daughter are you? Please tell me if there's an appropriate place in your father's house for us to spend the night." 24. She said, "I am the daughter of Besuel, the son of Milka, whom she delivered to Nachor." 25. She continued, "We have plenty of straw and fodder, as well as an appropriate place to spend the night." 26. The man kneeled and prostrated before Hashem.
[1] Onkelos replaces "Aram of the rivers" with a place name known by his contemporaries.
[2] Or, perhaps, untied. The Aramaic can mean "he caused them to camp," simplified as "parked" in our translation.
[3] Rather than "to draw (water)."
[4] Chumash: "Please let me sip a little water…."
[5] Rather than "finish drinking."
[6] The Chumash only says that he was silent; Onkelos adds that he stared.
[7] Chumash: "beka," i.e., half a shekel. The Chumash's shekel was Onkelos' sela; the Chumash's beka was Onkelos' shekel.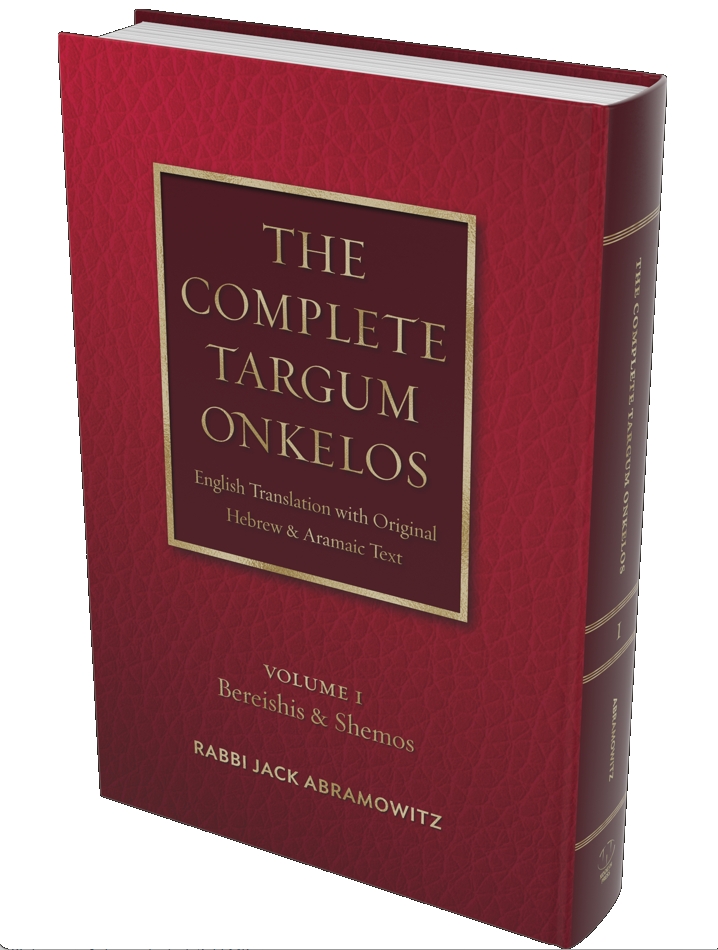 The Complete Targum Onkelos - volume 1 now available on Amazon and from Kodesh Press!