Vayeira - Shishi
(כב) וַֽיְהִי֙ בָּעֵ֣ת הַהִ֔וא וַיֹּ֣אמֶר אֲבִימֶ֗לֶךְ וּפִיכֹל֙ שַׂר־צְבָא֔וֹ אֶל־אַבְרָהָ֖ם לֵאמֹ֑ר אֱלֹהִ֣ים עִמְּךָ֔ בְּכֹ֥ל אֲשֶׁר־אַתָּ֖ה עֹשֶֽׂה׃ (כג) וְעַתָּ֗ה הִשָּׁ֨בְעָה לִּ֤י בֵֽאלֹהִים֙ הֵ֔נָּה אִם־תִּשְׁקֹ֣ר לִ֔י וּלְנִינִ֖י וּלְנֶכְדִּ֑י כַּחֶ֜סֶד אֲשֶׁר־עָשִׂ֤יתִי עִמְּךָ֙ תַּעֲשֶׂ֣ה עִמָּדִ֔י וְעִם־הָאָ֖רֶץ אֲשֶׁר־גַּ֥רְתָּה בָּֽהּ׃ (כד) וַיֹּ֙אמֶר֙ אַבְרָהָ֔ם אָנֹכִ֖י אִשָּׁבֵֽעַ׃ (כה) וְהוֹכִ֥חַ אַבְרָהָ֖ם אֶת־אֲבִימֶ֑לֶךְ עַל־אֹדוֹת֙ בְּאֵ֣ר הַמַּ֔יִם אֲשֶׁ֥ר גָּזְל֖וּ עַבְדֵ֥י אֲבִימֶֽלֶךְ׃ (כו) וַיֹּ֣אמֶר אֲבִימֶ֔לֶךְ לֹ֣א יָדַ֔עְתִּי מִ֥י עָשָׂ֖ה אֶת־הַדָּבָ֣ר הַזֶּ֑ה וְגַם־אַתָּ֞ה לֹא־הִגַּ֣דְתָּ לִּ֗י וְגַ֧ם אָנֹכִ֛י לֹ֥א שָׁמַ֖עְתִּי בִּלְתִּ֥י הַיּֽוֹם׃ (כז) וַיִּקַּ֤ח אַבְרָהָם֙ צֹ֣אן וּבָקָ֔ר וַיִּתֵּ֖ן לַאֲבִימֶ֑לֶךְ וַיִּכְרְת֥וּ שְׁנֵיהֶ֖ם בְּרִֽית׃ (כח) וַיַּצֵּ֣ב אַבְרָהָ֗ם אֶת־שֶׁ֛בַע כִּבְשֹׂ֥ת הַצֹּ֖אן לְבַדְּהֶֽן׃ (כט) וַיֹּ֥אמֶר אֲבִימֶ֖לֶךְ אֶל־אַבְרָהָ֑ם מָ֣ה הֵ֗נָּה שֶׁ֤בַע כְּבָשֹׂת֙ הָאֵ֔לֶּה אֲשֶׁ֥ר הִצַּ֖בְתָּ לְבַדָּֽנָה׃ (ל) וַיֹּ֕אמֶר כִּ֚י אֶת־שֶׁ֣בַע כְּבָשֹׂ֔ת תִּקַּ֖ח מִיָּדִ֑י בַּעֲבוּר֙ תִּֽהְיֶה־לִּ֣י לְעֵדָ֔ה כִּ֥י חָפַ֖רְתִּי אֶת־הַבְּאֵ֥ר הַזֹּֽאת׃ (לא) עַל־כֵּ֗ן קָרָ֛א לַמָּק֥וֹם הַה֖וּא בְּאֵ֣ר שָׁ֑בַע כִּ֛י שָׁ֥ם נִשְׁבְּע֖וּ שְׁנֵיהֶֽם׃ (לב) וַיִּכְרְת֥וּ בְרִ֖ית בִּבְאֵ֣ר שָׁ֑בַע וַיָּ֣קׇם אֲבִימֶ֗לֶךְ וּפִיכֹל֙ שַׂר־צְבָא֔וֹ וַיָּשֻׁ֖בוּ אֶל־אֶ֥רֶץ פְּלִשְׁתִּֽים׃ (לג) וַיִּטַּ֥ע אֶ֖שֶׁל בִּבְאֵ֣ר שָׁ֑בַע וַיִּ֨קְרָא־שָׁ֔ם בְּשֵׁ֥ם יְהֹוָ֖ה אֵ֥ל עוֹלָֽם׃ (לד) וַיָּ֧גׇר אַבְרָהָ֛ם בְּאֶ֥רֶץ פְּלִשְׁתִּ֖ים יָמִ֥ים רַבִּֽים׃ {פ}
(כב) וַהֲוָה בְּעִדָּנָא הַהִיא וַאֲמַר אֲבִימֶלֶךְ וּפִיכֹל רַב חֵילֵיהּ לְאַבְרָהָם לְמֵימָר מֵימְרָא דַיְיָ בְּסַעֲדָךְ בְּכֹל דִּי אַתְּ עָבֵד: (כג) וּכְעַן קַיֵּם לִי בְּמֵימְרָא דַיְיָ הָכָא דְּלָא תְשַׁקַּר בִּי וּבִבְרִי וּבְבַר בְּרִי כְּטֵיבוֹתָא דִּי עֲבָדִית עִמָּךְ תַּעְבֵּד עִמִּי וְעִם אַרְעָא דְאִתּוֹתַבְתָּא בַהּ: (כד) וַאֲמַר אַבְרָהָם אֲנָא אֲקַיֵּם: (כה) וְאוֹכַח אַבְרָהָם יָת אֲבִימֶלֶךְ עַל עֵיסַק בֵּירָא דְמַיָּא דִּי אַנִּיסוּ עַבְדֵי אֲבִימֶלֶךְ: (כו) וַאֲמַר אֲבִימֶלֶךְ לָא יְדָעִית מָאן עֲבַד יָת פִּתְגָּמָא הָדֵין וְאַף אַתְּ לָא חַוֵּיתָ לִּי וְאַף אֲנָא לָא שְׁמָעִית אֶלָּהֵין יוֹמָא דֵין: (כז) וּדְבַר אַבְרָהָם עָאן וְתוֹרִין וִיהַב לַאֲבִימֶלֶךְ וּגְזָרוּ תַרְוֵיהוֹן קְיָם: (כח) וַאֲקִים אַבְרָהָם יָת שְׁבַע חוּרְפַן דְּעָאן בִּלְחוֹדֵיהֶן: (כט) וַאֲמַר אֲבִימֶלֶךְ לְאַבְרָהָם מָה אִנּוּן שְׁבַע חוּרְפַן אִלֵּין דַּאֲקֵמְתָּא בִּלְחוֹדֵיהֶן: (ל) וַאֲמַר אֲרֵי יָת שְׁבַע חוּרְפַן תְּקַבֵּל מִן יְדִי בְּדִיל דִּתְהֵי לִי לְסַהֲדוּ אֲרֵי חֲפָרִית יָת בֵּירָא הָדֵין (נ"י הָדָא): (לא) עַל כֵּן קְרָא לְאַתְרָא הַהוּא בְּאֵר שָׁבַע אֲרֵי תַמָּן קַיָּמוּ תַּרְוֵיהוֹן: (לב) וּגְזָרוּ קְיָם בִּבְאֵר שָׁבַע וְקָם אֲבִימֶלֶךְ וּפִיכֹל רַב חֵילֵיהּ וְתָבוּ לְאַרַע פְּלִשְׁתָּאֵי: (לג) וּנְצֵיב נִצְבָּא (נ"י אִילָנָא) בִּבְאֵר שָׁבַע וְצַלִּי תַמָּן בִּשְׁמָא דַיְיָ אֱלָהָא דְעַלְמָא: (לד) וְאִתּוֹתַב אַבְרָהָם בְּאַרַע פְּלִשְׁתָּאֵי יוֹמִין סַגִּיאִין:
22. At that time, Avimelech and Fichol, the leader of his troops, said to Avraham, "Hashem's word is a help to you in all that you do. 23. Therefore, swear to me here by the word of Hashem that you will not deal falsely with me, my son or my grandson. Treat me and the land in which you dwelled according to the kindness that I showed you." 24. Avraham said, "I so swear." 25. Avraham then rebuked Avimelech regarding a well of water that Avimelech's servants had seized. 26. Avimelech said, "I don't know who did this. You didn't tell me and I haven't heard of it until today." 27. Avraham took sheep and oxen. He gave them to Avimelech and the two of them forged a pact. 28. Avraham set aside seven lambs[1] of the flock by themselves. 29. Avimelech said to Avraham, "What are these seven lambs that you have set aside?" 30. He said, "Accept these seven lambs from my hand to serve as proof that I dug this well." 31. Therefore that place was called Be'er Sheva, because there the two of them swore. 32. They forged the pact in Be'er Sheva, then Avimelech and Phicol, the leader of his troops, arose and returned to the land of the Philistines. 33. (Avraham) planted a tree[2] in Be'er Sheva and he prayed there in the Name of Hashem, the eternal God. 34. Avraham dwelled in the land of the Philistines for a long time.
[1] Young sheep, as opposed to adult ewes.
[2] Or, a monument.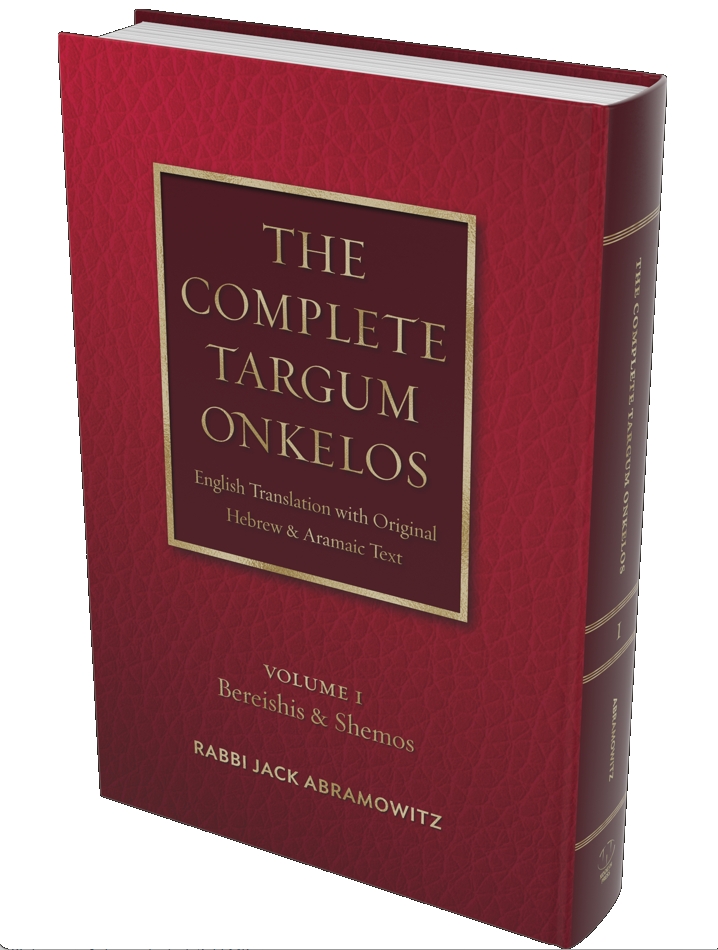 The Complete Targum Onkelos - volume 1 now available on Amazon and from Kodesh Press!