Vayeira - Chamishi
(ה) וְאַבְרָהָ֖ם בֶּן־מְאַ֣ת שָׁנָ֑ה בְּהִוָּ֣לֶד ל֔וֹ אֵ֖ת יִצְחָ֥ק בְּנֽוֹ׃ (ו) וַתֹּ֣אמֶר שָׂרָ֔ה צְחֹ֕ק עָ֥שָׂה לִ֖י אֱלֹהִ֑ים כׇּל־הַשֹּׁמֵ֖עַ יִֽצְחַק־לִֽי׃ (ז) וַתֹּ֗אמֶר מִ֤י מִלֵּל֙ לְאַבְרָהָ֔ם הֵינִ֥יקָה בָנִ֖ים שָׂרָ֑ה כִּֽי־יָלַ֥דְתִּי בֵ֖ן לִזְקֻנָֽיו׃ (ח) וַיִּגְדַּ֥ל הַיֶּ֖לֶד וַיִּגָּמַ֑ל וַיַּ֤עַשׂ אַבְרָהָם֙ מִשְׁתֶּ֣ה גָד֔וֹל בְּי֖וֹם הִגָּמֵ֥ל אֶת־יִצְחָֽק׃ (ט) וַתֵּ֨רֶא שָׂרָ֜ה אֶֽת־בֶּן־הָגָ֧ר הַמִּצְרִ֛ית אֲשֶׁר־יָלְדָ֥ה לְאַבְרָהָ֖ם מְצַחֵֽק׃ (י) וַתֹּ֙אמֶר֙ לְאַבְרָהָ֔ם גָּרֵ֛שׁ הָאָמָ֥ה הַזֹּ֖את וְאֶת־בְּנָ֑הּ כִּ֣י לֹ֤א יִירַשׁ֙ בֶּן־הָאָמָ֣ה הַזֹּ֔את עִם־בְּנִ֖י עִם־יִצְחָֽק׃ (יא) וַיֵּ֧רַע הַדָּבָ֛ר מְאֹ֖ד בְּעֵינֵ֣י אַבְרָהָ֑ם עַ֖ל אוֹדֹ֥ת בְּנֽוֹ׃ (יב) וַיֹּ֨אמֶר אֱלֹהִ֜ים אֶל־אַבְרָהָ֗ם אַל־יֵרַ֤ע בְּעֵינֶ֙יךָ֙ עַל־הַנַּ֣עַר וְעַל־אֲמָתֶ֔ךָ כֹּל֩ אֲשֶׁ֨ר תֹּאמַ֥ר אֵלֶ֛יךָ שָׂרָ֖ה שְׁמַ֣ע בְּקֹלָ֑הּ כִּ֣י בְיִצְחָ֔ק יִקָּרֵ֥א לְךָ֖ זָֽרַע׃ (יג) וְגַ֥ם אֶת־בֶּן־הָאָמָ֖ה לְג֣וֹי אֲשִׂימֶ֑נּוּ כִּ֥י זַרְעֲךָ֖ הֽוּא׃ (יד) וַיַּשְׁכֵּ֣ם אַבְרָהָ֣ם ׀ בַּבֹּ֡קֶר וַיִּֽקַּֽח־לֶ֩חֶם֩ וְחֵ֨מַת מַ֜יִם וַיִּתֵּ֣ן אֶל־הָ֠גָ֠ר שָׂ֧ם עַל־שִׁכְמָ֛הּ וְאֶת־הַיֶּ֖לֶד וַֽיְשַׁלְּחֶ֑הָ וַתֵּ֣לֶךְ וַתֵּ֔תַע בְּמִדְבַּ֖ר בְּאֵ֥ר שָֽׁבַע׃ (טו) וַיִּכְל֥וּ הַמַּ֖יִם מִן־הַחֵ֑מֶת וַתַּשְׁלֵ֣ךְ אֶת־הַיֶּ֔לֶד תַּ֖חַת אַחַ֥ד הַשִּׂיחִֽם׃ (טז) וַתֵּ֩לֶךְ֩ וַתֵּ֨שֶׁב לָ֜הּ מִנֶּ֗גֶד הַרְחֵק֙ כִּמְטַחֲוֵ֣י קֶ֔שֶׁת כִּ֣י אָֽמְרָ֔ה אַל־אֶרְאֶ֖ה בְּמ֣וֹת הַיָּ֑לֶד וַתֵּ֣שֶׁב מִנֶּ֔גֶד וַתִּשָּׂ֥א אֶת־קֹלָ֖הּ וַתֵּֽבְךְּ׃ (יז) וַיִּשְׁמַ֣ע אֱלֹהִים֮ אֶת־ק֣וֹל הַנַּ֒עַר֒ וַיִּקְרָא֩ מַלְאַ֨ךְ אֱלֹהִ֤ים ׀ אֶל־הָגָר֙ מִן־הַשָּׁמַ֔יִם וַיֹּ֥אמֶר לָ֖הּ מַה־לָּ֣ךְ הָגָ֑ר אַל־תִּ֣ירְאִ֔י כִּֽי־שָׁמַ֧ע אֱלֹהִ֛ים אֶל־ק֥וֹל הַנַּ֖עַר בַּאֲשֶׁ֥ר הוּא־שָֽׁם׃ (יח) ק֚וּמִי שְׂאִ֣י אֶת־הַנַּ֔עַר וְהַחֲזִ֥יקִי אֶת־יָדֵ֖ךְ בּ֑וֹ כִּֽי־לְג֥וֹי גָּד֖וֹל אֲשִׂימֶֽנּוּ׃ (יט) וַיִּפְקַ֤ח אֱלֹהִים֙ אֶת־עֵינֶ֔יהָ וַתֵּ֖רֶא בְּאֵ֣ר מָ֑יִם וַתֵּ֜לֶךְ וַתְּמַלֵּ֤א אֶת־הַחֵ֙מֶת֙ מַ֔יִם וַתַּ֖שְׁקְ אֶת־הַנָּֽעַר׃ (כ) וַיְהִ֧י אֱלֹהִ֛ים אֶת־הַנַּ֖עַר וַיִּגְדָּ֑ל וַיֵּ֙שֶׁב֙ בַּמִּדְבָּ֔ר וַיְהִ֖י רֹבֶ֥ה קַשָּֽׁת׃ (כא) וַיֵּ֖שֶׁב בְּמִדְבַּ֣ר פָּארָ֑ן וַתִּֽקַּֽח־ל֥וֹ אִמּ֛וֹ אִשָּׁ֖ה מֵאֶ֥רֶץ מִצְרָֽיִם׃ {פ}
(ה) וְאַבְרָהָם בַּר מְאָה שְׁנִין כַּד אִתְיְלִיד לֵיהּ יָת יִצְחָק בְּרֵיהּ: (ו) וַאֲמֶרֶת שָׂרָה חֶדְוָא עֲבַד לִי יְיָ כָּל דִּשְׁמַע יֶחֱדֵּי לִי: (ז) וַאֲמֶרֶת מָאן מְהֵימָן דַּאֲמַר לְאַבְרָהָם קְיָם דְּתוֹנִיק בְּנִין שָׂרָה אֲרֵי יְלֵידִית בַּר לְסִיבְתוֹהִי: (ח) וּרְבָא רַבְיָא וְאִתְחֲסִיל וַעֲבַד אַבְרָהָם מִשְׁתְּיָא רַבָּא בְּיוֹמָא דְּאִתְחֲסִיל יָת יִצְחָק: (ט) וַחֲזַת שָׂרָה יָת בַּר הָגָר מִצְרֵיתָא דִּיְלִידַת לְאַבְרָהָם מְחָיִיךְ: (י) וַאֲמֶרֶת לְאַבְרָהָם תָּרֵךְ אַמְתָא הָדָא וְיַת בְּרַהּ אֲרֵי לָא יֵרַת בַּר אַמְתָא הָדָא עִם בְּרִי עִם יִצְחָק: (יא) וּבְאֵישׁ פִּתְגָּמָא לַחֲדָא בְּעֵינֵי אַבְרָהָם עַל עֵיסַק בְּרֵיהּ: (יב) וַאֲמַר יְיָ לְאַבְרָהָם לָא יַבְאֵשׁ בְּעֵינָיךְ עַל עוּלֵימָא וְעַל אַמְתָךְ כֹּל דִּי תֵימַר לָךְ שָׂרָה קַבֵּל מִנַּהּ אֲרֵי בְיִצְחָק יִתְקְרוּן לָךְ בְּנִין: (יג) וְאַף יָת בַּר אַמְתָא לְעַם אֲשַׁוִּנֵּיהּ אֲרֵי בְנָךְ הוּא: (יד) וְאַקְדֵּים אַבְרָהָם בְּצַפְרָא וּנְסִיב לַחֲמָא וְרָקְבָּא דְמַיָּא וִיהַב לְהָגָר שַׁוִּי עַל כַּתְפַּהּ וְיָת רַבְיָא וְשַׁלְחַהּ וַאֲזָלַת וְתָעַת בְּמַדְבְּרָא (נ"י בְּמַדְבֵּר) בְּאֵר שָׁבַע: (טו) וּשְׁלִימוּ מַיָּא מִן רָקְבָּא וּרְמַת יָת רַבְיָא תְּחוֹת חַד מִן אִילָנַיָּא: (טז) וַאֲזַלַּת וִיתִיבַת לַהּ מִקֳּבֵל אַרְחֵיקַת (נ"י אַרְחִיק) כְּמֵיגַר קַשְׁתָּא אֲרֵי אֲמֶרֶת לָא אֶחֱזֵי בְּמוֹתָא דְרַבְיָא וִיתִיבַת מִקֳּבֵל וַאֲרִימַת יָת קָלַהּ וּבְכָת: (יז) וּשְׁמִיעַ קֳדָם יְיָ יָת קָלֵיהּ דְּרַבְיָא וּקְרָא מַלְאֲכָא דַיְיָ לְהָגָר מִן שְׁמַיָּא וַאֲמַר לַהּ מָה לִיךְ הָגָר לָא תִדְחֲלִי אֲרֵי שְׁמִיעַ קֳדָם יְיָ יָת קָלֵיהּ דְּרַבְיָא בַּאֲתַר דְּהוּא תַמָּן: (יח) קוּמִי טוּלִי יָת רַבְיָא וְאַתְקִיפִי יָת יְדֵךְ בֵּיהּ אֲרֵי לְעַם סַגִּי אֲשַׁוִּנֵּיהּ: (יט) וּגְלָא יְיָ יָת עֵינָהַהּ וַחֲזַת בֵּירָא דְמַיָּא וַאֲזָלַת וּמְלַת יָת רָקְבָּא מַיָּא וְאַשְׁקִיאַת יָת רַבְיָא: (כ) וַהֲוָה מֵימְרָא דַיְיָ בְּסַעֲדֵיהּ דְּרַבְיָא וּרְבָא וִיתֵב בְּמַדְבְּרָא וַהֲוָה רָבֵי קַשְׁתָּא: (כא) וִיתֵב בְּמַדְבְּרָא דְפָארָן וּנְסִיבַת לֵיהּ אִמֵּיהּ אִתְּתָא מֵאַרְעָא דְמִצְרָיִם:
5. Avraham was 100 years old when his son Yitzchak was born to him. 6. Sarah said, "Hashem has brought me joy; everyone who hears will rejoice for me." 7. She said, "Who would have been believed to say to Avraham that Sarah would nurse children? But I have borne a son in his old age!" 8. The child grew and was weaned. Avraham threw a big feast on the day that Yitzchak was weaned. 9. Sarah saw the son whom Hagar the Egyptian had borne to Avraham mocking. 10. She said to Avraham, "Drive out that servant woman and her son because the son of that servant will not inherit alongside my son, Yitzchak." 11. The matter was very bad in Avraham's eyes because of his son. 12. Hashem said to Avraham, "Let it not be bad in your eyes because of the boy and your servant. Whatever Sarah tells you, accept from her because it is through Yitzchak that your descendants will be called. 13. Also the son of the servant, I will make a nation of him because he is your son."[1] 14. Avraham got up in the morning; he took bread and a skin of water, and gave them to Hagar. He placed them over her shoulder along with the boy, and he sent her away. She went and wandered in the wilderness of Be'er Sheva. 15. When the water was gone from the skin, she thrust the boy under one of the bushes. 16. She went and sat across (from him) at the distance of a bowshot away, because she thought, "Let me not see the boy die." Sitting across (from him), she raised her voice and wept. 17. The voice of the boy was heard before Hashem and an angel of Hashem called to Hagar from Heaven. He said to her, "What troubles you, Hagar? Don't fear because the boy's voice has been heard before Hashem in the place where he is. 18. Get up, pick up the boy and take him in your hand because I will make a great nation of him." 19. Hashem exposed[2] her eyes and she saw a well of water. She went and filled the skin with water and gave the boy to drink. 20. Hashem's word was a help to the boy and he grew. He lived in the wilderness and became an archer. 21. He lived in the Paran wilderness and his mother got him a wife from the land of Egypt.
[1] Chumash: "seed."
[2] Rather than "opened."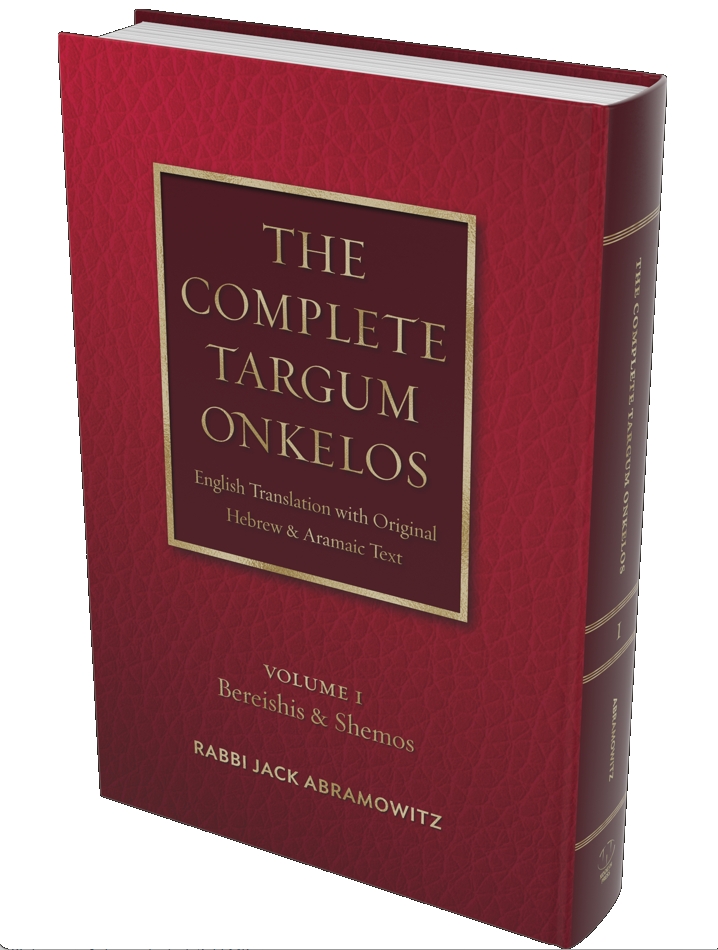 The Complete Targum Onkelos - volume 1 now available on Amazon and from Kodesh Press!