Vayeira - Shlishi
(א) וַ֠יָּבֹ֠אוּ שְׁנֵ֨י הַמַּלְאָכִ֤ים סְדֹ֙מָה֙ בָּעֶ֔רֶב וְל֖וֹט יֹשֵׁ֣ב בְּשַֽׁעַר־סְדֹ֑ם וַיַּרְא־לוֹט֙ וַיָּ֣קׇם לִקְרָאתָ֔ם וַיִּשְׁתַּ֥חוּ אַפַּ֖יִם אָֽרְצָה׃ (ב) וַיֹּ֜אמֶר הִנֶּ֣ה נָּא־אֲדֹנַ֗י ס֣וּרוּ נָ֠א אֶל־בֵּ֨ית עַבְדְּכֶ֤ם וְלִ֙ינוּ֙ וְרַחֲצ֣וּ רַגְלֵיכֶ֔ם וְהִשְׁכַּמְתֶּ֖ם וַהֲלַכְתֶּ֣ם לְדַרְכְּכֶ֑ם וַיֹּאמְר֣וּ לֹּ֔א כִּ֥י בָרְח֖וֹב נָלִֽין׃ (ג) וַיִּפְצַר־בָּ֣ם מְאֹ֔ד וַיָּסֻ֣רוּ אֵלָ֔יו וַיָּבֹ֖אוּ אֶל־בֵּית֑וֹ וַיַּ֤עַשׂ לָהֶם֙ מִשְׁתֶּ֔ה וּמַצּ֥וֹת אָפָ֖ה וַיֹּאכֵֽלוּ׃ (ד) טֶ֘רֶם֮ יִשְׁכָּ֒בוּ֒ וְאַנְשֵׁ֨י הָעִ֜יר אַנְשֵׁ֤י סְדֹם֙ נָסַ֣בּוּ עַל־הַבַּ֔יִת מִנַּ֖עַר וְעַד־זָקֵ֑ן כׇּל־הָעָ֖ם מִקָּצֶֽה׃ (ה) וַיִּקְרְא֤וּ אֶל־לוֹט֙ וַיֹּ֣אמְרוּ ל֔וֹ אַיֵּ֧ה הָאֲנָשִׁ֛ים אֲשֶׁר־בָּ֥אוּ אֵלֶ֖יךָ הַלָּ֑יְלָה הוֹצִיאֵ֣ם אֵלֵ֔ינוּ וְנֵדְעָ֖ה אֹתָֽם׃ (ו) וַיֵּצֵ֧א אֲלֵהֶ֛ם ל֖וֹט הַפֶּ֑תְחָה וְהַדֶּ֖לֶת סָגַ֥ר אַחֲרָֽיו׃ (ז) וַיֹּאמַ֑ר אַל־נָ֥א אַחַ֖י תָּרֵֽעוּ׃ (ח) הִנֵּה־נָ֨א לִ֜י שְׁתֵּ֣י בָנ֗וֹת אֲשֶׁ֤ר לֹֽא־יָדְעוּ֙ אִ֔ישׁ אוֹצִֽיאָה־נָּ֤א אֶתְהֶן֙ אֲלֵיכֶ֔ם וַעֲשׂ֣וּ לָהֶ֔ן כַּטּ֖וֹב בְּעֵינֵיכֶ֑ם רַ֠ק לָֽאֲנָשִׁ֤ים הָאֵל֙ אַל־תַּעֲשׂ֣וּ דָבָ֔ר כִּֽי־עַל־כֵּ֥ן בָּ֖אוּ בְּצֵ֥ל קֹרָתִֽי׃ (ט) וַיֹּאמְר֣וּ ׀ גֶּשׁ־הָ֗לְאָה וַיֹּֽאמְרוּ֙ הָאֶחָ֤ד בָּֽא־לָגוּר֙ וַיִּשְׁפֹּ֣ט שָׁפ֔וֹט עַתָּ֕ה נָרַ֥ע לְךָ֖ מֵהֶ֑ם וַיִּפְצְר֨וּ בָאִ֤ישׁ בְּלוֹט֙ מְאֹ֔ד וַֽיִּגְּשׁ֖וּ לִשְׁבֹּ֥ר הַדָּֽלֶת׃ (י) וַיִּשְׁלְח֤וּ הָֽאֲנָשִׁים֙ אֶת־יָדָ֔ם וַיָּבִ֧יאוּ אֶת־ל֛וֹט אֲלֵיהֶ֖ם הַבָּ֑יְתָה וְאֶת־הַדֶּ֖לֶת סָגָֽרוּ׃ (יא) וְֽאֶת־הָאֲנָשִׁ֞ים אֲשֶׁר־פֶּ֣תַח הַבַּ֗יִת הִכּוּ֙ בַּסַּנְוֵרִ֔ים מִקָּטֹ֖ן וְעַד־גָּד֑וֹל וַיִּלְא֖וּ לִמְצֹ֥א הַפָּֽתַח׃ (יב) וַיֹּאמְר֨וּ הָאֲנָשִׁ֜ים אֶל־ל֗וֹט עֹ֚ד מִֽי־לְךָ֣ פֹ֔ה חָתָן֙ וּבָנֶ֣יךָ וּבְנֹתֶ֔יךָ וְכֹ֥ל אֲשֶׁר־לְךָ֖ בָּעִ֑יר הוֹצֵ֖א מִן־הַמָּקֽוֹם׃ (יג) כִּֽי־מַשְׁחִתִ֣ים אֲנַ֔חְנוּ אֶת־הַמָּק֖וֹם הַזֶּ֑ה כִּֽי־גָדְלָ֤ה צַעֲקָתָם֙ אֶת־פְּנֵ֣י יְהֹוָ֔ה וַיְשַׁלְּחֵ֥נוּ יְהֹוָ֖ה לְשַׁחֲתָֽהּ׃ (יד) וַיֵּצֵ֨א ל֜וֹט וַיְדַבֵּ֣ר ׀ אֶל־חֲתָנָ֣יו ׀ לֹקְחֵ֣י בְנֹתָ֗יו וַיֹּ֙אמֶר֙ ק֤וּמוּ צְּאוּ֙ מִן־הַמָּק֣וֹם הַזֶּ֔ה כִּֽי־מַשְׁחִ֥ית יְהֹוָ֖ה אֶת־הָעִ֑יר וַיְהִ֥י כִמְצַחֵ֖ק בְּעֵינֵ֥י חֲתָנָֽיו׃ (טו) וּכְמוֹ֙ הַשַּׁ֣חַר עָלָ֔ה וַיָּאִ֥יצוּ הַמַּלְאָכִ֖ים בְּל֣וֹט לֵאמֹ֑ר קוּם֩ קַ֨ח אֶֽת־אִשְׁתְּךָ֜ וְאֶת־שְׁתֵּ֤י בְנֹתֶ֙יךָ֙ הַנִּמְצָאֹ֔ת פֶּן־תִּסָּפֶ֖ה בַּעֲוֺ֥ן הָעִֽיר׃ (טז) וַֽיִּתְמַהְמָ֓הּ ׀ וַיַּחֲזִ֨יקוּ הָאֲנָשִׁ֜ים בְּיָד֣וֹ וּבְיַד־אִשְׁתּ֗וֹ וּבְיַד֙ שְׁתֵּ֣י בְנֹתָ֔יו בְּחֶמְלַ֥ת יְהֹוָ֖ה עָלָ֑יו וַיֹּצִאֻ֥הוּ וַיַּנִּחֻ֖הוּ מִח֥וּץ לָעִֽיר׃ (יז) וַיְהִי֩ כְהוֹצִיאָ֨ם אֹתָ֜ם הַח֗וּצָה וַיֹּ֙אמֶר֙ הִמָּלֵ֣ט עַל־נַפְשֶׁ֔ךָ אַל־תַּבִּ֣יט אַחֲרֶ֔יךָ וְאַֽל־תַּעֲמֹ֖ד בְּכׇל־הַכִּכָּ֑ר הָהָ֥רָה הִמָּלֵ֖ט פֶּן־תִּסָּפֶֽה׃ (יח) וַיֹּ֥אמֶר ל֖וֹט אֲלֵהֶ֑ם אַל־נָ֖א אֲדֹנָֽי׃ (יט) הִנֵּה־נָ֠א מָצָ֨א עַבְדְּךָ֣ חֵן֮ בְּעֵינֶ֒יךָ֒ וַתַּגְדֵּ֣ל חַסְדְּךָ֗ אֲשֶׁ֤ר עָשִׂ֙יתָ֙ עִמָּדִ֔י לְהַחֲי֖וֹת אֶת־נַפְשִׁ֑י וְאָנֹכִ֗י לֹ֤א אוּכַל֙ לְהִמָּלֵ֣ט הָהָ֔רָה פֶּן־תִּדְבָּקַ֥נִי הָרָעָ֖ה וָמַֽתִּי׃ (כ) הִנֵּה־נָ֠א הָעִ֨יר הַזֹּ֧את קְרֹבָ֛ה לָנ֥וּס שָׁ֖מָּה וְהִ֣וא מִצְעָ֑ר אִמָּלְטָ֨ה נָּ֜א שָׁ֗מָּה הֲלֹ֥א מִצְעָ֛ר הִ֖וא וּתְחִ֥י נַפְשִֽׁי׃
(א) וְעַלּוּ תְּרֵין מַלְאָכַיָּא לִסְדוֹם בְּרַמְשָׁא וְלוֹט יָתֵב בְּתַרְעָא (נ"י בִּתְרַע) דִסְדוֹם וַחֲזָא לוֹט וְקָם לְקַדָּמוּתְהוֹן וּסְגִיד עַל אַפּוֹהִי עַל אַרְעָא: (ב) וַאֲמַר בְּבָעוּ כְעַן רִבּוֹנַי זוּרוּ כְעַן לְבֵית עַבְדְּכוֹן וּבִיתוּ וְאַסְחוֹ רַגְלֵיכוֹן וּתְקַדְּמוּן וּתְהָכוּן לְאָרְחֲכוֹן וַאֲמָרוּ לָא אֶלָּהֵן בִּרְחוֹבָא נְבִית: (ג) וְאַתְקֵף בְּהוֹן לַחֲדָא וְזָרוּ לְוָתֵיהּ וְעַלּוּ לְבֵיתֵיהּ וַעֲבַד לְהוֹן מִשְׁתְּיָא וּפַטִּיר אֲפָא לְהוֹן וַאֲכָלוּ: (ד) עַד לָא שְׁכִיבוּ וַאֲנָשֵׁי קַרְתָּא אֲנָשֵׁי סְדוֹם אַקִּיפוּ עַל בֵּיתָא מֵעוּלֵימָא וְעַד סָבָא כָּל עַמָּא מִסּוֹפֵיהּ: (ה) וּקְרוֹ לְלוֹט וַאֲמָרוּ לֵיהּ אָן גֻּבְרַיָּא דִּי אֲתוֹ לְוָתָךְ לֵילְיָא אַפֵּקִנּוּן לְוָתָנָא וְנִדַּע יָתְהוֹן: (ו) וּנְפַק לְוָתְהוֹן לוֹט לְתַרְעָא וְדָשָׁא אֲחַד בַּתְרוֹהִי: (ז) וַאֲמַר בְּבָעוּ כְעַן אַחַי לָא תַבְאִישׁוּן: (ח) הָא כְעַן לִי תַּרְתֵּין בְּנָן דִּי לָא יְדָעִנּוּן גְּבַר אַפֵּק כְּעַן יָתְהָן לְוָתְכוֹן וְעִיבִידוּ לְהֵן כִּדְתַקֵּן בְּעֵינֵיכוֹן לְחוֹד לְגֻבְרַיָּא הָאִלֵּין לָא תַעְבְּדוּן מִדַּעַם אֲרֵי עַל כֵּן עַלּוּ בִּטְלַל שֵׁרוּתִי: (ט) וַאֲמָרוּ קְרֵב לְהַלָּא וַאֲמָרוּ חַד אֲתָא לְאִתּוֹתָבָא וְהָא דָיִין דִּינָא כְּעַן נַבְאֵשׁ לָךְ מִדִּילְהוֹן וּתְקִיפוּ בְגַבְרָא בְלוֹט לַחֲדָא וּקְרִיבוּ לְמִתְּבַר דָּשָׁא: (י) וְאוֹשִׁיטוּ גֻבְרַיָּא יָת יְדֵיהוֹן וְאַיְתִיאוּ יָת לוֹט לְוָתְהוֹן לְבֵיתָא וְיָת דָּשָׁא אֲחָדוּ: (יא) וְיָת גֻּבְרַיָּא דִּי בִתְרַע בֵּיתָא מְחוֹ בְּשַׁבְרִירַיָּא מִזְּעֵירָא וְעַד רַבָּא וּלְאִיוּ לְאַשְׁכָּחָא תַרְעָא: (יב) וַאֲמָרוּ גֻבְרַיָּא לְלוֹט עוֹד מָן לָךְ הָכָא חַתְנָא וּבְנָךְ וּבְנָתָךְ וְכֹל דִּי לָךְ בְּקַרְתָּא אַפֵּיק מִן אַתְרָא: (יג) אֲרֵי מְחַבְּלִין אֲנַחְנָא יָת אַתְרָא הָדֵין אֲרֵי סְגִיאַת קְבִלְתְּהוֹן קֳדָם יְיָ וְשַׁלְחָנָא יְיָ לְחַבָּלוּתַהּ: (יד) וּנְפַק לוֹט וּמַלִּיל עִם חַתְנוֹהִי נָסְבֵי בְנָתֵיהּ וַאֲמַר קוּמוּ פּוּקוּ מִן אַתְרָא הָדֵין אֲרֵי מְחַבֵּל יְיָ יָת קַרְתָּא וַהֲוָה כִּמְחָיִךְ בְּעֵינֵי חַתְנוֹהִי: (טו) וּכְמִסַּק צַפְרָא הֲוָה וּדְחִיקוּ מַלְאָכַיָּא בְּלוֹט לְמֵימָר קוּם דְּבַר יָת אִתְּתָךְ וְיָת תַּרְתֵּין בְּנָתָךְ דְּאִשְׁתְּכַחַן מְהֵימְנָן עִמָּךְ דִּילְמָא תִלְקֵי בְּחוֹבֵי קַרְתָּא: (טז) וְאִתְעַכַּב וְאַתְקִיפוּ גֻבְרַיָּא בִּידֵיהּ וּבִידָא דְאִתְּתֵיהּ וּבְיַד תַּרְתֵּין בְּנָתֵיהּ כִּרְחַם (נ"י כַּד חָס) יְיָ עֲלוֹהִי וְאַפְּקוּהִי וְאַשְׁרוּהִי מִבָּרָא לְקַרְתָּא: (יז) וַהֲוָה כַּד אַפִּיקוּ יָתְהוֹן לְבָרָא וַאֲמַר חוּס עַל נַפְשָׁךְ לָא תִסְתְּכִי לַאֲחוֹרָךְ וְלָא תְקוּם בְּכָל מֵישְׁרָא לְטוּרָא אִשְׁתֵּזֵב דִּלְמָא תִלְקֵי: (יח) וַאֲמַר לוֹט לְהוֹן בְּבָעוּ כְעַן רִבּוֹנָי (נ"י יְיָ): (יט) הָא כְעַן אַשְׁכַּח עַבְדָךְ רַחֲמִין קֳדָמָךְ וְאַסְגֵּיתָא טֵיבוּתָךְ דִּי עֲבַדְתָּ עִמִּי לְקַיָּמָא יָת נַפְשִׁי וַאֲנָא לֵית אֲנָא יָכִיל לְאִשְׁתֵּזָבָא לְטוּרָא דִּילְמָא תְעַרְעִנַּנִי בִשְׁתָּא וְאֵימוּת: (כ) הָא כְעַן קַרְתָּא הָדָא קְרִיבָא לְמֵעִירוֹק לְתַמָּן וְהִיא זְעֵירָא אִשְׁתֵּזַב כְּעַן תַּמָּן הֲלָא זְעֵירָא הִיא וְתִתְקַיַּם נַפְשִׁי:
1. The two angels entered Sodom in the evening and Lot was sitting in the gate of Sodom. Lot saw them and he rose to greet them. He bowed with his face on the ground. 2. He said, "Please now, my masters. Turn now to your servant's house to spend the night and wash your feet. You may get up early and be on your way." They said, "No, we will spend the night in the square." 3. He urged them greatly so they turned to him and they came to his house. He prepared a feast for them and baked matzah[1] for them, and they ate. 4. Before they could lie down, the people of the city, the men of Sodom, gathered around the house, from young to old, all the people from the ends (of the city). 5. They called to Lot and said to him, "Where are the men who came to you tonight? Bring them out to us so that we might 'know' them." 6. Lot went out to them at the entrance, shutting the door behind him. 7. He said, "Please now, my brothers, do not commit this evil. 8. Behold, I have two daughters who have never been known by a man. Let me bring them out to you so you might do with them as seems right in your eyes. Just don't do anything to these men because they have come under the shelter of my roof." 9. They said, "Stand back!" and they said, "That one came here to dwell and behold, he passes judgment! Now we will treat you worse than them!" They pressed strongly against the person Lot and they drew near to break the door. 10. The men stretched out their hands and pulled Lot to them inside the house, and they shut the door. 11. They struck the men who were at the entrance to the house with a blindness, from young to old, so they were unable to find the door. 12. The men said to Lot, "Who else do you have here? Sons-in-law, your sons, your daughters, and anyone you may have in the city – remove them from this place. 13. We are about to destroy this place because the cry against them before Hashem is so great that Hashem sent us to destroy it." 14. Lot went out and spoke to his sons-in-law, who had married[2] his daughters. He said, "Get up and leave this place because Hashem is about to destroy the city." But he seemed like a joke in the eyes of his sons-in-law. 15. As dawn was breaking, the angels urged Lot, saying, "Get up, take your wife and your two daughters who have been found faithful to you lest you be swept away in the sin of the city." 16. He hesitated so the men grabbed his hand and the hands of his wife and his two daughters – in Hashem's mercy on him – and brought him out and deposited him outside the city. 17. When they had brought them outside, one said, "Take pity on your life! Don't look behind you and don't stop anywhere in the plain. Escape to the hills lest you be struck!" 18. Lot said to them, "Please now, Hashem! 19. Behold now, your servant has found mercy before you and you have increased Your goodness for me to preserve my life but I am unable to escape to the hills, lest the evil encounter[3] me and I die. 20. Behold now, that city is close enough to flee to, and it's small. Let me now escape there – it's so small! – and my life will be saved."
[1] Onkelos changes this word from plural to singular.
[2] Rather than "betrothed."
[3] Rather than "overtake."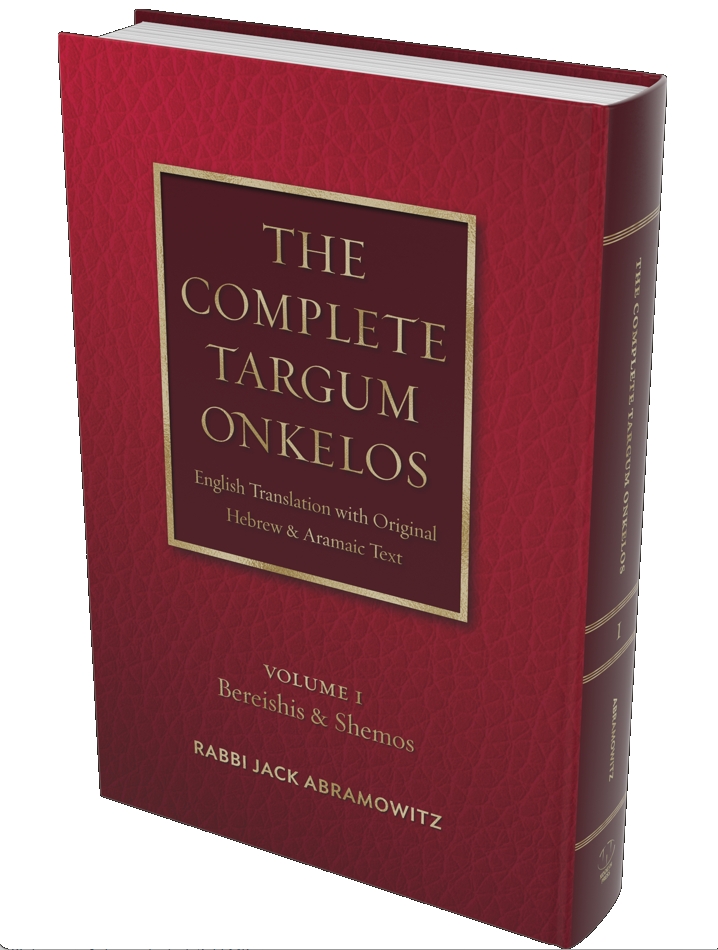 The Complete Targum Onkelos - volume 1 now available on Amazon and from Kodesh Press!