Vayeira - Rishon
Chapter 18
(א) וַיֵּרָ֤א אֵלָיו֙ יְהֹוָ֔ה בְּאֵלֹנֵ֖י מַמְרֵ֑א וְה֛וּא יֹשֵׁ֥ב פֶּֽתַח־הָאֹ֖הֶל כְּחֹ֥ם הַיּֽוֹם׃ (ב) וַיִּשָּׂ֤א עֵינָיו֙ וַיַּ֔רְא וְהִנֵּה֙ שְׁלֹשָׁ֣ה אֲנָשִׁ֔ים נִצָּבִ֖ים עָלָ֑יו וַיַּ֗רְא וַיָּ֤רׇץ לִקְרָאתָם֙ מִפֶּ֣תַח הָאֹ֔הֶל וַיִּשְׁתַּ֖חוּ אָֽרְצָה׃ (ג) וַיֹּאמַ֑ר אֲדֹנָ֗י אִם־נָ֨א מָצָ֤אתִי חֵן֙ בְּעֵינֶ֔יךָ אַל־נָ֥א תַעֲבֹ֖ר מֵעַ֥ל עַבְדֶּֽךָ׃ (ד) יֻקַּֽח־נָ֣א מְעַט־מַ֔יִם וְרַחֲצ֖וּ רַגְלֵיכֶ֑ם וְהִֽשָּׁעֲנ֖וּ תַּ֥חַת הָעֵֽץ׃ (ה) וְאֶקְחָ֨ה פַת־לֶ֜חֶם וְסַעֲד֤וּ לִבְּכֶם֙ אַחַ֣ר תַּעֲבֹ֔רוּ כִּֽי־עַל־כֵּ֥ן עֲבַרְתֶּ֖ם עַֽל־עַבְדְּכֶ֑ם וַיֹּ֣אמְר֔וּ כֵּ֥ן תַּעֲשֶׂ֖ה כַּאֲשֶׁ֥ר דִּבַּֽרְתָּ׃ (ו) וַיְמַהֵ֧ר אַבְרָהָ֛ם הָאֹ֖הֱלָה אֶל־שָׂרָ֑ה וַיֹּ֗אמֶר מַהֲרִ֞י שְׁלֹ֤שׁ סְאִים֙ קֶ֣מַח סֹ֔לֶת ל֖וּשִׁי וַעֲשִׂ֥י עֻגֽוֹת׃ (ז) וְאֶל־הַבָּקָ֖ר רָ֣ץ אַבְרָהָ֑ם וַיִּקַּ֨ח בֶּן־בָּקָ֜ר רַ֤ךְ וָטוֹב֙ וַיִּתֵּ֣ן אֶל־הַנַּ֔עַר וַיְמַהֵ֖ר לַעֲשׂ֥וֹת אֹתֽוֹ׃ (ח) וַיִּקַּ֨ח חֶמְאָ֜ה וְחָלָ֗ב וּבֶן־הַבָּקָר֙ אֲשֶׁ֣ר עָשָׂ֔ה וַיִּתֵּ֖ן לִפְנֵיהֶ֑ם וְהֽוּא־עֹמֵ֧ד עֲלֵיהֶ֛ם תַּ֥חַת הָעֵ֖ץ וַיֹּאכֵֽלוּ׃ (ט) וַיֹּאמְר֣וּ אֵׄלָ֔יׄוׄ אַיֵּ֖ה שָׂרָ֣ה אִשְׁתֶּ֑ךָ וַיֹּ֖אמֶר הִנֵּ֥ה בָאֹֽהֶל׃ (י) וַיֹּ֗אמֶר שׁ֣וֹב אָשׁ֤וּב אֵלֶ֙יךָ֙ כָּעֵ֣ת חַיָּ֔ה וְהִנֵּה־בֵ֖ן לְשָׂרָ֣ה אִשְׁתֶּ֑ךָ וְשָׂרָ֥ה שֹׁמַ֛עַת פֶּ֥תַח הָאֹ֖הֶל וְה֥וּא אַחֲרָֽיו׃ (יא) וְאַבְרָהָ֤ם וְשָׂרָה֙ זְקֵנִ֔ים בָּאִ֖ים בַּיָּמִ֑ים חָדַל֙ לִהְי֣וֹת לְשָׂרָ֔ה אֹ֖רַח כַּנָּשִֽׁים׃ (יב) וַתִּצְחַ֥ק שָׂרָ֖ה בְּקִרְבָּ֣הּ לֵאמֹ֑ר אַחֲרֵ֤י בְלֹתִי֙ הָֽיְתָה־לִּ֣י עֶדְנָ֔ה וַֽאדֹנִ֖י זָקֵֽן׃ (יג) וַיֹּ֥אמֶר יְהֹוָ֖ה אֶל־אַבְרָהָ֑ם לָ֣מָּה זֶּה֩ צָחֲקָ֨ה שָׂרָ֜ה לֵאמֹ֗ר הַאַ֥ף אֻמְנָ֛ם אֵלֵ֖ד וַאֲנִ֥י זָקַֽנְתִּי׃ (יד) הֲיִפָּלֵ֥א מֵיְהֹוָ֖ה דָּבָ֑ר לַמּוֹעֵ֞ד אָשׁ֥וּב אֵלֶ֛יךָ כָּעֵ֥ת חַיָּ֖ה וּלְשָׂרָ֥ה בֵֽן׃
(א) וְאִתְגְּלִי לֵיהּ יְיָ בְּמֵשְׁרֵי מַמְרֵא וְהוּא יָתֵב בִּתְרַע מַשְׁכְּנָא כְּמֵיחַם יוֹמָא: (ב) וּזְקַף עֵינוֹהִי וַחֲזָא וְהָא תְּלָתָא גֻבְרִין (נ"י גַבְרִין) קָיְמִין עִלָּווֹהִי וַחֲזָא וּרְהַט לְקַדָּמוּתְהוֹן מִתְּרַע מַשְׁכְּנָא וּסְגִיד עַל אַרְעָא: (ג) וַאֲמָר יְיָ אִם כְּעַן אַשְׁכָּחִית רַחֲמִין קֳדָמָךְ (נ"י בְּעֵינָיךְ) לָא כְעַן תְּעִבַּר מֵעַל עַבְדָּךְ: (ד) יִסְּבוּן כְּעַן זְעֵיר מַיָּא וְאַסְחוּ רַגְלֵיכוֹן וְאִסְתְּמִיכוּ תְּחוֹת אִילָנָא: (ה) וְאֶסַּב פִּתָּא דְלַחְמָא וּסְעִידוּ לִבְּכוֹן בָּתַר כֵּן תַּעֲבָרוּן אֲרֵי עַל כֵּן עֲבַרְתּוּן עַל עַבְדְּכוֹן וַאֲמָרוּ כֵּן תַּעְבֵּיד כְּמָא דִּי מַלֵּלְתָּא: (ו) וְאוֹחִי אַבְרָהָם לְמַשְׁכְּנָא לְוַת שָׂרָה וַאֲמַר אוֹחָא תְּלָת סְאִין קִמְחָא דְסָלְתָּא לוּשִׁי וְעִבִידִי גְרִיצָן: (ז) וּלְוַת תּוֹרֵי רְהַט אַבְרָהָם וּדְבַר בַּר תּוֹרֵי רַכִּיךְ וְטַב וִיהַב לְעוּלֵמָא וְאוֹחִי לְמֶעְבַּד יָתֵיהּ: (ח) וּנְסִיב שְׁמַן וַחֲלָב וּבַר תּוֹרֵי דִּי עֲבַד וִיהַב קֳדָמֵיהוֹן וְהוּא מְשַׁמֵּשׁ עִלָּוֵיהוֹן תְּחוֹת אִילָנָא וַאֲכָלוּ: (ט) וַאֲמָרוּ לֵיהּ אָן שָׂרָה אִתְּתָךְ וַאֲמַר הָא בְמַשְׁכְּנָא: (י) וַאֲמַר מִתַּב אִתּוּב לְוָתָךְ כְּעִדָּן דְּאַתּוּן קַיָּמִין וְהָא בָר לְשָׂרָה אִתְּתָךְ וְשָׂרָה שְׁמַעַת בִּתְרַע מַשְׁכְּנָא וְהוּא אֲחוֹרוֹהִי: (יא) וְאַבְרָהָם וְשָׂרָה סִיבוּ עַלּוּ בְּיוֹמִין פְּסַק מִלְּמֶהֱוֵי לְשָׂרָה אוֹרַח כִּנְשַׁיָּא: (יב) וְחַיְכַת שָׂרָה בִּמְעָהַהּ לְמֵימָר בָּתַר דְּסֵיבִית הֲוַת לִי עוּלֵימוּ וְרִבּוֹנִי סִיב: (יג) וַאֲמַר יְיָ לְאַבְרָהָם לְמָא דְנָן חַיְכַת שָׂרָה לְמֵימַר הַבְרַם בְּקוּשְׁטָא אוֹלִיד וַאֲנָא סֵיבִית: (יד) הֲיִתְכַּסֵּא מִן קֳדָם יְיָ פִּתְגָּמָא לִזְמַן אִתּוּב לְוָתָךְ כְּעִדָּן דְּאַתּוּן קַיָּמִין וּלְשָׂרָה בָר:
1. Hashem was revealed to him in the plains of Mamre; he was sitting at the door of the tent in the heat of the day. 2. He raised his eyes and saw three men standing near him.[1] He saw and he ran from the door of the tent to greet them; he bowed on the ground. 3. He said, "Hashem,[2] if I have found affection before you, now do not pass by your servant. 4. Let them[3] take a little water and wash your feet, and (you) recline under the tree. 5. I will take a morsel of bread so you may refresh yourselves and then continue, since you have come upon your servant." They said, "Do as you have said." 6. Avraham hurried into the tent, to Sarah, and said, "Quickly knead three seah of fine flour and make cakes!" 7. Avraham ran to the herd and led a tender, choice calf. He gave it to a youth, who rushed to prepare it. 8. He took butter, milk and the calf that had been prepared and he placed these before them. He waited on them under the tree as they ate. 9. They said to him, "Where is your wife, Sarah?" He said, "Behold, in the tent." 10. One said, "I will surely return to you at this time when you are alive[4] and your wife, Sarah, will have a son!" Sarah was listening at the door of the tent, which was behind him. 11. Now Avraham and Sarah were elderly, advanced in years. Sarah had ceased experiencing women's periods. 12. Sarah laughed to herself, saying, "Now that I have grown old, shall I have youth,[5] and my husband is old?" 13. Hashem said to Avraham, "Why did Sarah laugh, saying, 'Will I truly bear a child, seeing as I am old?' 14. Is anything hidden before Hashem? At the appointed time, I will return to you when you are alive and Sarah will have a son."
[1] Rather than "over him."
[2] Speaking to God, rather than "my masters," addressing his guests.
[3] Avraham's servants.
[4] A clarification of the Hebrew, perhaps intended as a blessing for continuing longevity.
[5] Rather than "delight." (Onkelos removes the sexual implication of the Hebrew.)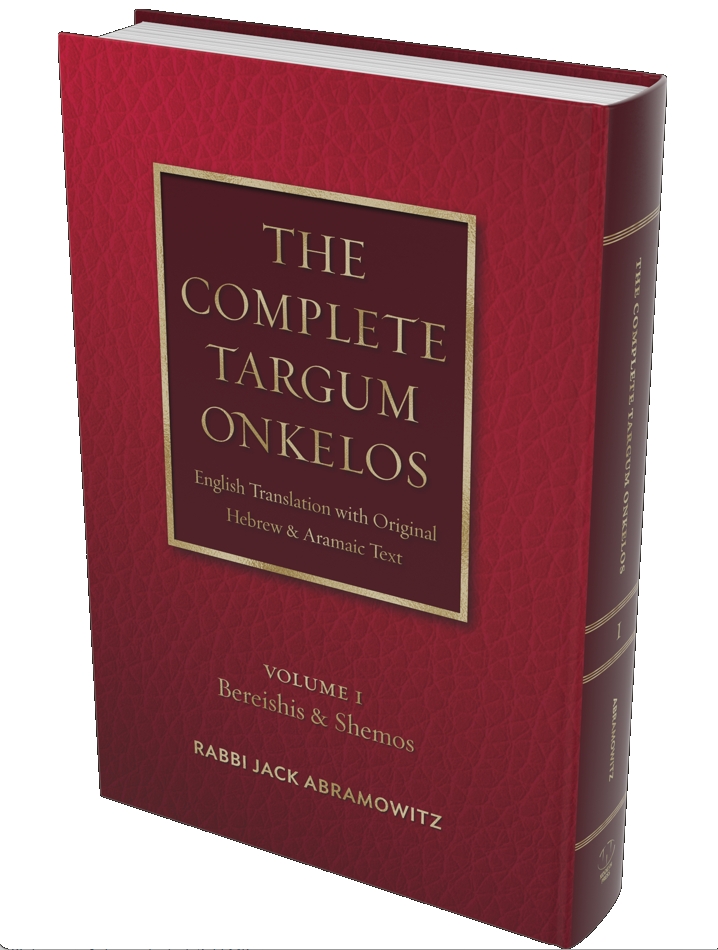 The Complete Targum Onkelos - volume 1 now available on Amazon and from Kodesh Press!