Lech L'cha - Shlishi
Shlishi
(ה) וְגַ֨ם־לְל֔וֹט הַהֹלֵ֖ךְ אֶת־אַבְרָ֑ם הָיָ֥ה צֹאן־וּבָקָ֖ר וְאֹהָלִֽים׃ (ו) וְלֹא־נָשָׂ֥א אֹתָ֛ם הָאָ֖רֶץ לָשֶׁ֣בֶת יַחְדָּ֑ו כִּֽי־הָיָ֤ה רְכוּשָׁם֙ רָ֔ב וְלֹ֥א יָֽכְל֖וּ לָשֶׁ֥בֶת יַחְדָּֽו׃ (ז) וַֽיְהִי־רִ֗יב בֵּ֚ין רֹעֵ֣י מִקְנֵֽה־אַבְרָ֔ם וּבֵ֖ין רֹעֵ֣י מִקְנֵה־ל֑וֹט וְהַֽכְּנַעֲנִי֙ וְהַפְּרִזִּ֔י אָ֖ז יֹשֵׁ֥ב בָּאָֽרֶץ׃ (ח) וַיֹּ֨אמֶר אַבְרָ֜ם אֶל־ל֗וֹט אַל־נָ֨א תְהִ֤י מְרִיבָה֙ בֵּינִ֣י וּבֵינֶ֔ךָ וּבֵ֥ין רֹעַ֖י וּבֵ֣ין רֹעֶ֑יךָ כִּֽי־אֲנָשִׁ֥ים אַחִ֖ים אֲנָֽחְנוּ׃ (ט) הֲלֹ֤א כׇל־הָאָ֙רֶץ֙ לְפָנֶ֔יךָ הִפָּ֥רֶד נָ֖א מֵעָלָ֑י אִם־הַשְּׂמֹ֣אל וְאֵימִ֔נָה וְאִם־הַיָּמִ֖ין וְאַשְׂמְאִֽילָה׃ (י) וַיִּשָּׂא־ל֣וֹט אֶת־עֵינָ֗יו וַיַּרְא֙ אֶת־כׇּל־כִּכַּ֣ר הַיַּרְדֵּ֔ן כִּ֥י כֻלָּ֖הּ מַשְׁקֶ֑ה לִפְנֵ֣י ׀ שַׁחֵ֣ת יְהֹוָ֗ה אֶת־סְדֹם֙ וְאֶת־עֲמֹרָ֔ה כְּגַן־יְהֹוָה֙ כְּאֶ֣רֶץ מִצְרַ֔יִם בֹּאֲכָ֖ה צֹֽעַר׃ (יא) וַיִּבְחַר־ל֣וֹ ל֗וֹט אֵ֚ת כׇּל־כִּכַּ֣ר הַיַּרְדֵּ֔ן וַיִּסַּ֥ע ל֖וֹט מִקֶּ֑דֶם וַיִּפָּ֣רְד֔וּ אִ֖ישׁ מֵעַ֥ל אָחִֽיו׃ (יב) אַבְרָ֖ם יָשַׁ֣ב בְּאֶֽרֶץ־כְּנָ֑עַן וְל֗וֹט יָשַׁב֙ בְּעָרֵ֣י הַכִּכָּ֔ר וַיֶּאֱהַ֖ל עַד־סְדֹֽם׃ (יג) וְאַנְשֵׁ֣י סְדֹ֔ם רָעִ֖ים וְחַטָּאִ֑ים לַיהֹוָ֖ה מְאֹֽד׃ (יד) וַֽיהֹוָ֞ה אָמַ֣ר אֶל־אַבְרָ֗ם אַחֲרֵי֙ הִפָּֽרֶד־ל֣וֹט מֵֽעִמּ֔וֹ שָׂ֣א נָ֤א עֵינֶ֙יךָ֙ וּרְאֵ֔ה מִן־הַמָּק֖וֹם אֲשֶׁר־אַתָּ֣ה שָׁ֑ם צָפֹ֥נָה וָנֶ֖גְבָּה וָקֵ֥דְמָה וָיָֽמָּה׃ (טו) כִּ֧י אֶת־כׇּל־הָאָ֛רֶץ אֲשֶׁר־אַתָּ֥ה רֹאֶ֖ה לְךָ֣ אֶתְּנֶ֑נָּה וּֽלְזַרְעֲךָ֖ עַד־עוֹלָֽם׃ (טז) וְשַׂמְתִּ֥י אֶֽת־זַרְעֲךָ֖ כַּעֲפַ֣ר הָאָ֑רֶץ אֲשֶׁ֣ר ׀ אִם־יוּכַ֣ל אִ֗ישׁ לִמְנוֹת֙ אֶת־עֲפַ֣ר הָאָ֔רֶץ גַּֽם־זַרְעֲךָ֖ יִמָּנֶֽה׃ (יז) ק֚וּם הִתְהַלֵּ֣ךְ בָּאָ֔רֶץ לְאׇרְכָּ֖הּ וּלְרׇחְבָּ֑הּ כִּ֥י לְךָ֖ אֶתְּנֶֽנָּה׃ (יח) וַיֶּאֱהַ֣ל אַבְרָ֗ם וַיָּבֹ֛א וַיֵּ֛שֶׁב בְּאֵלֹנֵ֥י מַמְרֵ֖א אֲשֶׁ֣ר בְּחֶבְר֑וֹן וַיִּֽבֶן־שָׁ֥ם מִזְבֵּ֖חַ לַֽיהֹוָֽה׃ {פ}
(ה) וְאַף לְלוֹט דְּאָזֵיל עִם אַבְרָם הֲוָה עָאן וְתוֹרִין וּמַשְׁכְּנִין: (ו) וְלָא סוֹבָרַת יָתְהוֹן אַרְעָא לְמִיתַב כַּחֲדָא אֲרֵי הֲוָה קִנְיָנְהוֹן סַגִּי וְלָא יְכִילוּ לְמִיתַב כַּחֲדָא: (ז) וַהֲוַת מַצּוּתָא בֵּין רָעֵי בְּעִירֵיהּ דְּאַבְרָם וּבֵין רָעֵי בְּעִירֵיהּ דְּלוֹט וּכְנַעֲנָאָה וּפְרִזָּאָה בְּכֵן יָתִיב בְּאַרְעָא: (ח) וַאֲמַר אַבְרָם לְלוֹט לָא כְעַן תְּהֵי מַצּוּתָא בֵּינָא וּבֵינָךְ וּבֵין רַעֲוָתִי וּבֵין רַעֲוָתָךְ אֲרֵי גוּבְרִין אַחִין אֲנָחְנָא: (ט) הֲלָא כָל אַרְעָא קֳדָמָךְ אִתְפְּרַשׁ כְּעַן מִלְּוָתִי אִם אַתְּ לְצִפּוּנָא וַאֲנָא לְדָרוֹמָא וְאִם אַתְּ לְדָרוֹמָא וַאֲנָא לְצִפּוּנָא: (י) וּזְקַף לוֹט יָת עֵינוֹהִי וַחֲזָא יָת כָּל מֵישַׁר יַרְדְּנָא אֲרֵי כֻלַּהּ בֵּית שַׁקְיָא קֳדָם חַבָּלוּת יְיָ יָת סְדוֹם וְיָת עֲמֹרָה כְּגִינְתָא דַיְיָ כְּאַרְעָא דְמִצְרַיִם מָטֵי לְצֹעַר: (יא) וּבְחַר לֵיהּ לוֹט יָת כָּל מֵישַׁר יַרְדְּנָא וּנְטַל לוֹט מִלְּקַדְמִין וְאִתַּפְרָשׁוּ גְּבַר מִלְּוַת אֲחוּהִי: (יב) אַבְרָם יָתֵב בְּאַרְעָא דִכְנָעַן וְלוֹט יָתֵב בְּקִירְוֵי מֵישְׁרָא וּפְרַס עַד סְדוֹם: (יג) וֶאֱנָשִׁין (ס"א וַאֲנָשֵׁי) דִּסְדוֹם בִּישִׁין בְּמָמוֹנְהוֹן וְחַיָּבִין בִּגְוִיָּתְהוֹן קֳדָם יְיָ לַחֲדָא: (יד) וַיְיָ אֲמַר לְאַבְרָם בָּתַר דְּאִתְפָּרֶשׁ לוֹט מֵעִמֵּיהּ זְקוֹף כְּעַן עֵינָךְ וַחֲזֵי מִן אַתְרָא דִּאַתְּ תַּמָּן לְצִפּוּנָא וּלְדָרוֹמָא וּלְמָדִינְחָא וּלְמַעֲרָבָא: (טו) אֲרֵי יָת כָּל אַרְעָא דִּי אַתְּ חָזֵי לָךְ אֶתְּנִנַּהּ וְלִבְנָךְ עַד עָלָם: (טז) וַאֲשַׁוֵּי יָת בְּנָךְ סַגִּיאִין כְּעַפְרָא דְאַרְעָא כְּמָא דִּי לָא אֶפְשַׁר לִגְבַר לְמִמְנֵי יָת עַפְרָא דְאַרְעָא אַף בְּנָךְ לָא יִתִּמְנוּן: (יז) קוּם הַלִּיךְ בְּאַרְעָא לְאָרְכַּהּ וְלִפְתָיַהּ אֲרֵי לָךְ אֶתְּנִנַּהּ: (יח) וּפְרַס אַבְרָם וַאֲתָא וִיתֵב בְּמֵישְׁרֵי מַמְרֵא דִּי בְחֶבְרוֹן וּבְנָא תַמָּן מִדְבְּחָא קֳדָם יְיָ:
5. Lot, who traveled with Avram, also had flocks, herds and tents. 6. The land was unable to support them dwelling together because their wealth was too great for them to dwell together. 7. There was conflict between the watchmen of Avram's cattle and the watchmen of Lot's cattle. The Canaanites and Perizites were then living in the land. 8. Avram said to Lot, "Now let there not be strife between me and you, between my herdsmen and yours, because we're relatives. 9. Behold, the whole land lies before you. Now separate from me; if you go to the north, I'll go to the south, and if you go to the south, I'll go to the north."[1] 10. Lot raised his eyes and saw the whole Jordan plain and what a well-watered place it was before Hashem's destruction of Sodom and Gomorrah. It was like the garden of Hashem, like the land of Egypt on the way to Tzoar. 11. Lot chose for himself the whole Jordan plain, and Lot traveled first. They separated from one another. 12. Avram dwelled in the land of Canaan and Lot dwelled in the cities of the plain, pitching his tents near Sodom. 13. The people of Sodom were evil with their money, great sinners with their bodies before Hashem.[2] 14. Hashem said to Avram after Lot had separated from him, "Raise your eyes and see from the place where you are to the north, the south, the east and the west, 15. because all the land that you see I give to you and to your descendants forever. 16. I will make your descendants numerous like the dust of the earth.[3] Just as it would be impossible for a person to count the dust of the earth, so your descendants could also not be counted. 17. Get up, walk through the land, its length and its breadth, because I give it to you." 18. Avram pitched his tent and he came to dwell in the plains of Mamre, which is in Chevron. There he built an altar before Hashem.
[1] Onkelos substitutes "north" and "south" for "left" and "right."
[2] A clarification of the sins of Sodom, though the Talmud (Sanhedrin 109a) and Rashi on this verse reverse the order of physical and financial sins.
[3] A clarification of "I will make your descendants like the dust of the earth."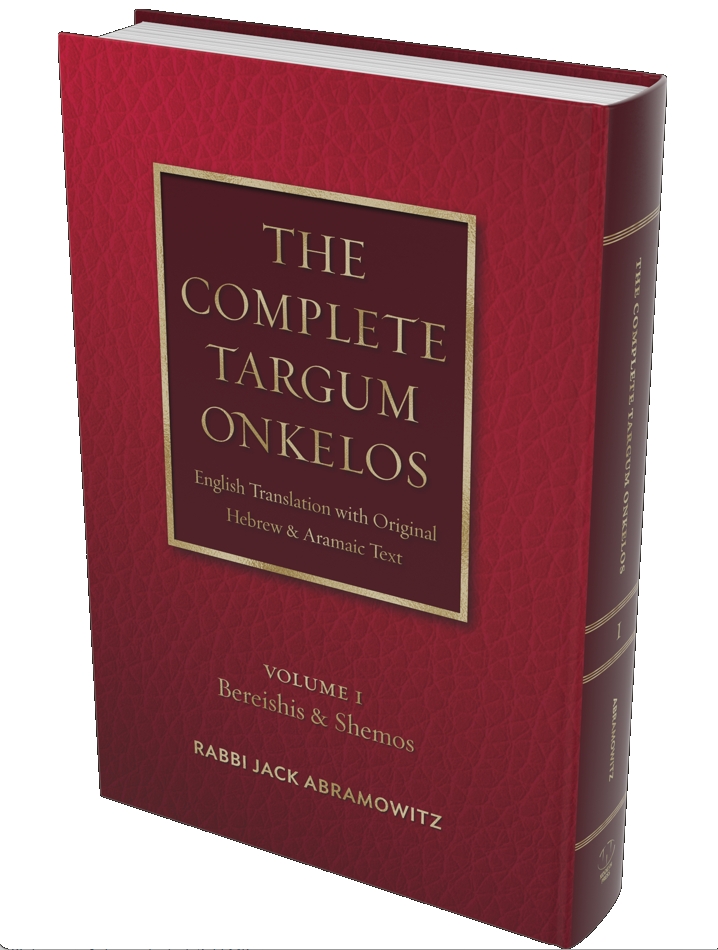 The Complete Targum Onkelos - volume 1 now available on Amazon and from Kodesh Press!